"Madrid? It's not true and I don't know where it's come from"
Belgium international Eden Hazard has denied any agreement with Real Madrid and stated he is only focused on getting back onto the pitch.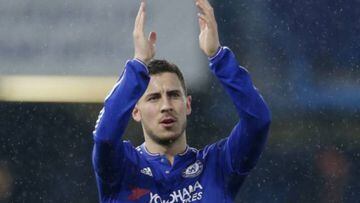 Eden Hazard has denied any truth in the rumours linking him with a Stamford Bridge exit this summer, despite the Chelsea support turning on the reigning PFA Player of the Year after a disappointing season for the Belgian and the Londoners in general.
Hazard has been heavily linked with a move to Real Madrid in recent months, particularly in light of Zinedine Zidane's professed admiration of the former Lille midfielder. But the 25-year-old poured cold water on such speculation in an interview with Belgian television channel ACTV: "Have I signed for Real Madrid? No, that isn't true; I don't know where that has come from," Hazard said. "For the moment I'm at Chelsea. I have to finish this season and then I have four more years on my contract. For now I'm here and the only thing I want is to get back onto the pitch as soon as possible."
Hazard has missed Chelsea's last three Premier League matches due to a hip problem. "I'm ok, I've been training for the last three days. I've pushed myself but I hope to be ready for the games that are coming up. I'm impatient to get back."