When Messi goes missing, Barcelona go out
In seven knock-out ties in the Champions League over the last 10 years, Messi has failed to score and has provided just one assist in 1,442 minutes.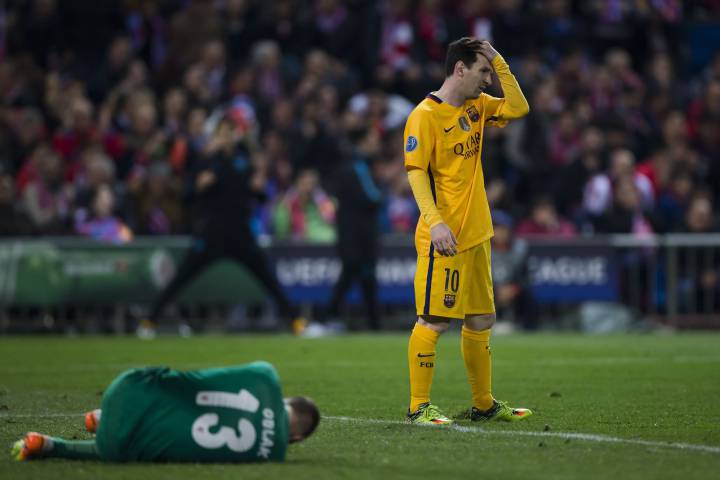 Following Barcelona's Champions League exit at the hands of Atlético on Wednesday night, Leo Messi left the Calderón in silence, apparently nursing muscular problems that only came to light after the game. The Argentinean has proved decisive for his club on so many occasions, in Europe leading the side to the 2009, 2011 and 2015 titles and, in 2006, providing a dose of brilliance at the start of his Barça career as Frank Rijkaard's side secured a second European crown.

Messi's influence on the team's destiny is as absolute as an observer wishes to interpret: either he takes advantage of the kind winds blowing in Barcelona's favour to shine, or he disappears when the side is not playing well. Or, as could also be assumed for a player who has won the Ballon d'Or five times, an off-key performance from the Argentina captain has a devastating effect on the rest of his teammates.
Since Messi was elevated to the Barcelona first team, the Camp Nou club has fallen in Europe to Liverpool (2007), Manchester United (2008), Inter Milan (2010), Chelsea (2012), Bayern Munich (2013) and Atlético (2014 and 2016). Across the course of those knock-out ties, according to data from Mister Chip, Messi has played 1,442 minutes and failed to score a single goal, managing just one assist in the return leg of the semi-final against Chelsea, during which he also missed a potentially decisive penalty.
When he is not performing superhuman acts, Messi can drift out of matches. After a blistering start to 2016, when he exceeded his scoring rate over the number he had plundered when he set the bar for goals scored in a calendar year, Messi started to abandon the wing and seek refuge in more central areas. When he is in the area he is a destroyer. Messi's last five goals against Atlético – three last season and two in 2015-16 – have come from inside the area. On Wednesday, the Argentinean rarely found himself in such a position. Possibly because of his muscle concerns, or maybe due to fatigue, on this occasion Messi couldn't provide the spark his side needed.