CHAMPIONS LEAGUE
Champions and Europa League draw: as it happened
Real Madrid face City as Atlético Madrid take on Pep's Bayern Munich. In the Europa League: Liverpool-Villarreal and Shakhtar-Sevilla.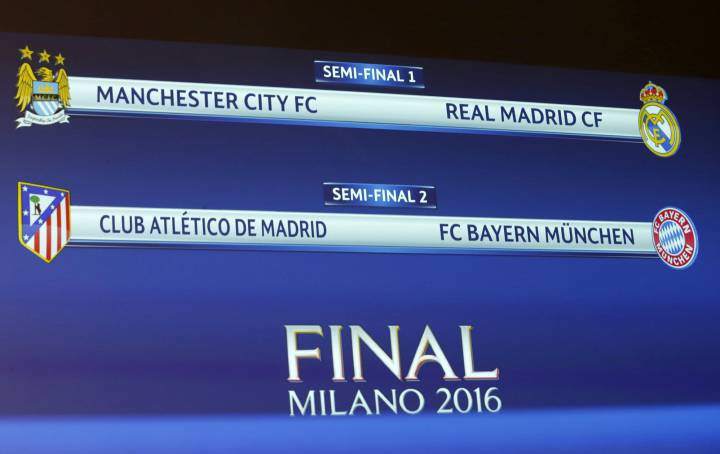 Keep following http://en.as.com/en/ for constant updates on all the best in football and sporting news from Spain and around the planet.
That concludes our live feed this morning as we finally learned of the draws for the semi finals of both Champions and Europa League:
Champions League:
Manchester City v Real Madrid
Atetico Madrid v Bayern Munich
Europa League:
Shakhtar Donetsk v Sevilla
Villarreal v Liverpool
Sevila's Monchi reaffirms that he is happy to have avoided Villarreal and hopes to see then in Basel. Impressive knowledge, able to name 5-6 of the current Shakhtar players and claims that they are an experienced side and will be fresher after their Winter break.
Liverpool and Sevilla current favourites to make the May 18 final
Former Villarreal player and current club ambassador Marcos Senna claims that Liverpool are a really tough opponent despite him not wanting Sevilla. He feels the team are ready and will fear no-one.
Important Uefa person and head of the Spanish FA, Villar hands the Europa League trophy over to Mister Wessels for him to pop it in his hand luggage on the return trip to Basel with the city now custodian of the cup through to the May 18 final.
Europa League semi-final draw:
Shakhtar Donetsk v Sevilla
Villarreal v Liverpool
First legs on April 28 with the return the following Thursday (May 5)
and Villarreal face Liverpool....
and face Sevilla ...
Preamble over, off we go with the draw....first name out is .....Shakhtar
Big Andy in the AS newsroom is convinced of an all Spanish semi .....
Our VIP to select the sides for the Europa League will be former FC Basel legend Alexander Frei.
Giorgio Marchetti takes to stage again as we get down to business....
A quick look at the four sides involved in the competition over a Roni Size-esque drum 'n bass music bed.
Don't forget, winning the Europa League secures a spot in the forthcoming Champions League competition.
Mister Hans Peter Wessels a delegate from the Swiss city to tell us how great Basel is. Never been there myself so will take his word !
By the way, Liverpool are the bookmakers current favourites to lift the trophy in Basel.
Back with Pedro Pinto again in Nyon ....
The Ukrainian side are certainly the dark horse of the four and not to be underestimated after seeing off Anderlecht, Schalke 04 and Braga on their route to the semis.
They have been keen to avoid stating it but Shakhtar are the team the Spanish sides would welcome facing.
A similar sentiment from Marcos Senna former Villarreal player who also would like to see an all Spanish final.
Sevilla sporting director Monchi claiming he wants to avoid Villarreal in the semi and would like to face the "Yellow Submarine" in the final.
Europa League Draw
10 minutes ahead of a return to Nyon for the Europa League draw. Current holders Sevilla and Villarreal are LaLiga sides involved after overcoming Athletic and Sparta Prague last night respectively. Liverpool and Shakhtar the other semi-finalists.
Confirmed semifinal dates:
2nd leg
Tuesday May 3 - Bayern Munich v Atletico Madrid
Wednesday May 4 - Real Madrid v Manchester City
1st leg:
Tuesday April 26 - Manchester City v Real Madrid
Wednesday April 27 - Atletico Madrid v Bayern Munich
Uefa currently in negotiation with Champions League TV rights holders to adjudicate which games will take place on the Tuesday/Wednesday. Definitive dates expected imminently.
The semi-final ties will take place on 26/27 April and 3/4 May. #UCLdraw
Atletico Madrid's Clemente Villaverde states that it's an honour for his team to be in the semi final of the Champions League and face a team such as Bayern Munich.
Emilio Buitragueño (Real Madrid director of public relations) claims that City are a side full of quality players and it's key that Madrid keep a clean sheet in Manchester.
Beguiristain not exactly over the moon (blue) with the draw claiming that after witnessing the way they (Real Madrid) dispatched Wolfsburg, Madrid have a massive advantage by playing the 2nd leg in Madrid.
Txiki Beguiristain (City sporting director) states that he feels Madrid have an advantage playing the second leg at the Bernabeu.
Real Madrid and City faced each other in the group stage in the 2012/13 competition with a 3-2 win for Madrid at the Bernabeu and a 1-1 draw in Manchester.
Atleti - Bayern is a repeat of the 1974 final which Bayern eventually won after a replay (4-0 after an initial 1-1) in Brussels..
Villar (head of Spanish FA) now hands the trophy over to the delegates from the Milanese city. The trophy is now the responsibility of the Italian city until May 28.
Semi Final Draw
Manchester City - Real Madrid
Atletico Madrid - Bayern Munich
Atleti to play Bayern Munich...
...and face Real Madrid
First out - City ...
Budgets of the four remaining sides
Real Madrid - €581 M
City - €436 M
Bayern € 465M
Atleti €240 M
The Serbian player talks us through the UCL win at the Bernabeu with Inter under the tutelage of Mourinho.
Dejan Stankovic the VIP to assist with the draw
Mister Giorgio Marchetti is the MC for the draw.
Despite Bayern being bookies favourites, there is little to chose between 4 sides. All capable of beating each other on any given day.
Sales pitch from Milan over, next up a quick look on the video screens at the four teams still involved in the competition....
Come on Mister Pisapia, ok....Milan is a nice city but we have a draw to be getting on with here ....
Pisapia Mayor of Milan welcomes the delegates and tells us how wonderful a city Milano is...
Pedro Pinto our Uefa host this morning talks us through the draw and the Road to Milan...
Over to Nyon we go ...
Atletico Madrid, Real Madrid (UCL) / Villarreal & Sevilla (UEL)
LaLiga dominant in European football this season with 4 of the 8 teams remaining in both competitions hailing from Spain
We're 15 minutes away from the draw in Nyon...
Build Up
All eyes are on Nyon this morning as we follow the buildup to the draw of the 2015/16 Champions League semifinals. The draw for the semifinal of the Europa League will also take place after the UCL draw.
Four teams await their Champions League fate with LaLiga represented by Real Madrid and Atletico. Bayern Munich and Manchester City are the other aspiring sides in the last four. Both Real and Atletico representatives and indeed players have publicly stated they would like to avoid each other in the semi and at this stage of the competition there are no 'plush draws'
Pep Guardiola's Bayerns are still ranked as favourites to lift the trophy on May 28th in Milan with Zidane's Madrid side propelled into second favourites after their 3-0 'remontada' against Wolfsburg this week.
The Europa League also features two LaLiga representatives in the last four with Villarreal, holders Sevilla who are joined by Liverpool and Shakhtar Donetsk.