EUROPA LEAGUE
Liverpool and Villarreal's one and only previous meeting
The two teams have met just once – in a pre-season friendly at El Madrigal in July 2008. Rafa Benítez and Manuel Pellegrini were on opposing benches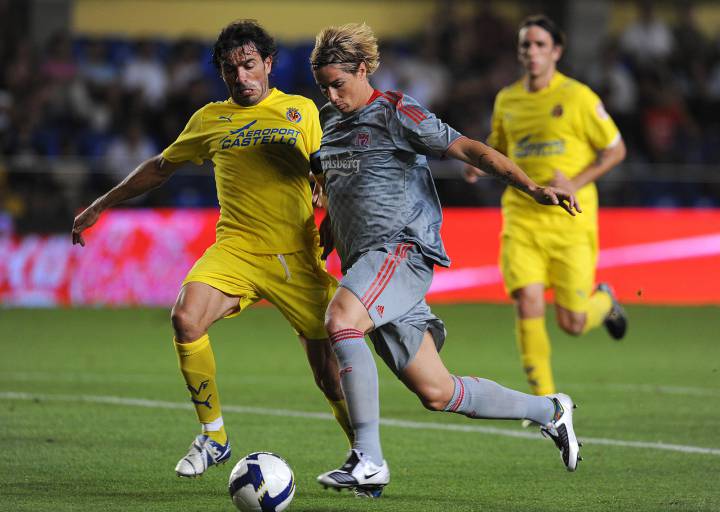 Villarreal were drawn against Jürgen Klopp's Liverpool in today's Europa League semi-final draw – it's an appetizing tie for the east coast side who take their nickname from a Beatles song. This is the furthest that Villarreal have advanced in the tournament; they reached the semi-final stage in 2010/11 only to be knocked out 7-4 on aggregate by Porto. Yet the 'Yellow Submarine' have a reasonably long tradition in Europe since first entering the now-defunct Intertoto Cup under the Fair Play guidelines in 2002. They won the trophy the following year, and the year after that, beating Atlético at the Calderón with Pepe Reina the hero in the penalty shoot-out.
Under successive coaches Víctor Muñoz, Benito Floro and particularly Manuel Pellegrini, Villarreal gradually found their feet in European competition. It was a slow but steady process, with small steps being made each season. Under Pellegrini, they were the surprise dark horses of the 2005/6 Champions League - their first appearance in the tournament, reaching the semi-finals only for Arsenal to deny them a ticket to Wembley.
Liverpool meanwhile are old hands in Europe. Five-times champions of Europe, they have won this competition, in its previous format the UEFA Cup three times (1973, 1976 and 2001) but have yet to win the trophy since it was rebranded in 2009. Rafa Benítez's side reached the semi-finals in 2010 but were knocked out by Atlético de Madrid after extra-time, in the return leg at Anfield.
So it's hardly surprising that Villarreal and Liverpool have never crossed paths in Europe, at least in official competition. There's only one previous meeting to go on. Liverpool were guests at El Madrigal for friendly on 30 July 2008, in which turned out to be Manuel Pellegrini's final pre-season at the club. It's fair to say that it wasn't a particularly memorable game – maybe for Pepe Reina returning to his old club, but not for anyone else. New arrivals David Ngog and Robbie Keane started up front for Benítez's side but neither found the net as it ended without goals. All in all it was a pretty drab affair but it's certainly going to be a lot livelier when the two teams come face to face for a place in the final later this month.