Deportivo 0 - 8 Barcelona LaLiga matchday 34 2016 live stream: As it happened
Barcelona destroyed Deportivo La Coruña 8 - 0, razing the Riazor and re-railing their title defence. Luis Suarez scored four, Neymar, Rakitic and Marc Bartra the others. As it happened: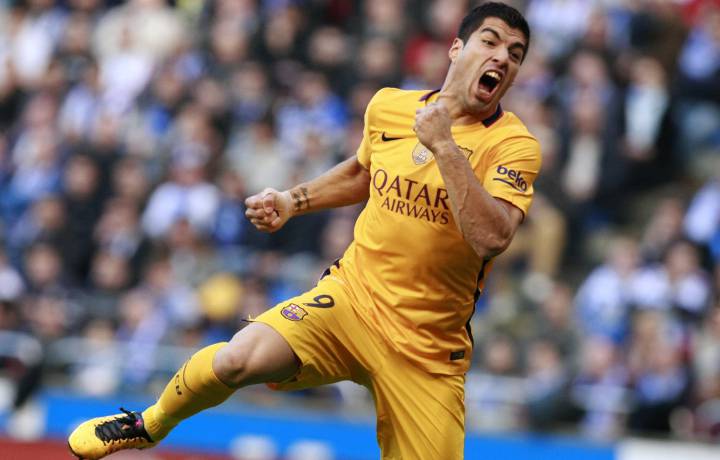 Barcelona answered their doubters in emphatic fashion, putting 8 past Deportivo at the Riazor stadium, keeping themselves in pole position to retain their La Liga crown. Vulnerability was on show again from the Catalans early on, Borges will not want to see the replays of his two first-half misses, but it wasn't long before the Galician patchwork defence came apart at the seams.
Their only actual centre-back fit enough for this match in the entire squad was at fault for the first goal, Suarez bullied him on a corner and made the space to guide in it. Messi took control after that providing assist after assist as Depor got their lines all wrong and allowed the Argentine to operate as chief architect.
The goals started to come and Suarez played chief dam-buster, scoring 4 and providing assists for two more.
Here's how it happened:
Full-Time | Deportivo La Coruña 0 - 8 Barcelona
Min 90 | Ufff... Suarez nearly scores his fifth of the match, but blazes it over...
Min 89 | This has been more of an official statement than a football match.
Min 86 | Can Barça make it 10? still 4 to go..
Min 84 | Shots on goal: Barcelona 17, 10 on target; Deportivo 16, 7 on target. 8-0 in the one on target.
Min 81 | Barça walking through the Depor middle at will, Suarez again provides the assist and Neymar profits this time, another easy finish.
Min 81 | Now Neymar!! 8 - 0
Min 79 | Depor 0 - 7 Barça.
Min 79 | Marc Bartra! GOOOOOOOOOOOOOOOOLLLL............ Bartra intercepted in midfield and ran straight through the non-existent Depor defence, sliding it past Fernandez, the fans are furious.
Min 77 | Depor 0 - 6 Barça.
Min 73 | Suarez turns provider, turning beautifully and squaring for Messi to tap home between two desperate diving defenders as Manu had raced out to close Suarez' angle. Top-class from Suarez.
Min 72 | GOOOOOOoooooooooooooLLLL!! Messi gets no. 501!
Min 72 | Busquets now off for a rest, Rafinha on.
Min 71 | Borges comes off for Jonas and is vilified by the fans for those early misses, a night to forget.
Min 68 | All the intensity gone out of this game now, Depor still driving forward and ... Perez!! What a miss! Laure centred at pace and Perez couldn't keep it down, the ball bouncing up off the striker and over the top.
Min 66 | Emphatic response from Barcelona to their recent slump.
Min 64 | Neymar clean through on goal slides it for Suarez instead of shooting, a desperate challenge from the defender stops it - with his hand - but Suarez taps the rebound in.
Min 64 | GOL GOL GOL GOL GOL GOOOOOOOOOOOOOOOLLLLLL!!! Four for Suarez!
Min 62 | Deportivo 0 - 4 Barcelona
Min 60 | Wow, what a pass from Messi to find Neymar, but the Brazilian's attempted cross doesn't find Suarez. At the other end Lucas Perez stings Bravo's hands.
Min 58 | Navarro pays for a poor showing in the soft centre of Depor's defence, as Fajr comes on, and Luis Enrique takes the chance to rest Andres Iniesta, Sergi Roberto on to see this one through.
Min 55 | The show is well and truly back on the road for the blaugranas.
Min 53 | Glorious play from the Argentine who again threads Suarez through, he slips it under Manu for his third and Barça's fourth.
Min 53 | GOOOOOOOOOOOOOOOLLLLLLLLLLLL!! Suarez gets his hat-trick! Messi again the arhitect.
Min 52 | Deportivo 0 - 3 Barcelona
Min 51 | Rakitic tries a hero-volley from 25 yards out, never near, but Barça have the luxury of going for wondergoals now.
Min 48 | Neymar crowded out in the box, flicks to Suarez who doesn't have an option until Rakitic ghosts behind the blanqiazul defence, completely unmarked, to finish Barça's third and probably kill this one off.
Min 48 | GOOOOOOOOOOOOOOoooooooooooolll Rakitic makes it three!
Min 46 | Game back on! Barça in the driving seat here, Depor have all the work to do, and three certain latin Americans will be waiting to capitalize and finish this one off if the locals overcommit.
The teams are back out, Piqué is signing autigraphs from his vantage point in the stands.
Half-Time Musings
The first 25 minutes of that match were almost exactly like the first 25 against Valencia, the difference being that Barça actually finished two of their chances, and Depor none of theirs. Borges should be snapped on his bare arse with a wet towel in the shower-room for his two misses, and Perez has been lively, but Barça have dominated possession and are worth their lead.
Barcelona still look vulnerable though, and if Depor get the next goal, things might get very interesting; their collapse against Valencia came after they scored their first goal, when their belief completely evaporated.
Min 46 | Half-Time: Deportivo 0 - 2 Barcelona
Min 45 | Sidnei has his customary foray forward, but stand-in right-back Laure's cross is disappointing, dropping onto the roof of the net.
Min 42 | Clash of heads as Manu cleans Messi and Navarro out, cracking their heads together. Both shake it off.
Min 39 | When Depor attack they don't move together as a unit, the defence too far removed, leaving open spaces for the MSN to streak into. Depor have had chances, but Barça look dangerous every time they go forward.
Min 37 | Another lightning break from Barcelona's trident, Messi's shot is blocked and he went down clutching his right ankle, but the Argentine is up again and seems to be fine.
Min 35 | Miss! Suarez had his hat-trick on a plate, Alves' cross from the right was begging to be buried, Suarez couldn't make the right connection.
Min 33 | NIce interplay between Cani, Perez and Riera but Perez' final shot is soft and floats gently into Bravo's hands.
Min 30 | Barça menace again, but Cani stops Neymar in full flight, yellow card. Cani is a very unfortunate name in Spain, it's bit like being called Johnny Chav.
Min 27 | Lucas Perez smashes one over the bar, everything going Barça's way so far.. Borges will rue his earlier missed chances.
Min 25 | GOOOOOOOOOOLlll Gol GOL GOL GOLLL..... Suarez again! Messi's first-time pass sublime.
Min 23 | Iniesta curls one towards Suarez who tries an impossible bicycle-kick style improvisation, proving that it was actually impossible.
Min 22 | Borges probably not the most popular person in Madrid at this very moment.
Min 19 | And again! Borges should have levelled it twice, last-ditch challenge from Bartra keeps Borges out and Cani scoops over the bar from the rebound. Barça looking vulnerable again.
Min 18 | Borges! What a chance! He sprung the offside trap and had to score! What a miss..
Min 18 | Suggestions that Suarez fouled Sidnei from the corner, the central defender should have been stronger though.
Min 15 | Depor's lack of defensive cover clearly evident from that corner, Sidnei is the only centre-back available with Laure and Navarro both playing out of position.
Min 12 | GOOOOOOOOOOOOOOoooooooooooooollll... Luis Suarez puts Barça in front, all alone from a corner, shocking marking from Depor, Suarez just had to coax it in.
Min 11 | Messi! 3rd choice keeper Manu keeps it out..
Min 10 | Depor's first shot comes from Riera, but it bobbles apologetically wide. Nice work to create the space from Lucas Perez.
Min 7 | First warning shot from the MSN, Messi-Neymar-Suarez, the Uruguayan's left-footed first-time strike bothers no more than the side-netting.
Min 5 | Long ball to Lucas Perez, but Bartra bashes it away, he'll take Piqué's alpha roll in that back two with himself and Mascherano, Masche will clear up the second ball and use his anticipation to snuff out the danger before it happens.
Min 3 | Depor set up nice and solid to start with, two blue-and-white banks that Barça are poking, prodding and playing around for now.
Min 1 | Kick-off! Barça playing left to right, Depor get us underway.. Huge match in Galicia, can Barcelona keep their title run on the tracks?
Ready to go!
The teams are out, have shaken hands and are limbering up / hugging each other... Depor are in their traditional blue and white stripes, Barça in their red and yellow Catalan jerseys..
Preview: Deportivo v Barcelona
Barcelona travel the 900 or so kilometers to the Estadio Riazor in La Coruña for the first of tonight's crucial three games for the title contenders. Kicking off at 20:00 means that they will either add more pressure to their Madrid rivals or give extra encouragement and hope to them with Atlético starting in Bibao at 20:45 and Madrid at home to Villarreal from 22:00.
Depo come into this game on the back of a single win in their last six games although a credible draw in Seville last weekend showed some spirit. The truth is that the home side tonight are in a position with little to play for - safe from relegation and no chance of reaching the European places. In saying that, having a chance to affect where the title goes is enough of a motivator for any professional and striker Lucas Pérez has said just that: "we can decide LaLiga." Deportivo also face Real Madrid on the last day of the season.
The Catalan giants come in to this match in rather unfamilar circumstances having thrown what seemed to be a formality of a title run-in wide open. Having only picked up one point in their last four league games - losing El Clásico and being knocked out of the Champions League by Atlético in that period - Luis Enrique's men need to turn back the clock a few weeks and show the type of form that had them in such a commanding position. in their last run out against Valencia most commentators agree that they were unlucky and had created enough chances to win the game, but as things turned against them, cracks in the team harmony also appeared. Their coach expects the slump to turn around as quick as it arrived.