REAL MADRID
Cristiano Ronaldo to renew with Real Madrid until 2020
Spanish newspaper El Confidencial says that the Portuguese striker is negotiating an extension to his current deal.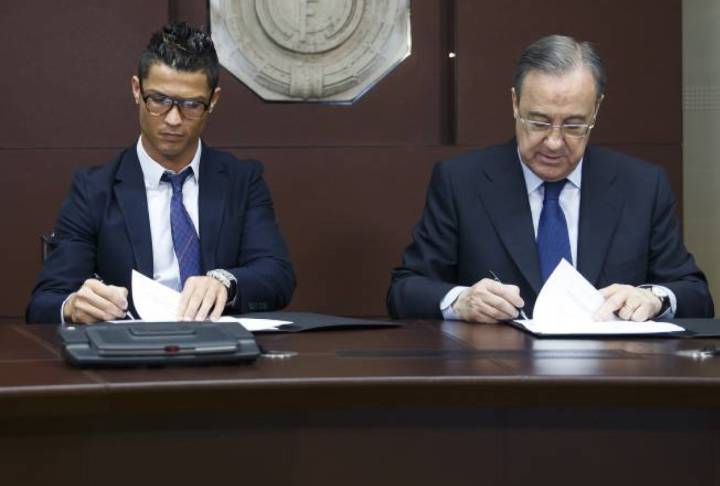 Cristiano Ronaldo is negotiating a new contract with Real Madrid, according to Spanish newspaper El Confidencial. In spite of the rumours that the Portuguese superstar might be leaving this summer, the relationship between the player and the club is said to have strengthened in the past weeks, with the improvement from both the side and the player himself, leading to the the two parties beginning talks over a possible renewal. Ronaldo is currently under contract until 2018.
According to the article, signed by Antonio Sanz, Real Madrid bosses want the player to finish his professional career at the club, and are keen to offer him a two year extension to his contract, to take it to 2020, when Cristiano would be 35. The player is said to be happy to consider a deal to 2021.
The remuneration figures being discussed are said to be "astronomical". According to El Confidencial the club are keen to finalise the new deal and make it public before the end of the season, to put an end to any rumours of Ronaldo's departure. "Florentino has no option but to renew or sell. That's why he feels that keeping CR7 is still, as of now, the best plan", says the article.
Seven years of successes
In the seven seasons Cristiano Ronaldo has been at Real Madrid the Portuguese star has picked up seven titles with the side: one Champions League, one Liga, two Copas del Rey, one Supercopa de España, one European Super Cup and the Club World Cup.

He's also picked up a number of individual awards: two Ballones d'Or, three Golden Shoes, three Pichichi trophies (top scorer in LaLiga) and has three times been top scorer in the Champions League.