RAYO - REAL MADRID
Zidane: "Isco had a great game; and Bale made the difference"
Zidane: "The key was our pressing - that's what enabled us to get back into the game. We were pressing but not very well and not together as a team".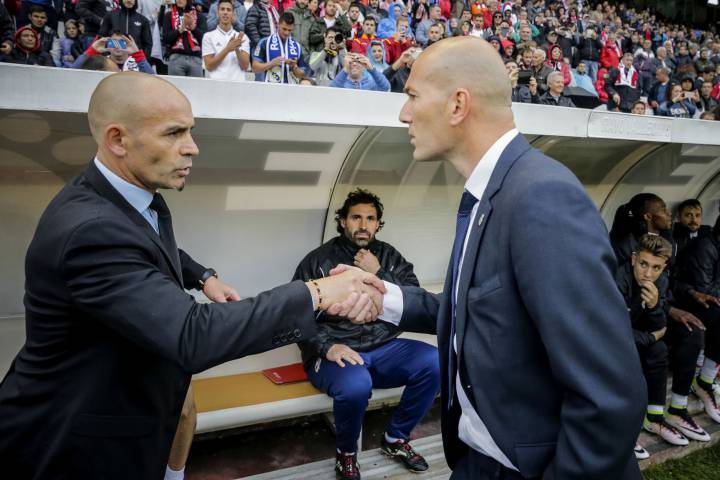 Zinedine Zidane sais he was proud of his team for their heroic comeback in Vallecas.
Madrid's contrasting faces in the game: "It was a hard-fought game, a difficult one. We had difficulties during the first 10-15 minutes. We started badly but ended well".
Fightback: "It's important. When you're 2-0 down, it's not easy to do what we did. We've shown that even after letting in goals, we can come back into the game. We know we have players who can make the difference. Every so often you need patience when things are going your way".
Benzema: "We'll have to wait and see what the doctors say and whether he'll be able to play against City. It's not a knock. I hope it's nothing and he'll be ok for Tuesday".
The start of the game: "I'd rather talk about the end. We started badkly and ended well. You can't always be in top form. You have to fight and it's not easy to turn around a two-goal deficit against a difficult rival. They made it complicated for us. A games lasts minutes. They did a great job and I'm very happy".
Pressing when the ball is played out: "That could be the key. It's one of the reasons we were able to get back into the game. We were pressing but not well and not all together as a team. Rayo plike to play the ball about. We only began to press them properly at the end of the first half".
Bale: "I'm very happy for him. And he's happy too because he made the difference today. He was phenomenal. Bale still needs a little bit of time. Physically he's fine but apart from the goals he scored today, he he did a lot of defensive work and work off the ball in attack. Today was improtant for him and important for the team. He has had a few niggling pains but today he was great".
Cristiano: "He's fine. Yes, he'll travel [to Manchester]".
Isco: "He had a great game. Like the rest he has some difficulties at the start but little by little he entered into the game. We know where he plays best. He was excellent in the second half".
Tough game against City: "There are no easy games. We know that it's a difficult ground. We've had difficulties here and at other grounds but we've overcome them. This game is a good way for us to go into the City game. Now we have another battle. A completely different game. We'll make sure we prepare well".