ATLÉTICO 1 - 0 MÁLAGA
Correa slips the lifeguard kit on and comes to Atletico's aid
The Argentine leapt off the bench to inspire Atlético to a vital victory and keep them in the hunt for LaLiga. Málaga gave their hosts problems in a heated and tetchy game.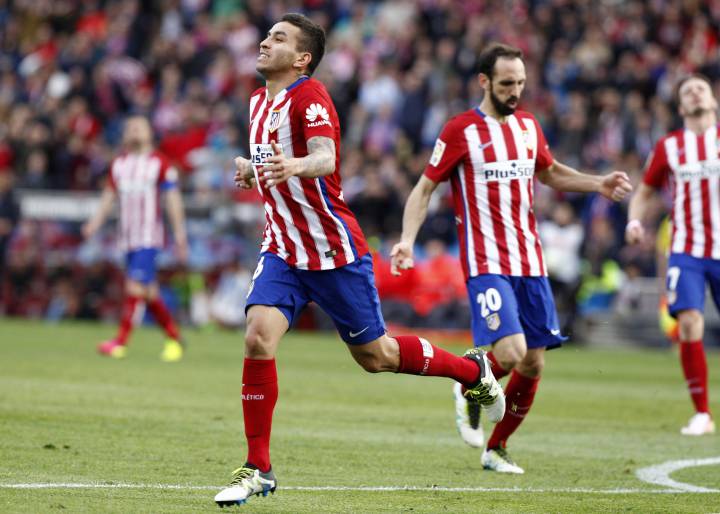 Atlético de Madrid are still firmly in LaLiga title chase - exactly as they were last Sunday, although they were given a hard time of it by Málaga in an occasionally bad-tempered game. By half-time, approximately two thirds of Calderón had bitten their fingernails on both hands down to the quick. Mateu Lahoz held the ball close to his chest as though it were his own offspring and muttered something into Simeone's ear like a sombre policeman. Something along the lines of "You have the right to remain silent..." which El Cholo took him up on. Someone from the Atleti bench had hurled a ball onto the pitch just when Málaga were two versus two in a counter attack. There were seconds to go and the reaction from the touchline, one of pure desperation, might have been triggered by a flashback to 2014, back to that Atlético-Málaga game which cost them LaLiga.
When the two teams returned for the second half Simeone was sat up in the stands next to Godín and Solozabal. Play resumed in exactly the same fashion as it had ended: the endless succession of fouls, altercations, late tackles, and time-wasting made the game seem eternal and not once did Atleti look comfortable; in the back of the minds was the knowledge that Real Madrid had fought back to win in Vallecas and had leapfrogged them in the table.
While the sun had reared its head after a drab and dismal day in the capital, it looked as though it would be a grey afternoon for Simeone's side too after Griezmann skewed by far the best chance of the first half wide of the post - one of those ones which he never misses. Moments before Cop had Oblak flinging himself at full stretch to push away a long range effort and Charles had dragged a shot straight into the keeper's hands, as though he'd totally forgotten about the one he put past him back in December.
Simeone had tried to break Gracia's tactical scheme in the opening 45 minutes by playing deep balls over Rosales. But even when they managed that, Málaga's penalty area was quickly a sea of legs and the ball was immediately cleared. Just when the league appeared to be agonizingly slipping between Atleti's figures, deputy coach Mono Burgos made a decisive move. He told Correa to get his bib off as he was going on: He whispered to the Argentinean as he was just about to enter the field; very likely something along the lines of: "You're going to score today lad" before exchanging high fives. The Rojiblancos needed someone, or something to stir the game up a little - give it some vim and vigour, that intangible ingredient that Gracia had forgotten to scribble on his blackboard.
Six minutes after Correa's introduction, Atlético were 1-0 up. The supersub was played in by Filipe just outside the area, he turned, cut inside a couple of yards then unleashed a curling strike which struck Albentosa's shin before nestling in the bottom corner. The deflection was just enough to put the ball beyond Ochoa's reach. Calderón breathed a collective sigh, while Correa sprinted towards the touchine before diving on Mono Burgos to give him a bear hug as his own, personal thank you.
Málaga tried to salvage something from the game and repeat their 2014 performance with Chory Castro, Juanpi and Recio come close to levelling. But Atleti hung on. There are three games to play and Atleti are still in the hunt.