VILLARREAL - LIVERPOOL | MARCELINO
"Liverpool maybe favourites but we're not inferior to them"
Villarreal coach Marcelino told reporters on the eve of the game: "We have the determination and belief that we can eliminate Liverpool".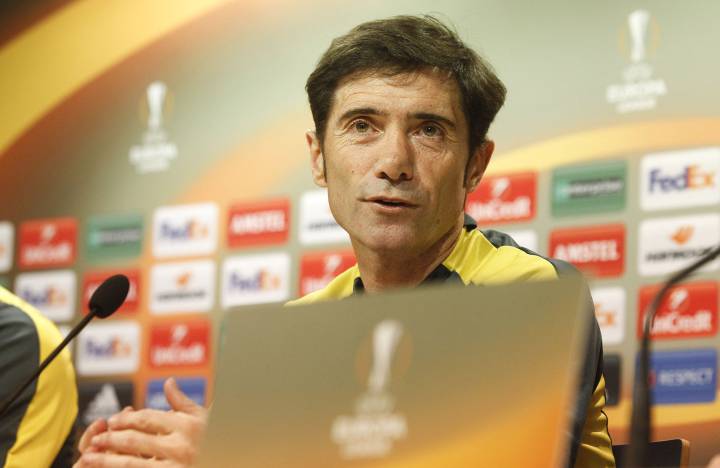 Marcelino took questions from the media as his Villarreal side welcome Liverpool to El Madrigal tomorrow night for the Europa League semi-final first leg.
Who do you see as the favourites?
Perhaps Liverpool are a little more favourites. For their history, the club, their possibilities of making the final and also for having already eliminated Borussia Dortmund you could say that they are the favourites but we don't consider ourselves to be an inferior team to them. We'll be giving all we've got to eliminate a legendary club.
What kind of game are you expecting tomorrow?
Liverpool is a good side with extraordinary players who play a very intensive brand of football. They are good on the counter attack and press a lot, which means they're not going to let us play the ball around. We have to find solutions to counter their first line of pressure. I'm sure it's going to be a wonderful game. In general terms, our styles of play are quite similar.
Musacchio and Costa are back...
Yes they are in the lista and they are available to play, but both of them are only just back after a period of inactivity. They've recovered for this game and we hope we don't suffer any setbacksso that we can count on both of them for both legs. We're delighted that they're back with us.
Is there more pressure to make a final after so many failed attempts?
No, we're not under pressure. I feel very satisfied and am very thankful to this squad for having made it this far and to be able to contest this semi-final. We have the determination and belief that we can eliminate Liverpool, but we will also be going out to enjoy it. We are very privileged to be able to play this semi-final. We noticed the pressure more in the earlier rounds. Now wwe have the chance to make history with this club. If we can enjoy the game and do things as we know how then I think we can make our rivals suffer here at our ground.
What result would you like to take to Anfield?
Right now we're not thinking about Anfield, only winning tomorrow.
Villarreal squad:
Goalkeepers: Asenjo, Areola.
Defenders: Mario, Víctor Ruiz, Eric Bailly, Rukavina, Musacchio, Jaume Costa.
Midfielders: Trigueros, Bruno, Pina, Denis Suárez, Castillejo, Samu García, Jonathan dos Santos.
Forwards: Soldado, Bakambu, Adrián López.
Ruled out:
Léo Baptistão: Injury ro right adductor muscle.