Torres: "Go back to playing with Spain? Better they call Saul"
Fernando Torres spoke on Spanish radio: "I've got no problem with Del Bosque, but I don't consider myself part of the Spanish set-up anymore."England vs Spain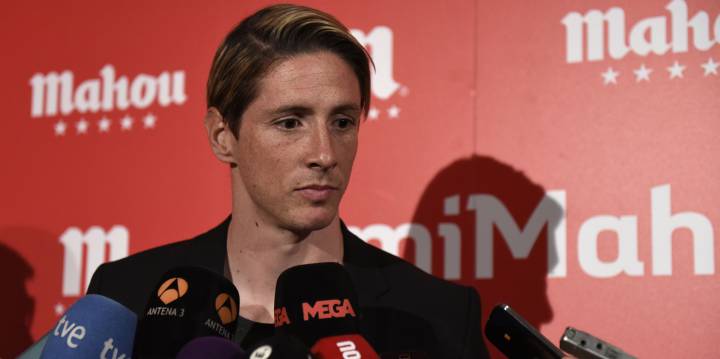 10 minutes from the end of the time with Bayern Munich at the rojiblancos' throats, Fernando Torres raced through, cut a shot with the outside of his right boot that agonisingly came back off the post. He looked like he did in that first season at Liverpool, like that explosive 19 year-old at Atletico Madrid who had the world at his feet.
It would have been the perfect cap on an impressive performance from El Niño who looked dangerous every time he got on the ball.
It was Saúl Ñiguez who took the plaudits for a brilliant individual effort, but Torres had played his part: a goal against Barcelona in the Camp Nou quarter-final first leg, and a hard-working high-intensity effort from the 32 year-old that's made it advantage Atletico before the second leg in Bayern. He spoke about the future, or rather didn't talk about the future, and about Spain in an interview with Marca radio.
The future: "It's just unreal to be able to enjoy this moment with the team. It's fantastic. I've had the luck to enjoy it from the stands, from my time at other teams, and being able to live in from the inside of the club is something special, I'm loving every minute. The future? No, no, I live in the present. The important thing is to live in the moment you're in".
Atleti's upward trends: "Guardiola said it. Beyond Bayern, Real Madrid and Barça there aren't very many stable clubs, but that's the level that the club is at. We've been there or thereabouts in La Liga for years, challenging Real and Barça is not within the reach of most clubs, but they've managed it. Even won it. The most difficult thing is to lay the foundations for the future of the club that will keep it at that level".
La Liga and the Champions League: "We think that the best way of getting past Bayern and into the final in Milan is by beating Rayo Vallecano. Because that's the next game, because you always go into a game in better stead after a win. You can deal with all the rest when it comes".
Preferred rival in the final: "We don't have a favourite. We want to be there, we don't care about anyone else."
A hero's return to the Calderón: "I was at a point when I needed something to bring back the excitement, to feel motivated, to feel part of a group that wanted to compete. I needed to believe in something and feel the excitement again and I couldn't find it anywhere else. Coming back here gave me what I needed in that moment. I was back fighting for something that I've always wanted. I'm lucky enough to have a family that has always supported my decisions".
Spain's best striker: "There are different options there. I'm a big admirer of Aduriz. In the end age is just a number. He's had an outstanding season, I love the way he plays".
Did you want that call from the national side? "I didn't ask for a call, and I don't want one. What I would have liked will stay with me, because I don't want my words to harm the team. I have no problems with Vicente or the technical team".
But you're in the best form of your season: "Better they call Saul".