R.SOCIEDAD-REAL MADRID
Real Sociedad-Real Madrid LaLiga 2016: As it happened
Gareth Bale rose to the occasion and scored the only goal of a tight game at Anoeta to put Real Madrid top of the league before Atleti and Barça played later in the day.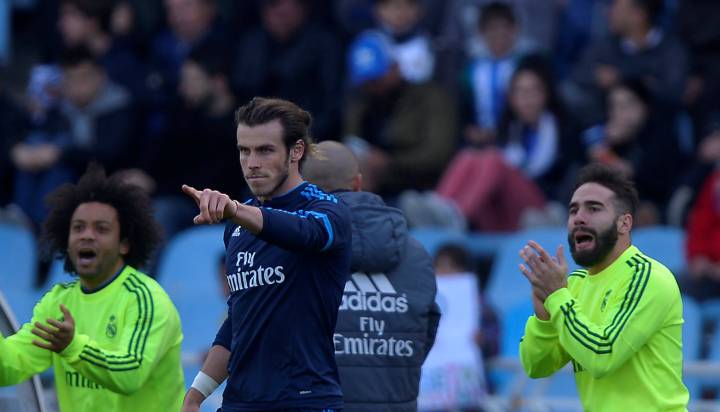 Big Bale's bonce bounces los blancos to the top of the Liga. An unsexy, unspectacular 1-0 victory for Real Madrid that was absolutely vital to keeping the dream of winning La Liga alive. The pressure was on Gareth Bale to deliver, he was the only member of the BBC on the pitch and the Welshman rose to the occasion powering a header home that meant three precious points.
Zidane won't care about the nature of the win, this one was all about the three points, and a Real Sociedad with nothing to play for proved more of an obstacle than anticipated. Bale's aerial superiority was absolute in the first half as he won everything: corners, long balls, goal kicks, crosses, but none that told on the scoreboard.
Persistence was the word of the day as Bale showed the desire to get ahead of his marker in the 79th minute to put the pressure back on Barcelona and Atletico Madrid.
How it happened:
Min 93 | Full-Time Real Sociedad 0 - 1 Real Madrid
Min 92 | Big header from the free-kick, goalbound... Keylor Navas.
Min 90 | Illarramendi to pump one forward, Varane deals with it. La Real with a free-kick in a dangerous possession. Tension builds..
Min 88 | Game management time for Real Madrid, 1 min to go plus stoppage time..
Min 87 | Bale's header is better every time you watch it, starting behind the defender but showing real desire to get there first and make it count for his team.
Min 85 | Naturally, Real Madrid's lines move back, Modric is being replaced by a younger Croatian model in Mateo Kovacic, Luka has been his usual poised, elegant self today.
Min 80 | Bale lives up to billing as the matchwinner, getting there first to yet another header that nestles this time in Rulli's net. Vazquez' cross, Bale got in front of his marker and won a powerful header that puts Real Madrid top of La Liga as it stands.
Min 79 | GOOOOOOOOOOOOOOOOOOOOOOOOLLLLLL!!! Gareth Bale!
Min 78 | Authoritative from Sergio Ramos as he brings the ball out in some stlye, it ends with a shot from Jesé that Rulli has to touch around the post. Real Madrid pushing for the winner.
Min 74 | Ufff... Modric dances past two, releases Jesé to the right of the box, his cross is deflected and only Rulli's reflexes keep it out. Modric then goes into the book for stopping Bruma in his tracks.
Min 73 | James makes way for Isco, some nice moments from the outgoing, but far from convinciing from the Real Madrid no. 10.
Min 69 | Sociedad press again, Illarra driving forward, Ramos fouls handing the locals a good shooting chance central from a fee kick, 30 yards out. Bruma steps up, but that'll bother nothing but birds.
Min 68 | Bergara off for Diego Reyes who gets a big reception from the local crowd.
Min 63 | Bale with space to run at that defence who were on the retreat, but his first touch is very sloppy conceding possession far too easily.
Min 63 | Nacho booked for a challenge on Javi Prieto, he'll miss the next match. Yellow too earlier for Ramos, a sign perhaps of a bit of frustration creeping in.
Min 62 | La Real playing 'vertically' as they say in Spain, but their direct approach is killed dead with one supremely assured touch from Raphael Varane just inside his own half.
Min 60 | Yuri looking for a blanqiazul shirt in the box at the other end, but his cross is too high.
Min 58 | Bale! Had to score! Vazquez worked it to James on the left, the Colombian's cross falls for Bale dead centre of the goal, all he has to do is pick his spot, but he picks Rulli's right ankle. Best chance of the match.
Min 57 | Real Madrid not creating chances with the frequency the did in the first half, Sociedad have been more in this game so far.
Min 52 | Illarramendi is throwing his weight about with his former employers here, he picked up Modric by the scruff of the neck in the first half like a mother lynx lifting one of her cubs, minus the maternal tenderness.
Min 50 | Yellow card for Xabi Prieto for a leading-arm jump on Sergio Ramos.
Min 49 | Bale starts the second half in a similar vain to the first: he leaps highest, wins a header from a corner but again puts it over the bar.
Min 48 | Looks like there are no changes on either side, Madrid have Jesé and Isco on the bench if ZZ wants to try something different.
Min 46 | Real Sociedad get the second half underway, can Real Madrid haul themselves to the top of the standings before Atleti and Barça play later?
Half-Time Witterings
Los madridistas clearly in the ascendancy in that first half, Bale featuring heavily, but they haven't made it count quite yet. Los blancos have looked particularly dangerous from set-pieces, and La Real don't look capable of dealing with the Welshman's aerial threat, struggling with that of Sergio Ramos too when he trundles forward.
Bruma has looked liveliest and the most likely to cause the blanco backline a problem, but it's been mostly set-pieces and the odd counter for the Basques. They'll feel more confident of getting something from this one the longer it stays at 0-0.
First Half Live:
Min 46 | Half-Time! Real Sociedad 0 - 0 Real Madrid
Min 45 | Mayoral combines well with Lucas Vazquez on the right and the canterano's cross is a good one, Bale failed to read his attentionas and didn't get across his man.
Min 42 | Bergara now booked for a challenge on Bale.
Min 41 | A long ball flicked on by Gareth Bale falls into the path of a piston-pumping Nacho, he looks certain to score until two blue and white bodies hurl themselves into the path of the shot. Bale gets booked afterwards for nothing much in particular, his challenge as high as the defender.
Min 38 | We've had sun, rain, sun again, now cloud, the atmospheric pressure has dropped on the pitch too, the visitors early verve has worn off in a bit of a lull in Anoeta.
Min 35 | Meanwhile, back in the Basque country it's Real Sociedad who look more likely to split their seams here, but have held on in this royal encounter: Real Sociedad 0 - 0 Real Madrid.
Min 30 | Zidane watch: No split trousers. Yet. The Frenchman is all over Madrid on giant 'Mango Man' billboards, they should really give him some stretching space.
Min 27 | Quick thinking from Bale as he launches an impossibly long throw to Borja Mayoral who controls and rolls the defender, setting up James on his favoured left foot, but Rulli is well-positioned and it flumps into his hands.
Min 27 | Real Sociedad 2 - 8 Real Madrid (shots)
Min 21 | Bale! Again! James' cross this time, Bale heads just wide, again. It's been all Madrid so far, they should really be in front.. The locals finally mount a forward charge with a corner and then Bruma whips in a dangerous cross from the right, moment of uncertainty in the centre of the Real Madrid defence, dealt with by Ramos.
Min 17 | What's James doing? Beautiful reverse pass from Bale, lovely backheel from Lucas to James who does his best Peter Kay impression and gaffs it very far away from anywhere that matters. Bizarre.
Min 15 | Ufff... This time it's Bale off target with a header from a corner, this close..
Min 12 | Modric gliding about in midfield there, weights one perfectly for Danilo whose cross is blocked. From the resulting corner Ramos wins the header convincingly but can't guide it inside the far post.
Min 10 | James gets a chance in La Liga again, he's become part of the second tier Real Madrid squad that Zidane uses to rest his A-team in between Champions League games. The Colombian pokes one on target after some good work by Nacho, Rulli is there.
Min 8 | Bruma with a lovely first touch for La Real in the midfield, looks eager to get on the ball, too eager for his teammate who wanted to cross that one.
Min 5 | Uyyyy... Gareth Bale, what a chance to make an early statement, the Welshman with a clear sight of goal, but drags it wide with his right foot.
Min 3 | Big chance for young Borja Mayoral to impress Zidane today, but it won't be easy, Sociedad will be emboldened by the absence of Real Madrid's two top scorers, and already the Basque crowd is right behind them.
Min 1 | Kick-off, Real Sociedad playing from right to left in their blanqiazul, Real Madrid in their navy kit with light blue stripes.
A stern test of Real Madrid's title credentials lies ahead today up in Basque country. No Cristiano, no Benzema, Borja Mayoral starts alongside Lucas Vazquez and the man Madrid has pinned its hopes on: Gareth Bale.
Preview:
Time is running out fast for Real Madrid as they continue in their increasingly desperate attempt to leapfrog Atlético and Barça to the summit of LaLiga and snatch the title from under the noses of their two most bitter rivals before the campaign is out.
Zidane's troops will march onto Anoeta this afternoon to tick off the first of their three remaining league games from their packed end-of-season fixture list. Only three points will do for los blancos if they want to stay in contention for the highly coveted silverware.
Dodgy doctors and persistent injuries to star players have stolen the headlines in the run-up to this encounter, but Madrid still have plenty of talent to draw upon. Following his match-winning heroics in Vallecas last week, Gareth Bale is expected to lead the charge in San Sebastian.
Ronaldo and Benzema are still nursing muscle injuries and Toni Kroos is also set to sit today's match out. Isco, whose PR master class against Rayo went a long way in repairing his faught relationship with his manager and the supporters, is expected to fill the German-shaped void in midfield.
Meanwhile, Real Sociedad's front line will look about as toothless as a new born today. The Basques' main goal threat, Agirretxe, is still recovering from injury, his stand-in, Jonathas, is also stuck in the sickbay and Carlos Vela is suspended.
However, with a three-point clinching header against Barça still fresh in the memory, 19-year-old Oyarzabal will be eager to put in another giant-slaying performance.