LIVERPOOL 3 - 0 VILLARREAL (3-1 agg.) | MARCELINO
Villarreal coach Marcelino says "I wouldn't like to be like Klopp"
Villarreal's coach spoke after tonight's defeat at Anfield: "For me it's not sad. We did everything possible. We were on 10 men, losing 2-0 needing just one goal to make the final".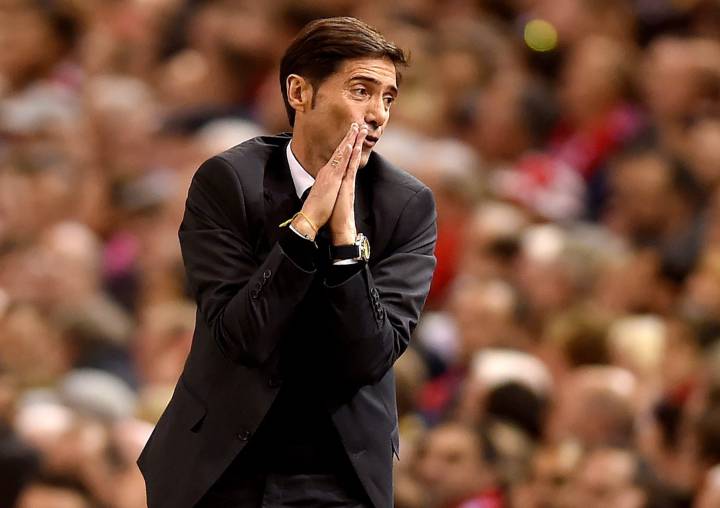 It must be painful to be eliminated like this...
We tried everything. We have a great rival in front of us and we have to congratulate them.
What were the reasons behind this defeat?
We started the game well. We had two chances before the opening goal and going 1-0 down really hurt us. To make the final you need moments of luck and today we didn't have any. We congratulate our rivals and also our players for all the enjoyment they have given us and for almost taking us into a final, anf for giving eveything they have got in them. We are very grateful to them.
What do you have to say about tonight's referee?
Liverpool were the better team. They are a brilliant team and some circumstances in the game favoured them. The ref didn't give as many fouls as he should have. And with so little fouls given, we ended one 10... that doesn't wight up. But we have to adapt to these things.
Should a penalty have been given for Moreno's push on Denis Suárez?
I didn't see a penalty, I was quite far away from that when it happened. I am not interested in isolated incidents but rather the game as a whole. I'm not going to moan about the ref because there was, or wasn't a penalty given. I only want to talk about what happened on the pitch, not the ref. Klopp is a great coach but I do not like being like that - at least in victory. But we all have different personalities and that's the way he is. We tried to advance with the ball through our passing game but Liverpool pressed us tremendously and if they give you a kick or a shove and the ref's saying "play on", it's very difficult. We wanted to impose ourselves on the game but this is Liverpool, a magnificent side. They have a high ratio in efficiency and that's what eliminated us. We tried but they were superior.
Are you going home sad?
For me it's not sad. We were on 10 men, trailing 2-0 and we needed just one goal to put ourselves in the final. We won the first leg and competed as best we could here. It's true that it didn't work out how we had hoped. We didn't want to concede an early goal and we did. That goal was a real blow. The game was played on the limts of the rulebook, the situation got to us but Liverpool were the better team and after the sending off, the game was over". (laughs heard from English press)
One day Villarreal will make the final...
We have to keep plugging away and going forward; this is a lovely competition to play in. We start the new season in the Champions League play-offs. We have to thank our fans and tell then we are sorry. We're grateful for all of the support they have given us right the way through the season. We are going to try to give them the reward they deserve.