Real Madrid - Valencia
Benzema offside then onside for Real Madrid's second goal
Real Madrid went two-nil up against Valencia in LaLiga week 37 when Benzema scored from what looked like an off-side position.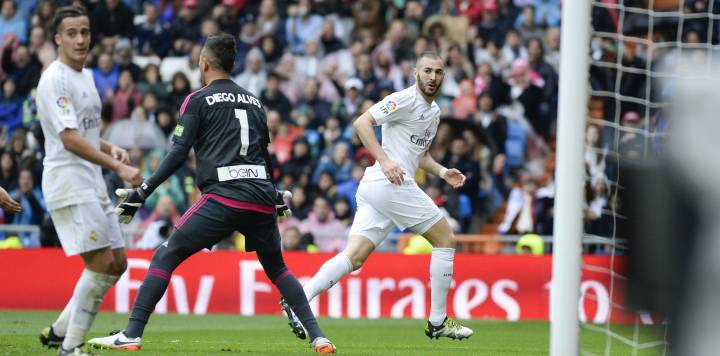 One of the main talking points of today's LaLiga action happened just before half-time in the Real Madrid - Valencia match. Zidane's side were leading 1-0 when Ronaldo drove in from the left and crossed for Benzema. His decent shot was well-saved by Diego Alves and the ball span back out into the area.
As the ball fell in the area Kroos tried to control it, but was challenged by Cancelo. The Valencia player won the ball, but his touch sent the ball straight to Benzema's feet, who turned and slotted home. The Frenchman was in a clearly offside position when he received the ball and the assistant referee duly raised his flag. The Real Madrid players of course swiftly surrounded the referee to point out that Benzema had in fact been 'passed' the ball by a Valencia player.
Referee Fernández Borbalán over-ruled the assistant referee and gave the goal. What he hadn't noticed though was that when the original ball had been played from Ronaldo to Benzema, the French striker HAD been in an off-side position and play should have been halted at that point.