FINAL DAY DECIDER
Real Madrid or Barcelona? LaLiga final day schedule announced
Granada-Barça and Depor-Real Madrid will be played simultaneously on Saturday 14 May at 17:00 with the relegation battle being concluded the day after.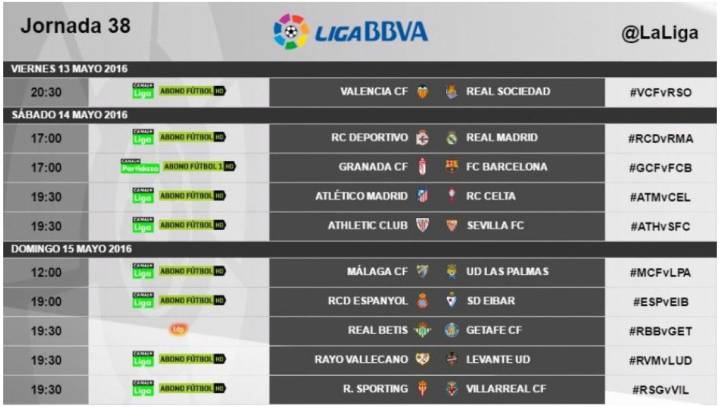 LaLiga have confirmed the days and times for the final matchday in the Primera division which will see the two title contenders, Barcelona and Real Madrid kick-off simultaneously. On Saturday 14 May at 17:00 CEST Barcelona will look for a win against Granada to guarantee them the crown while 1,000km north west of them, Real Madrid will be targeting three points at Deportivo and hoping for their rival to drop points.
On Sunday at the same time the relegation battle will take centre stage as Rayo host already doomed Levante, Getafe travel to Betis and Sporting welcome Villarreal (at the modified times of 19:30 CET).
The remaining five league matches, with much less at stake, will be spread out across the weekend. Valencia get Matchday 38 underway when they entertain Las Palmas on Friday evening and the season comes to a close with Eibar's visit to Espanyol on Sunday. Sevilla, who travel to Switzerland to play Liverpool in the Europa League final on the following Wednesday, will conclude their campaign on Saturday away to Athletic immediately after the title has been decided.