BARCELONA 5- 0 ESPANYOL
Pique: "I don't know if any suitcases will change hands..."
The centre-back also spoke about Arbeloa: "I wish him the best wherever he goes. At times, the ribbing was too much and we should have toned things down..."Valencia-Barcelona Live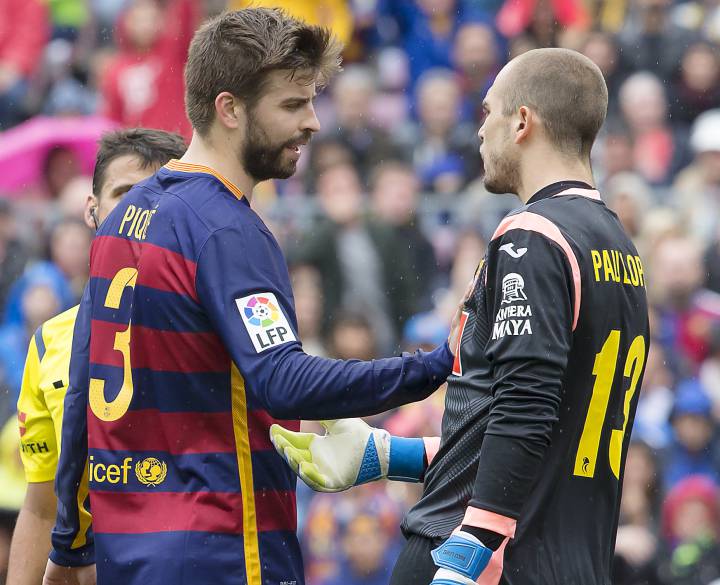 Gerard Piqué spoke to journalists in the Mixed Zone after the Espanyol game. He praised Real Madrid and admitted, on the day when Álvaro Arbeloa played his final game for the club at the Bernabéu, that maybe they'd gone too far with their caustic tweets. As for next weekend when the league will be decided, he hopes there will be no 'suitcases stuffed with cash' exchanged .
Do you think it's better that Granada have avoided the drop or will they be just as keen to win on Saturday?
They'll have their reasons to win - they'll be motivated. They are playing at home against the league leaders and they will want to bid their fans farewell in style. I expect they'll want to put in a good performance. We have to go there and play like we did today, and win.
Why has it come to this - the league being decided on the last day?
We're only human. The doubts only start to surface when you start struggling to win games after you have been in a winning streak. But we'll be going for it on Saturday, confident for the quality and talent we have got. Now we are back enjoying our football again...
Would completing a league and Cup double be considered a satisfactory season for Barça?
We're very proud to be in the running for two major trophies. We don't really care who wins the Champions League - we are no longer in that competition, but winning the league and the Cup and continuing to make history at this great club makes us hungry for more success.
Real Madrid are finishing the season strong...
Every team does its work to reach the end of the season with objectives in mind. Some manage to do that and others don't. They have reached the final day of the season with a chance of winning the league although it doesn't depend on them. If they are in the Champions League final it's because they've done a great job. They've racked up 12 consecutive wins in the league - that's an incredible run. If we win, it will be more merit to us for the work we have done.
Will there be any 'suitcases' changing hands?
I've got no idea, I hope not.
What did you make of Arbeloa's farewell at the Bernabéu?
I wish him the best wherever he goes. If they have given him a great send-off, it's because he deserves it. At times, the ribbing was too much and we should have toned things down - we shouldn't have done it. He's has a great career and won major trophies - the World Cup in particular, so wherever he goes next, I wish him all the best.