PREMIER LEAGUE
Guardiola wants Rulli at Manchester City
Real Sociedad's Argentine goalkeeper has blossomed in LaLiga; he is Pep Guardiola's alternative to his first choice, Claudio Bravo.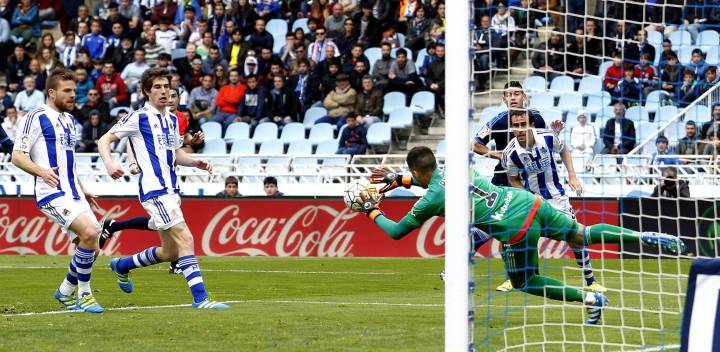 Gerónimo Rulli has built up a collection of suitors in Europe. Several teams have been monitoring the player, whose loan spell at Real Sociedad ends in June. One of the clubs who are very keen on the 23-year-old Argentina international goalkeeper is Manchester City. Incoming coach Pep Guardiola has his eye fixed on Gero Rulli as his alternative if prising Claudio Bravo away from Barcelona proves too difficult.
Rulli, two years on the ascendency

Rulli has really blossomed during his two-year stint at La Real. He's a keeper of great agility, a keen eye at reading the game, quick off his line and good in the air. He's also level-headed and studious not just about his own game but about his back four too. But what has struck Guardiola most is his ability to play the ball out of his area with both feet - a requisite for the Catalan coach.

Real Sociedad do not own Rulli; he arrived on loan from Uruguayan outfit CD Maldonado who in turn are owned by private inversion fund who hold the young goalkeeper's playing rights (last season La Real negotiated an extension to the loan). Last summer, the Basque outfit were close to sealing a first option clause on the keeper, believed to be around 15 million euros. In the end the clause was not included.
Willy on his way out

During his time in San Sebastián, Rulli has reiterated how happy he is with La Real but says his future is not entirely in his hands. La Real are expected to make an offer to keep Rulli at Anoeta but may find themselves outbid by City, who also have a stake in CD Maldonado. Meanhile Rulli's fellow countryman Willy Caballero is keen to find an exit from the Etihad, where he doesn't figure in Guardiola's plans.