GRANADA | LUCAS ALCARAZ
"Barça will need the best Piqué in Granada" - Lucas Alcaraz
Alcaraz was the first Granada coach to beat in 42 years. A lifelong club member, he's represented the Andalusians as a player, assistant and coach.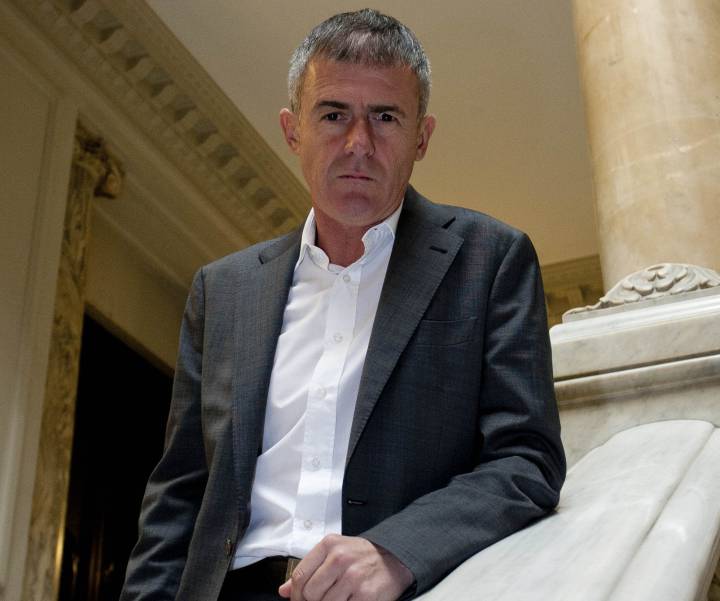 He was the first Granada coach to guide the Andalucians to a win over Barcelona in 42 years. A lifelong club member, he's represented the Andalusians as a player, assistant coach and first team coach in the Second Division B and the top flight. Lucas Alcaraz told AS that he will be watching Saturday's game with his son in his usual seat – No.44, row 12 at Los Cármenes.
You were the first Granada coach to beat Barça in 42 years, with the 1-0 home win in 2014. "We did a lot of things well and we had luck on our side", is what you said in the press room afterwards. What were the good things that your Granada side did that José González can take not of on Saturday?
The situation surrounding that game was very different to the one we'll see on Saturday. We were fighting not to be relegated and this Granada side is safe. That introduces other nuances. There were a lot of frayed nerves for us, people's jobs were at stake.
How did you prepare the team?
We knew that our only chance was to get a goal. If we could score one, then if we conceded, at least we'd take a point from the game. After that, it was a case of everyone helping out in defence. It was a case of a lot of solidarity and trying to avoid one-one-ones - especially from Messi and Neymar. That was basically the strategy we used.
Now the pressure's off Granada, do you think they'll disconnect or be an even more dangerous team?
For me, I would have liked to have confronted that 2014 meeting under these circumstances – without the pressure that a bad result could send you into the abyss. If Granada's league campaign had been a little more comfortable this season, they'd be much higher up the table. They have a lot of bold players.
You've been a fully-signed up club member at Granada since you were a boy; you've lived through the team's times at the old and the new Los Cármenes. How will the fans respond on Saturday?
It'll be a huge party. They will want to acknowledge the work the players and José have done because they have suffered throughout the campaign. The fans, I might add, have matured. Now they understand that being in the First Division is difficult and remaining there is a success. They'll be in the mood to celebrate and show their thanks to Quique Pina. Without his project, people would understand less about football in Granada than they have over the past few years.
Apart from the party atmosphere, could the mood also be a little hostile to Barça?
If the public sense that there's a chance to beat Barça, they're going to start getting right behind the team and pressing – no doubt about it. And let's not forget, there are a lot of Madridistas in Granada and if they see that option, they'll start pushing. It's understandable.
Many people take about taking on Barça man-for-man but the statistics show that the teams who tend to beat them are the ones who sit back. Would you agree with that?
One thing is what people say in a press conference and another is what happens on the pitch. It sounds really nice saying that you will take on Barça man-for-man but Barça will press you. What you try to do in these games is to try to ensure that, instead of 80 per cent possession, Barça only have 65-70%, and you have to know what you are going to do when you have the ball. You need to use the ball to defend yourself and attack when you have a chance of punishing them.
Your Granada beat Tata Martino's Barça, basically it was the last remnants of the Guardiola/Tito Vilanova-style Barça. Is this Barça as different as it's made out to be?
That Barça side really elaborated every move – perhaps too much at times. I think in the later years they were a bit to fancy, they'd overwork things. Now they are a more direct team. Having said that though, the previous Barça could somehow find a move where there was no space at all – where it seemed impossible. The current side struggles to do that. But when all's said and done, Barça is Barça - always.
Let's go back to when you were kid, crazy about Granada. What do you remember of the giant-killing 2-0 win over Barça with two goals from Enrique Porta? It's said Los Cármenes pressed just as hard as the team…
That was Charly Rexach who said that, when he went through Granada's Bull Ring (next to where the old Los Cármenes stood) he said: bullfighters are so lucky, they've got it easy!. Football was a different game back then. To start with, Barça could finish mid-table in those days. And Granada had some very powerful teams. The conditions were different, the stadiums were different, everything was different.
What are Granada's chances on Saturday?
Rochina is the key. He's good at picking out the forward line. If the forwards don't make runs in the box, a passer of the ball loses everything he's got. Now Granada have players like El Arabi and Peñaranda. If I was Barça's coach, I'd keep an eye on Rochina - and Fran Rico, who released Brahimi in that game when we beat them. Both are good from set-pieces and José does a lot of work on that aspect of their game. Granada have been later starters but they're a good side. If Barça don't resolve the game quickly, they could have a tough time of it.
And what about El Arabi - 16 goals this season. And the trouble you had when you championed him during you time as coach...
Coaches need to be accustomed to being on the receiving end of criticism when we believe in a player. At that time, they easiest thing for me to have done would have been to take him off. El Arabi, as we can all see, is a great player.
So Barcelona need to be on their guard at the back...
I'd say Barça will need the best [Gerard] Piqué in Granada. And the same goes for [Javier] Mascherano.