Mark Clattenburg will referee the Champions League final
The Englishman, who sent Fernando Torres off in 2012, has already presided over Real Madrid (once) and Atlético (twice) this season.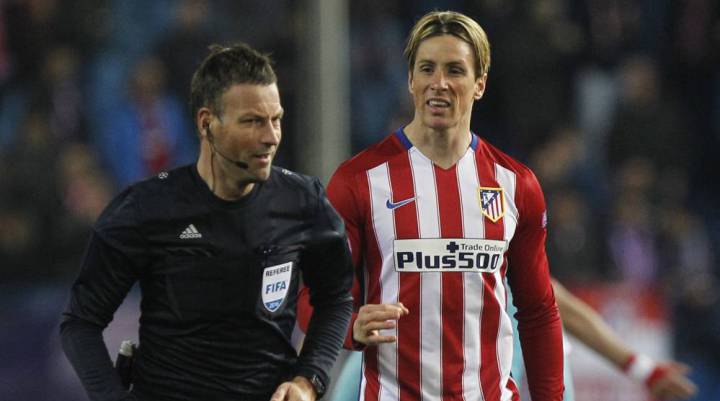 Uefa have announced that Mark Clattenburg will referee the Champions League in Milan. The veteran English official will be the man dressed in black when Real Madrid and Atlético face off in the San Siro on 28 May.
In all four of the Real Madrid games Clattenburg has presided over, Los Blancos always triumphed. The last time he flipped a coin to determine what end the Chamartín outfit would be attacking from came earlier this season when the then Rafael Benítez-managed team overcame PSG thanks to a fortuitous Nacho goal.
The County Durham native has officiated over seven Atlético games, from which the Colchoneros recorded four wins, two draws and one defeat. The 41-year-old and the Rojiblancos have crossed paths twice this season: the scoreless draw against PSV (that had to be resolved with an enthralling penalty shoot-out) and in the semi-final first leg against Bayern Munich.
One person who might harper some ill will towards the Englishman is Fernando Torres. Clattenburg was involved in a controversial incident on 20 October 2012 when he brandished two yellow cards to El Niño during a top-of-the-table clash between Chelsea and Manchester United. The events of that match earned the referee a one-month suspension from the English FA after the Blues lodged a complaint over alleged "racist remark" made by Clattenburg towards Chelsea midfielder John Obi Mikel.
How the teams have fared with Clattenburg as ref:


REAL MADRID
Champions League
27-09-2011 Group Stage Real Madrid-Ajax 3-0
17-09-2013 Group Stage Galatasaray-Real Madrid 1-6
02-04-2014 Quarter-final first leg Real Madrid-Borussia 3-0
03-11-2015 Group Stage Real Madrid PSG 1-0
ATLÉTICO
Champions League
11-03-2014 Last 16 second leg Atlético-Milán 4-1
04-11-2014 Group Stage Malmo-Atlético 0-2
15-03-2016 Last 16 second leg Atletico-PSV 0-0
27-04-2016 Semi-final first leg Atlético-Bayern 1-0
Europa League and UEFA Cup
25-10-2007 Group Stage Lokomotiv-Atlético 3-3
16-09-2010 Group Stage Aris- Atlético 1-0
05-04-2012 Semi-final Hannover- Atlético 1-2