Barcelona crowned LaLiga champions in Granada
The reigning champions retain their title with a 3-0 win in Los Cármenes, Luis Suárez capping a remarkable season with another hat-trick.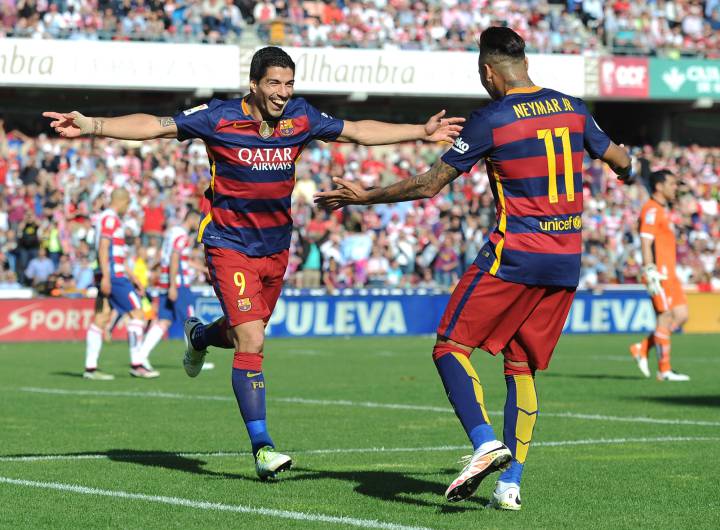 Barcelona sealed a sixth Liga title in eight years in Los Cármenes with a 3-0 victory over a battling Granada side, seeing off the late challenge of Real Madrid who beat Deportivo 2-0 in Riazor but could not overhaul the leaders on the final day. Luis Suárez bagged a hat-trick, his sixth of the season, to ensure the Azulgrana could not be caught and in doing so also wrapped up both the Pichichi award and the European Golden Boot prize as the top league scorer across the continent's divisions with 40 in total.
Granada did not roll out the red carpet for the champions-elect and carved out plenty of chances to get on the score sheet, the most notable when substitute David Barral hit a post late on. Fran Rico also tested Marc-André ter Stegen when put through by the mercurial Youssef El Arabi and for spells in the second half Barça's back line were made to sweat in the Andalusian sun as the home side, with safety already assured, attacked with purpose.
However, it fell to Suárez to round off his remarkable season with a treble that will remain long in the collective Camp Nou memory. The Uruguayan opened the scoring on 22 minutes with a tap-in after the Granada defence allowed their concentration to drift for a moment to tropical climes and essentially finished off the contest, and the 2015-16 Liga title race, with a well-taken near-post header after some dogged work on the right by the evergreen Dani Alves. Suárez completed the job with another simple strike late in the second half after Neymar's act of generosity. The Brazilian could easily have written his own name into the story of the afternoon but squared to Suárez to stroke in his third instead: Barcelona's success this season has been built on the chemistry of their front three and in Los Cármenes it was no different.
As it happened
Full time | It's all calmed down now though thankfully.

Min 93 | All over in Riazor, 2-0 to Real Madrid but its not enough. It does mean they'll finish above Atlético though, so that's something for Madridismo to comfort themselves with. And it's all over in Granada! Barcelona are champions! Fans are pouring onto the pitch and its turning a bit ugly... the police are getting involved and the Barça players are being jostled as the home fans are dispersed.

Min 92 | Barral! The grizzled goalscorer hits the inside of Ter Stegen's post, the ball almost finding its way in at the other side as well. Unlucky.

Min 91 | This will be Barça's sixth title in the last eight years.... not a bad return that.

Min 90 | Three minutes added in Granada...

Min 89 | Luka Modric goes in the book, rather harshly, in Riazor.

Min 87 | Sergio Busquets off for Sergi Roberto in Los Cármenes, the Barça fans are in full celebration mode now, many stripped to the waist in the balmy Andalusian afternoon. Luis Enrique's side are seconds away from the title...

Min 85 | Sergio Ramos went in the book in Riazor around the same time for a foul on Luis Alberto.

Min 83 | All smiles on the Barcelona bench. They think it's all over... and it is now! Suárez bags his third of the afternoon to take his league tally to a nice round 40. Fair play to Neymar there, he laid that on a plate for his teammate when he could have shot himself...

Min 81 | Depor almost carve out a chance, the home side are desperate to get a consolation goal. Real, Pepe to the fore, have been able to keep them at bay so far.

Min 79 | Luis Enrique cutting a pensive figure in the Barça dugout as his side just about hack the ball clear under pressure from Granada. They've done well against the big boys this season, the home side, and they're giving the champions-elect a bit of the old squeaky bum time in Los Cármenes.

Min 77 | Nice work from Isco, who plays the Depor defence a dummy to send Carvajal in on the right, then gets his head to the full back's cross but it's just wide. Rakitic off now for Barça, Arda "didn't that go well" Turan on for the Croatian.

Min 75 | Piqué goes down after a clash with Costa and the Granada man goes in the book. David "bang bang" Barral is coming on for El Arabi. He knows where the onion bag is, the veteran striker.

Min 73 | And Mascherano is off now, Mathieu coming on to replace him. Jesé preparing to come on in Riazor, Mosquera off for the home side with Celso Borges coming on.

Min 71 | Navas! A miraculous save from the Real keeper to deny Depor in Riazor. It's all kicking off in Los Cármenes, Cuenca getting the treatment from his erstwhile teammates for not knocking the ball out with Suárez prostate on the turf. Piqué and Andrés go in the book after a melee and Mascherano is still down...

Min 70 | Mascherano is down in Los Cármenes and it doens't look good for the Argentinean...

Min 69 | Another change for Depor, Arribas off for Rober Suárez.

Min 67 | Granada are still pushing for a goal and a couple of corners cause some flapping in the Barça rear guard. Luis Enrique is out of his seat and prowling the touchline.

Min 65 | Dani Carvajal doesn't get many and that's why... a wild crack from the right back will come back with snow on it. A little urgency has gone out of Real's play now, someone must have sneaked a look at the score in Los Cármenes at half time. Depor looking more likely to bother the score board at the moment.

Min 64 | Huuuuuy! Sidnei has a crack and it hits Pepe on its way very narrowly past Navas' upright.

Min 62 | Rubén Pérez goes in the book for a head-to-head with Neymar. More of a peck than a smack in the kisser, but the rules are the rules.

Min 61 | Granada are not giving up the ghost in Los Cármenes and have been causing a bit of bother among the Barça back four. Piqué, who is having a bit of a stinker, again the culprit for handing the home side the chance to pull one back.

Min 59 | Andrés! What a save from the Granada keeper to deny Neymar. Meanwhile in Riazor, Isco is on for Toni Kroos.

Min 57 | Fran Rico is played in by El Arabi but shoots straight at Ter Stegen. That was a golden chance for Granada.

Min 55 | Piqué gifts the ball to Granada and Peñaranda almost gets on the end of the resulting cross but is bundled off the ball in the Barça area. Pedro Mosquera goes in the book in Riazor for a clumsy challenge on Casemiro. Zidane cold do with hauling his Brazilian bruiser off before he does himself a nasty. He'll be needed in Milan.

Min 54 | A Messi free kick puts Andrés Fernández into full Hollywood mode, the Granada keeper making a stop for the cameras there.

Min 52 | Lucas Pérez draws a tidy save from Keylor Navas in Riazor. He's had a decent season, Pérez, and has looked the most likely of the home side to prevent another clean sheet for the Costa Rica stopper this afternoon.

Min 49 | James warms Pletikosa's hands with a shot from the edge of the area, Suárez almost wriggles through in Los Cármenes as he seeks a third to embellish his stats a little more this season. The Uruguayan will lift both the Pichichi and European Golden Boot awards for the season unless Gonzalo Higuaín hits seven past Frosinone this evening.

Min 46 | Back underway in Riazor and Los Cármenes, James Rodríguez on for Real Madrid in the second half, Cristiano Ronaldo off! No Pichichi for the Portuguese this season then. Former Barça winger Isaac Cuenca is on for Rubén Rochina in Granada.

Min 45 | Half time in Los Cármenes as well, Granada 0 - Barcelona 2 down south in sunny Andalusia. It's hard to see the home side pulling this one back but stranger things have happened...

Min 45 | Ronaldo bashes it into the wall, then hammers the rebound back into the defence. Casemiro almost gets on the end of the second clearance and is brought down in the box. It's not a good look for the Brazilian, who trudges off gingerly clutching his ribs. Half time in Riazor, Depor 0 - Real Madrid 2.

Min 42 | The barça fans in Los Cármenes are in high spirits, the result as it stands enough to seal the Liga title for a second consecutive season. Free kick for Real in Riazor, Ronaldo inevitably lining it up...

Min 38 | A bit of a mix-up at the back gifts Granada a corner but Barça hold firm and break through Neymar, who goes it alone and fires a shot wide of the far post.

Min 37 | Gooooooooal in Los Cármenes. Dani Alves does excellently to chase down a long ball on the right when it looked lost, he cuts it back into the box and Suárez is there to nod home for his 39th of the season. Ronaldo now needs four again to match the Uruguayan.

Min 34 | It's walking pace from Barcelona in Los Cármenes now, a dangerous little game as Granada have plenty of pace up front as Peñaranda shows by leading the visiting back line a merry dance. Barça are back swiftly in numbers though and snuff out the youngster's foray.

Min 33 | Real have won a sixth corner in Riazor, Depor aren't having much luck defending them. Ronaldo is close to tears of frustration as he glances a fine left-footed effort off the bar this time.

Min 31 | Barcelona are slowing the pace of the game in Los Cármenes, it's job done really as long as they can limit Granada's breaks to the current rate of not very many.

Min 29 | A roar to the heavens from Ronaldo as he springs the Depor offside trap, finds himself clean through on goal but sees his dinked effort come back off the bottom of the upright.

Min 27 | Replays show Bale bundled over Arribas in the lead-up to Ronaldo's goal. The Depor players were protesting quiet vehemently after it was given.

Min 25 | Goooooooooal in Riazor! Ronaldo pokes the ball home via a Depor defender's arm. It remains to be seen if that's given to the Portuguese or goes down as an own goal.

Min 23 | Keylor Navas is called into action in Riazor, making a regulation save from Lucas Pérez. Barça appeal for a handball in Granada and it's given, right on the edge of the area.

Min 22 | That was a bit of a gift from Granada, who switched off completely and failed to spot Suárez arriving at the far post. As it now stands, Barcelona will be crowned champions.

Min 21 | Gooooooooal in Los Cármenes. Suárez gets on the end of a flowing Barça move to tuck home into an empty net. 38 league goals for the Uruguayan now.

Min 19 | Sergio Busquets goes in the book for a challenge on El Arabi in Granada. In A Coruña, Ronaldo is wincing as he clutches a foot, nervous moments for Zidane, who will want to haul off his key players as quickly as possible.

Min 17 | Granada have managed to get a bit of the ball, easing the pressure on their back four in Los Cármenes. Luis Suárez is throwing a wobbler about something. Perhaps he's heard the result in Riazor...

Min 16 | Ronaldo fails to bring a Bale ball under his thrall with just one defender to turn. The Portuguese needs three more to match Luis Suárez's tally for the league season.

Min 15 | Barcelona are camping around the Granada area now, marshmallows toasting in the fire. Iniesta has a pop but drags it wide.

Min 13 | Messi plays in Neymar but the Brazilian sees the ball nicked off his boot as he was shaping to shoot. Granada clinging on in Los Cármenes as Real go close in Riazor as Ramos and Benzema go for a cross but can't quite connect, the ball flashing across goal.

Min 11 | Granada hack the ball clear in the area as Barça bear down on goal. Last-ditch stuff from the home side with Barça turning the screw now. The visitors can smell a breakthrough.

Min 9 | El Arabi breaks but is chased down by the Barça defence, good opportunity for the Granada forward to put the cat among the pigeons there. Messi then tries his luck at the other end with a shot from distance, but it's just over the bar.

Min 7 | Goooooooal in Riazor! Ronaldo sweeps home from a Benzema touch, looked like the Frenchman was having a pop himself there but the Portuguese takes full advantage to put Real ahead and, as things stand, en route to the Liga title!

Min 6 | Doesn't look like it'll be jogo bonito in Granada, the sides are already handbags drawn. Gerard Piqué gets in the face of the home side and then almost scores from a corner! Great reaction save from Andrés.

Min 5 | Neymar is down in some discomfort after a clash with Rubén Pérez, the Granada midfielder also came out of that with a grimace. Real still pushing for an early strike in Riazor...

Min 3 | Real Madrid have a period of possession in the Depor half but it comes to nothing. Slow start in Los Cármenes, a couple of fould breaking up what play has there has been.

Min 1 | We're off! Both games are underway.
The teams are out and doing the customary handshakes. Glorious sunshine on Granada, a bit of gloom hovering above Riazor. Omens? We're about to get underway in both games...
There will be a minute's silence in Riazor and Los Cármenes for the victims of the terror attack against a Real Madrid fan club in Iraq overnight on Thursday.
Welcome to our build up to and then live coverage of the two key games that will decide the winner of LaLiga 2015/16. This is Matchday 38, the final games of the season for Real Madrid as they go to Deportivo de la Coruña and Barcelona as they visit Granada and the whistles will be blown at 17:00 with around 1,000 kilometers separating the stadia. You'll not miss a minute of the action with us.
Previews
Real Madrid arrive at the Riazor with hope more than expectation that they can win the game and be crowned champions of Spain. The hope is down to the destination of the title not being solely in their own hands as they require an upset in Granada where league leaders Barcelona wil play their match simultaneously. Madrid need to win and Barça fail to do so for the trophy to make its way to the capital.
Although Zidane will not be wanting any further injuries ahead of the Champions League final in two weeks' time (most agree a much more likely title) he will not want to risk losing the game in case Barça do slip up. Bale is likely to get a place in the side and the Welshman will be expected to deliver along with Cristiano. Supporting roles in an attacking sense will be created by Modric in midfield. Keylor Navas returns between the sticks after missing the last game through injury. The dream situation for the French coach is that his team get a comfortable foothold in the game - a la Barça's rout there last month - and then can replace some of the key cup final legs.
Deportivo de la Coruña are now safe from the drop, have five players out injured as well as sanctioned absences of Luishino and Lopo.
The odds favour Madrid somewhat in La Coruña but what about Barcelona? Again the odds are stakced in their favour. Like Depor, Granada are already safe from relagation thanks to an unlikely 4-1 victory away to Europa League finalists Sevilla last time out. Pride is at stake for the Andalusian side but not much else (unless of course the rumours of 'incentives' are to be believed).
Although Barça have the Copa del Rey final next weekend to look forward to (again Sevilla are in that one) their complete focus will be on getting the league title sown up - something they, and their now more nervous fans, thought was a formality just a few weeks ago. Luis Enrique has an almost full squad to choose from but even injured Bravo and Sandro have travelled to be part of the very probable celebrations.
Messi and co will be hoping to make light work of lowly Granada, a team they've not had many problems scoring against in the past, and in Luis Suárez they have a man on the verge of the top goalscorer award, breaking into the Argentine and Cristiano's domination of it.
Teams:
Real Madrid: Navas, Carvajal, Pepe, Ramos, Marcelo, Casemiro, Kroos, Modric, Bale, Ronaldo, Benzema.
Deportivo: Pletikosa; Manuel Pablo, Arribas, Sidnei, Navarro; Fayçal, Mosquera, Bergantiños; Fede, Lucas Pérez, Luis Alberto.
Barcelona: Ter Stegen, Piqué , Rakitic, Sergio, Alves, Iniesta, Suárez, Messi, Neymar, Mascherano, Alba.
Granada: Andrés Fernández; Lombán, Ricardo Costa, Babín, Miguel Lopes; Rochina, Rubén Pérez, Doucouré, Fran Rico; Peñaranda, El Arabi.