RUGBY
Argentina international Senatore gets second ban for biting
The serial biter and Jaguares loose-forward will serve a 10-week ban for sinking his teeth into the flesh of an opponent in Velez Sarsfield. Karolina Pliskova - Simona Halep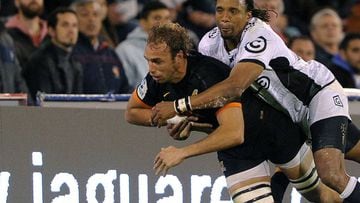 Argentina international loose-forward Leonardo Senatore has been suspended for 10 weeks after being found guilty of biting an opponent in a Super Rugby match on Saturday.
It is the second time the 32-year-old has been suspended for the same offence having sat out nine weeks in 2013 for biting South Africa lock Eben Etzebeth in a Rugby Championship fixture.
Senatore was playing for the Buenos Aires-based Jaguares when he sunk his teeth into the arm of Sharks flank Keegan Daniel as the pair tussled in a ruck near the end of a tense 25-22 victory for the South African side in Velez Sarsfield.
Despite being a repeat offender, his most recent ban was reduced from the prescribed minimum of 12 weeks for what the SANZAAR judicial committee called his 'good character, his playing record and his disciplinary record'.
'The Judicial Committee deemed the act of foul play merited a low-end entry point of 12 weeks. The Judicial Committee then added two weeks for aggravation as this was the player's second offence for biting,' SANZAAR said in a statement on Monday.
'However, taking into account mitigating factors including the player's good character, his playing record and his disciplinary record the Judicial Committee reduced the suspension to a period of 10 weeks.'
The suspension rules Senatore out of the remainder of the group phase of the Super Rugby season, with the Jaguares unlikely to make the playoffs.
He will be free to play in the Rugby Championship starting on Aug. 20 but will miss Argentina's three friendly internationals in June against Italy and France (two).