Sevilla president Castro: "The adrenaline's really flowing now"
Sevilla unveiled the shirt they will wear in Wednesday's Europa League final. "Sevilla fans will be there and giving the team support", club president José Castro said.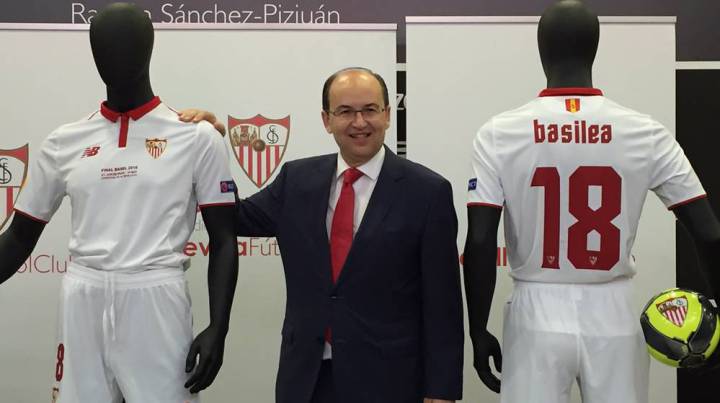 NUEVO NISSAN LEAF
VANAUTO
It's the start of a significant week for Sevilla, wo this morning presented the official shirt which the players will wear in Wednesday Europa League final. The event took place at the VIP suite at the Sánchez-Pizjuán. There are just a few minor differences to the commemorative Europa League shirt and the one which the team will wear next season.
The shirt get the season of approval from Sevilla president José Castro: "I love it. It's a nice shirt and it will also be the design which we will use for the new campaign. It has a polo collar and I like it a lot".
Important week: "It's an important week and an exciting one. We have the chance to achieve something great. We've got butterflies in our stomachs, the adrenaline's really starting to flow now - we have two important finals to play. Only a chosen few have the honour of playing two finals in the same week".
Atmosphere in Basel: "I'm not worried that the Sevilla fans who will be travelling to the game, close to 6,000, will not give their full support to the team on the pitch - however many pounds they are offered [for their tickets]. Those who go will be getting right behind our team in which a trophy and a place in next season's Champions League is in play.".
As for the disproportionate ticket allocations: "We could have made tickets nominative - through registration only. But you live and learn. Maybe that way we could have stopped the massive demand from English fans. And even if we did ask for tickets to be nominative, it wouldn't guarantee that they would be checked on entry to the ground. We organized ticket sales based on what happened last year when we were left with a surplus; the club has done what it thought was the correct thing to do, although there's always room for improvement".
Overall assessment of Sevilla's season? "We'll review the season when it's over, we have two finals to contest before that".
Final at 50:50: "The favourites? We are not lacking in optimism but we have a great rival in front of us and it could go either way; I see it at 50:50. I don't there are any favourites".
The team right now: "We do a lot to ensure that the team is fully focused going into a final. This could turn us into a great side, will help us to grow if we can win both games, although there is great merit in just getting this far. The moment has arrived when we could achieve glory. All the ingredients are this for this to be a marvellous spectacle".