Zidane's plan for Milan: Starting line-up, tactics, Lucas and James
Zidane gave the team two days off "to forget about football", they're back on Tuesday as preparations begin for the Champions League final. 'Plan Zidane' is already on paper.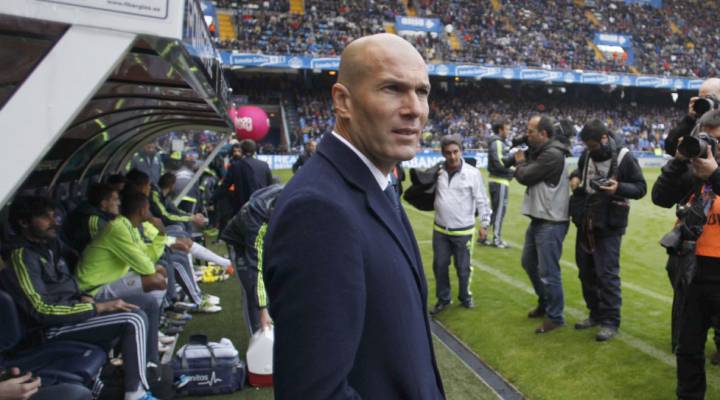 Real Madrid's players return to training on Tuesday as preparations for the biggest day of the season begin, the Champions League final will take place in the San Siro stadium on May 28. Zizou gave his players two days off telling the squad "Rest, relax and don't think about football. When you come back, we'll get ready for the final".
The Real Madrid manager has 12 days to plan for Milan, and it appears that the blueprints for a victory have already been written after a meeting between the manager and his technical team. Physical preparations have been pored over and set out, the team has been written down, and now it's all about getting the players into a Champions League final frame of mind.
Starting Team
Zidane already has his starting team for 'Operation Undécima'. The Clásico team that beat Barcelona at Camp Nou - the same team that completed that remarkable comeback against Wolfsburg with a memorable 3-0 win is the side that will get the nod at the San Siro. The team will line out like this:
Keylor; Carvajal, Ramos, Pepe, Marcelo; Casemiro, Kroos, Modric; Bale, Benzema and Cristiano.
The Frenchman will plump for Carvajal in the right wing-back position with Danilo disappointing in the opportunities he's been given, along with his untouchables: Keylor, Casemiro and the BBC. The Costa Rican goalkeeper has had a spectacular season, and Casemiro has brought balance to a previously incoherent midfield, sitting and anticipating while Kroos and Modric concern themselves with important matters further up the field. The BBC's numbers speak for themselves: 98 goals between them this season, 51 for Cristiano, 28 for Benzema and 19 for Gareth Bale. This is the starting eleven deployed by Zizou on the final day of the season against Deportivo, Los Blancos final test before Milan - a match they won 0-2 with a brace from Cristiano.
Physical preparations and fitness
Zidane has been talking about physical conditioning since he arrived on the blanco bench after the departure of Rafa Benítez, he was reportadly shocked by the players' level of fitness. With the extra time off afforded by Real Madrid's ejection from the Copa del Rey for fielding Denis Cheryshev illegitimately, Zidane took full advantage to put the players through a mini pre-season and they have arrived at the end of the season in good shape, on a run of 12 consecutive victories. The French manager focused on reaction speeds and short bursts over the first few steps, work that has paid dividends and increased the intensity of the team on the pitch.
Zizou had a very simple explanation for the defeat at the Bernabéu at the hands of Atleti; "We have to do more, run more", he said. Curiously, ever since that defeat, Casemiro's movement and coverage of the pitch has increased significantly and his contribution has become essential.
With this in mind, Bernardo Requena and Hamidou Msaidie, the idealogues in the Real Madrid fitness team, have designed a specific training regime to ready the troops for the May 28 D-day: The focus will be on keeping the intensity high with plenty of cardio and aerobic exercise, without overdoing it and risking injury to key players, particularly Gareth Bale with his recurrent calf problems, Cristiano Ronaldo who's carrying a slight knock from the Depor game, and Lucas Vazquez, who's just back from injury.
Practice match
Currently the technical team is contemplating a practice match with one of the cantera sides, the first team will go into the final in Milan without having played a competetive match in two weeks, a space of time sufficient to lose that extra edge of sharpness. The coaching assistants and the number one realise the importance of maintaining that competetive edge that has seen them go on a winning streak of 12 consecutive matches. Nothing has been decided, but it is an idea underlined twice on Zidane's notebook.
Tactics
"Losing a derby at home to Atleti is a big blow, a difficult one to take. I am fully responsible for this", said Zidane after the 0-1 loss to Atleti at the Bernabéu on February 27. It hurt. Simeone taught madridismo a lesson in tactics and motivation that day - a lesson that Zidane hasn't forgotten. Analytics are in process and a formula carefully considered that will open up the most solid defence in world football, one strategy that has proven to work against a massed unit that keeps its shape is to double up on the full-backs, Zidane's idea is to take advantage of the strong central core of Casemiro-Kroos-Modric and give the wing-backs more freedom to raid deep into rojiblanco territory, create overlaps and flank the solid Atleti defensive unit, attacking the byline.
Lucas Vazquez to inject momentum
The Galician is recovering from an injury to his left knee that he picked up against Valencia on May 8, but he'll be back in plenty of time for the Milan final. In fact, Zidane is planning for his presence in training this week. That's very good news for Zizou, who sees Vazquez as his number 12, a player who can bring some vitality from the bench, a momentum injection that his team sometimes needs. His introduction was decisive in Vallecas against Rayo, oxegenating the Madrid attack and scoring the goal that made it 2-2. He also showed that he can handle the big occasion with a fine performance at the Etihad in the semi-final, Vazquez recovered possession 8 times and was a constant threat from the left. Lucas Vazquez has been profiled as option number 1 if Zidane needs to change things up against Simeone's stalwarts.
Rousing James Rodriguez
Physically, Zidane will want his men in top-shape, but motivating the individuals in the team and inspiring that winning mentality is arguably just as important. James Rodriguez has had a troubled season, and never really shook off the after-effects of Rafa Benítez' lack of faith in him; the talented Colombian needs a lift, he needs to recover that self-belief he showed under Ancelotti when looked every inch the world-beater he was in Brazil.
Word is that James is already thinking about a future elsewhere, having seen himself relegated to second-tier first-team player along with Isco, players who are good enough to win less challenging Liga matches, but who are not called upon on the big European nights where reputations are forged and legends made. The club has already branded James 'untransferable' and hung the 'Not For Sale' sign in big bright red lettering in the shop window, with Zidane acutely aware that any instability can affect a dressing room in the run-up to such a momentous evening.
He's been throwing winks and blowing kisses in the Colombian's direction at every opportunity: "I like him a lot, I can't ask for more from James" he said before the Depor match, and in the Riazor he was first to get a chance coming off the bench, replacing Cristiano Ronadlo at half-time.
Under pressure
Zidane's message to the squad hasn't changed in content or in tone despite the fact that he and his players have it all on the line in this Champions League final. His instructions are kept clear and simple, he doesn't overload the players with orders and information and tries to reduce the pressure with his simple approach and trademark smile.
He answers even the most controversial of questions with a good sense of perspective and humour, disarming potentially explosive situations with ease. "It's just another game", said Zidane before that comeback at the the Bernabéu against Wolfsburg. That will be his message again from Tuesday on, just another game that might see their names written into the lore of the club blanco with an historic Undécima win.