BARCELONA
Piqué: "Zidane's league? They can let their imagination run wild..."
The defender was asked about imitating Cristiano on Barça's victory parade: "I don't remember, maybe I did. It was a great victory parade and we had a great time".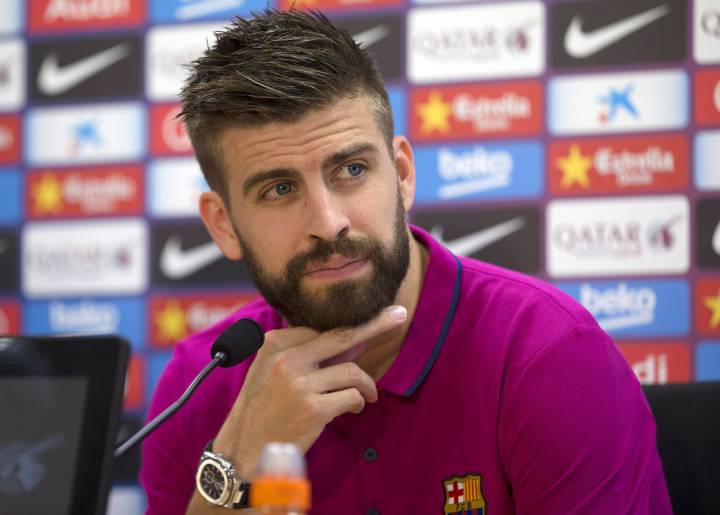 Gerard Piqué spoke to the media after this morning's training session at the Ciutat Esportiva Joan Gamper.
'Zidane's league': "They can let their imaginations run wild if they want. We were the ones who went on the vcitory parade and every year we're adding a trophy to our museum".
Imitating Cristiano on the parade through Barcelona: "I don't remember, maybe I did. It was a great victory parade and we all had a great time".
The moment Barça are in: "We're at a very good level physically and mentally. We've scored a lot of goals in our last few games and hardly conceded any at all, we won LaLiga which gives us morale and I think we're confronting Sunday's final with great enthusiasm and determined to put in a good display".
If Real Madrid win the Champions League, would it overshadow Barça winning the double? "No. I'd be quite happy to win the double every year. They haven't won the Champions League but if they do, we'll congratulate them. When people say that Madrid are doing well and Barça aren't or vice versa there's a tendancy to believe that when both win silverware, the one who has reached the Champions League final has more merit and that isn't so. During my eight years here, we've gone down our route and they've gone down there's. The statisitcs are there for everyone to see".
Contract renewals for Neymar and Busquets: "Both are very important players, young players for the present and the future of the club. We have coincided during a great generation of players, but the club has to make provision thinking about the future. Players like 'Ney' are the one who will continue making this club great".