SPAIN
Alvaro Morata: "As it stands, I'm still a Juventus player"
"I'm working hard to become one of the national team's centre-forwards. I'm used to playing in Italy, and it's a pleasure to do so with my fellow team mates".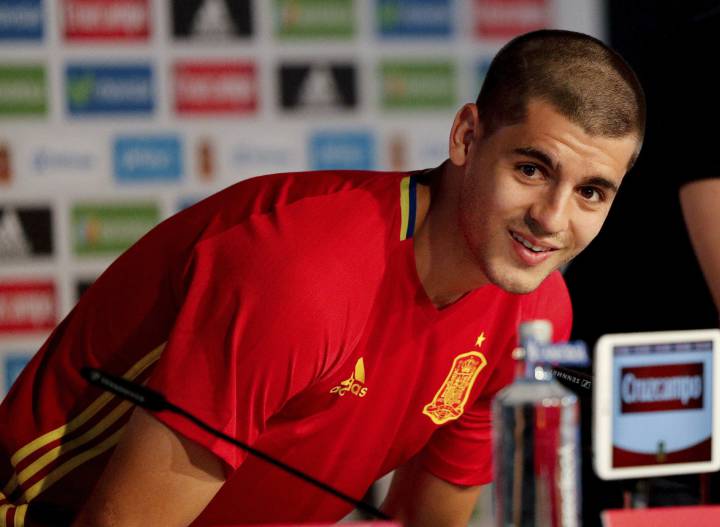 Álvaro Morata insists that he is only thinking about Euro 2016 amid rumours that he could be moving on later this summer. The striker added that he is over his fitness problems and hopes to play a key role for Spain as they seek to defend the trophy in France.
How are you progressing from the hamstring trouble you've been experiencing?
I feel really well, better than I have during the whole of last season. The pains have gone, I didn't play the last game (against Georgia) so that I could be in the best possible condition. If the boss decides to include me in the team, I am fully fit and I think I have got a lot to give.
A number of players in the current squad were European champions at Under-21 level, what can they bring to the side?
Those players made history and it's important that the new generation coming through have already won a tournament together. We'll be contributing excitement and desire; and that, together with the experience that the other players have, we can aspire to great things.
Do the veteran players joke around with the younger ones?
They have a laugh with us. Our lives are quite different, as many of them are married and have kids. It's another era but we have a lot of fun together.
How could the defeat to Georgia affect the team?
The atmosphere is spectacular. Those of us who have spent less time with the national team are very grateful for the way we have treated here. It's better to suffer a defeat like the other day's to Georgia in a friendly than in our next game. Sometimes you need something like that, I can remember when Spain lost or drew in a big tournament and then went on to win it. If we relax, anyone can beat us so it's better if we don't feel too comfortable.
Is it difficult for you to play as the main striker for the national side?
This is Spain's national team and there are players who could be here now but who haven't been called, players who deserve to be here - some of them more than me. I feel very proud but it's also a huge responsability, we're under a lot of pressure but I think I'm prepared for it. I am used to playing in Italy and it's fantastic for me to be able to play with these team mates and receive the kind of passes they give me. I hope I have him (Koke) close at hand because he sends over so many great passes for us.
What made you decide to shave your head?
Two years ago [Sergio] Ramos cut my hair, and just after that, I started scoring lots of goals and so did he - it brought us good luck. We're quite superstitious so we decided to do it again, let's hope it brings us luck again.
Do you know anything more about your future?
I'm relaxed becausew I am under contract with Juve and I feel very at home there. I am a Juve player until someone says otherwise. This tournament is important for me, and also for my team mates. It's a dream to be here and that's why I've been able to clear my mind and think only about the Euros.