France vs Romania live: Kick-off time, preview, mbm coverage
The West Ham midfielder scored a wonder-goal with 88 minutes on the clock to see off the challenge of an ambitious Romania side at Euro 2016.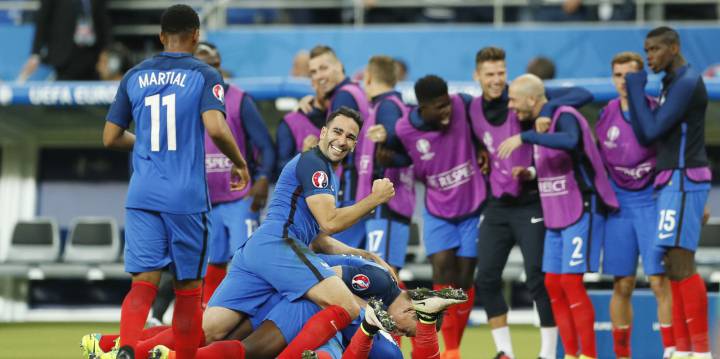 Dimitri Payet spared Didier Deschamps an uncomfortable morning perusing the Parisian papers with a wonder-goal on 88 minutes in the Stade de France to seal a 2-1 win over Romania in the opening match of Euro 2016.
France took the lead through Olivier Giroud but were pegged back minutes later when Patrice Evra took out striker Bogdan Stancu in the area. Stancu dusted himself off and sent the spot kick past Hugo Lloris to level the affair, before Payet struck in the dying minutes to send France to the top of Group A and halfway into the last 16.
As it happened
Min 90+3 | And that's it! 2-1 to France. Payet the hero and an early contender for goal of the tournament.
Min 90+2 | Sissoko goes on a lung-bursting run and decided to shoot instead or squaring, the ball flying wide.
Min 90 | Three minutes added...
Min 88 | Goooooooooal! Payet! The midfielder absolutely leathers a left-footer into the top corner. No keeper in the world would have got to that. 2-1 to France and relief for Deschamps.
Min 87 | Three minutes of normal time remaining for France to dig themselves out of a hole. Romania, though, seem to have 15 players on the pitch.
Min 84 | Free-kick to Romania as Kanté hauls down substitute Torje. Romania's big men come up for the kick and Grigore almost gets on the end of it but is called offside.
Min 81 | Martial makes a direct run at the Romania defence, gets the ball back and pulls the trigger but it's weak and straight at Tatarusanu. Torje coming on for Romania, Popa goes off.
Min 78 | Payet tees one up for Giroud but the Arsenal man is swamped by four yellow shirts as he tries to get a head on it. No support for the big man there. France would be better served keeping it on the deck.
Min 76 | Romania aren't giving France a single second to settle on the ball, snapping at the hosts' ankles in midfield and dropping back in numbers to stifle the hosts when they go forward. Tactically sound, but will they have the legs to keep it up if France decide to stretch the game out wide? Martial coming on for Pogba, looks like that is what Deschamps intends to find out.
Min 74 | Anthony Martial, anyone?
Min 72 | Now Evra takes a knock to the chops but he's straight back up to take a France throw. The hosts need to be more assertive now, Romania are defennding with the dreaded two banks of four and don't look in the mood to surrender their point.
Min 69 | Pintili is still down on the sidelines and Chipciu is ready to come on.
Min 67 | Giroud wriggles about in the box and goes to ground under pressure from the Romania defence. The crowd seethe as the ref gives nothing and then Big Olly goes in the book for a revenge attack on Pintili, who looks in a spot of bother and signals for a change. It was quite a clobber from the Arsenal man and the Romania midfielder is off...
Min 64 | Gooooooooal! Stancu buries it to Lloris' left and Romania are back in it! Griezmann trudges off to be replaced by Kingsley Coman.
Min 63 | How will Romania respond to that hammer blow? Penalty!!!! Evra brings down Stancu and the ref points to the spot. It was clear-cut.
Min 59 | Andone gets on the end of a corner but sends his header high, and that's his last action of the game as he trots off for the first substitution of the game, to a cacophony of catcalls from the still-peeved Parisian crowd.
Min 57 | Goooooooal! Giroud gets on the edge of a Payet cross and nods into the net under pressure from Tatarusanu. 1-0 to France. Shades of a foul in the striker's leap but it stands and France are up and running!
Min 56 | And of course, Pogba pops up with a stinging strike from the edge of the box, which Tatarusanu does well to keep out.
Min 54 | For a player apparently worth 100 million euros and touted as a potential player of the tournament, Pogba hasn't done a huge amount to far. Deschamps will expect a bit more from his star man.
Min 52 | The camera pans to Deschamps on the France bench, and he looks a worried man. Switzerland are on paper a stronger side than Romania and the France manager won't sleep easily if Les Bleus' fortunes rest on their final group game. Giroud gets a sniff of goal but hits his shot straight at Tatarusanu.
Min 49 | Romania still showing plenty of ambition, driving forward in search of the opening goal. France's midfield seem a little out of synch at the moment, the yellow shirts buzzing around the middle of the park with intent.
Min 47 | Stancu! The Romania forward finds himself alone and in possession in the French area but his shot is wide! What a chance for Romania.
Min 46 | Lots of "Allez Les Bleus" ringing out around the Stade de France. Can Deschamp's men break the deadlock in the second half? Andone almost wriggles through but is ushered off the ball by Rami, who has been excellent so far.
The players are back out and the second half is about to get underway.
Min 45+2 | And that's the half! France 0 -0 Romania.
Min 45 | Corner to France as Romania clear a Payet cross with Griezmann and Giroud lurking. The delivery is good, Giroud rises and gets a firm contact but heads just over. Decent chance for the hosts.

Min 44 | The second caution of the match goes to Rat, who goes in the book for clattering into Giroud.

Min 43 | Free-kick to France out on the left as Payet is floored by Pintili. It's not a great delivery though and after a bit of bouncing about and an air kick from Pogba it's a goal kick.
Min 41 | France come again but Romania, who only conceded two in qualifying, hold firm. Free-kick to the hosts for a barge on Koscielny.
Min 38 | Andone is down in the French area, to the evident disgust of Lloris who suggests the Romania forward took a dive. Looks like he did get a kick though. He's down clutching his knee and the magic sponge is on. The crowd are howling with indignation.
Min 36 | Close! Payet gets in behind the Romania defence on the right and fizzes a cross in, which Griezmann almost turns in but it tales the slightest of deflections and goes inches wide. No corner given though.
Min 34 | A little urgency has gone out of both sides in the last few minutes. Romania are doing a good job of keeping France's much-vaunted midfield quiet. Slim picking at both ends for the strikers since those early chances.
Min 32 | Rami, who is constantly eyeing up a defence-splitting pass, tries to thread one through to Giroud but it's a touch too heavy for the Arsenal man.

Min 30 | Pintili is down in the midfield after a tangle with Matuidi. Looks like he got a boot in the ribs going down. He's back up on his feet though and ok to carry on.

Min 26 | Pogba tries to catch out the colossal figure of Tatarusanu but his shot is wide. It won't be easy to knock one over the top of the tallest keeper at the Euros.

Min 24 | What a tackle! Grigore sticks out a leg to tease the ball away from the onrushing Giroud, who was released by a pass from deep by Rami.

Min 22 | France seem intent on using their pace to hit Romania rather than knocking it around and probing for an opening. Griezmann almost springs the offside trap but is called offside.

Min 18 | France are snapping into their tackles in midfield, breaking up their opponents' attempts to get forward but Romania seem happy to build patiently from the back.

Min 16 | La Marseillaise rings out around the Stade de France after that chance. Could be a useful outlet for France, the right hand side. Rat is pushing up a fair bit and there's some space in behind there for Deschamp's side to exploit.
Min 14 | Some good work in midfield from Payet and Matuidi almost gets France through, then Sagna burts down the right, feeds Griezmann who makes a hash of his first attempt but at the second bite of the cherry hits the post with a header! So close for France.

Min 12 | A little magic from Pogba but it's just too long for the diminutive Payet to get on the end of.

Min 10 | Griezmann has a pop from 20 yards or so and it's deflected out for a corner. Payet delivers and it's cleared, then slung back in in the direction of Giroud who nods just wide, unmarked.
Min 8 | Free-kick to Romania as Rami bundles Andone off the ball and the yellow shirts flow forward again but it's out for a goal kick.
Min 6 | Perhaps a few nerves from the hosts here early on. France can't string two passes together and Romania are having the better of the early exchanges.
Min 4 | Romania almost have the ball in the net! A corner is slung into the mixture, Sapunaru gets on the end of it and Lloris makes a fine save on the line! Blimey.
Min 2 | Fairly cagey start from both sides. Romania have the first pop at goal, a wild strike from distance that Lloris watches impassively as it flies high and wide.
We're off! France get Euro 2016 underway!
Handshakes all round. A hug between the captains. The stadium is rocking. Can France deliver? Or will Romania provide a little pluie on the host nation's parade?
And here comes La Marseillaise... Stirring stuff. If that doesn't make the hairs on your neck stand to attention, nothing will.
The Romanian national anthem getting some serious treatment from the brass boys. Lovely.
And a brass band and choir take the field. A fly-past with the French flag colours streaming out the back of some fighters. Glorious stuff. Here we go! Here come the players!
Oh dear. Here we go. David Guetta lends a touch of what the "yoot" are into these days to proceedings.
And of course the can-can! Ouch... and a simultaneous splits from the dancers, adorned in some garishly coloured attire. How are they going to get this lot off for kick-off in 10 minutes?
Ahhhh, here we go. What appears to be a huge lego mock-up of a Parisian vanity garden from the era of Louis XIV appears on the turf of the Stade de France. Ladies dressed as candy floss and a huge walking pair of lips. Euro 2016 is on!
The players are out on the turf at the Stade de France. Still no sign of the opening ceremony as yet. Where are the dancers, the balloons, the hoo-ha? Plenty of colour in the stands though as the fans get ready for the opening match of Euro 2016.
Welcome to live coverage of France - Romania, the opening match of Euro 2016. We'll bring you all the action from the Stade de France. Kick-off is today, 10 June 2016, at 21:00 CEST, but we'll have all the build-up as well as coverage of the opening ceremony, which is likely to be spectacular and eccentric in equal measures, as only the French can do.
Preview France - Romania Euro 2016
The day is here, it's finally arrived! No more sleepless nights with all the fervoured anticipation! Yes, Euro 2016 kicks off tonight as host nation France take on Romania in Group A.
France come into the competition as favourites thanks to a combination of form (they've won their last four games), and a plethora of young talent: Pogba, Griezmann, Kante…and so on. The country also has a decent record when benefiting from home advantage at major international tournaments. Les Bleus won Euro 1984 and the World Cup in 1998 – both staged in France.
Romania no push-overs

France's opponents Romania though could be a tough nut to crack. They qualified second in their group – one point behind winners Northern Ireland – and made it through the campaign unbeaten, recording five wins, five draws, and conceding just two.
However, with Romania deemed France's easiest opposition in the group the pressure will be on the hosts to get off to a winning start. And if Didier Deschamps' men are on the receiving end of a shock result in their first match at Stade de France, the team's chances of reaching the latter stages could be put in jeopardy, with supposedly tougher tests in Switzerland and Albania to come…
Live coverage of France - Romania