Euro 2016: De Gea and Payet the names on everyone's lips
The morning calm of the first day of Euro 2016 was shattered by breaking news of an extremely unpleasant nature. Revelations linked to Spain goalkeeper David de Gea - who, going on what we know so far about the affair, appears to have plenty less to be ashamed about than others. For a few hours, he was unsure what to do. In the end, he was convinced to come out (by now at the time scheduled for training) and give an explanation. He denied everything, insisting it was all completely untrue. But he got up and left in a hurry after answering questions about this individual known as Torbe, an inadvisable friendship if ever there was one.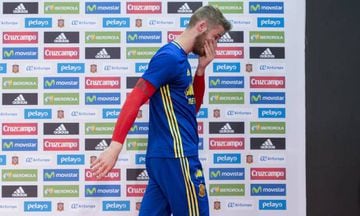 Is De Gea in the frame of mind to play?
The case will take its due path in the justice system, but the immediate talk concerns whether De Gea should play or not. On Friday, there were even whispers he'd be going home. That hasn't happened, a demonstration of the backing he has from the Spanish FA, despite no statement being issued by the body. But will he be in a state of mind to go out and perform, in a position where any sort of lapse leads to a goal? That's something he and Vicente del Bosque will have to gauge. He'll have to see how he handles the hours ahead, how he deals with being the first man in the headlines at the tournament, and not for on-field exploits.
Payet is France's match-winner
The second man to grab the headlines, this time on the pitch, was Dimitri Payet, who was sensational against Romania. A late-bloomer who's already 29 and who shone at West Ham this term, he gave a virtuoso display for an otherwise uninspired France. Operating around the edges of the box, roaming from side to side, he was terrific in all he did, which included supplying the cross for Olivier Giroud to head the opener (Giroud helped his own cause with an apparent foul) and hitting the winner at the end with a sweetly-struck shot into the top corner. His name'll be on everyone's lips in France today. In Spain and the UK, it'll be De Gea's.