Did Giroud foul Tatarusanu for France goal against Romania?
The Arsenal striker has been credited with the opening goal of Euro 2016 but there are some who think it should have been disallowed for a foul on the goalkeeper.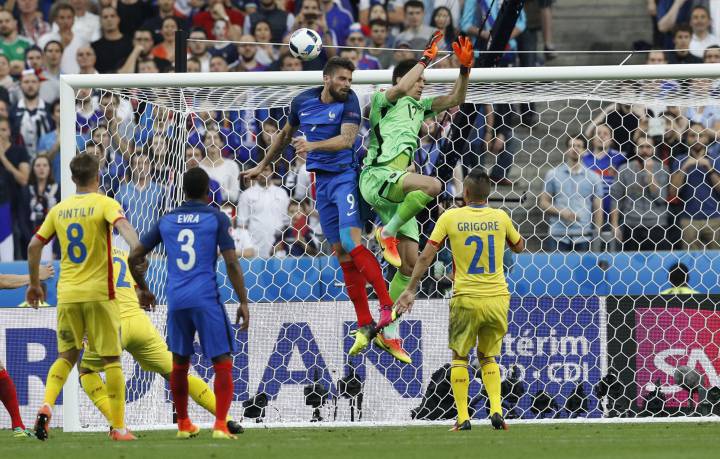 The scene was set. The hosts France took to the field in the opening fixture of Euro 2016 and were clear favourites against the defensively tight but generally weaker Romanian side. In the end, the home side prevailed 2-1 thanks to a wonderful strike from Dimitri Payet in the closing stages but their earlier goal has more question marks surrounding its validity.
The game had a nice tempo to it from the start, with the visitors to Paris getting the first clear opportunity - only to be denied by a point blank save from Lloris. The French started to press more and the Arsenal striker Olivier Giroud had a great chance with a header that he put wide. Half-time came and went.
Then, in minute 57, Payet - who had a tremendous game - swung a ball in with his left foot from the right hand side. It was as tempting a ball for a striker who has proved his competency in the air, compatriot Giroud, as it was for the goalkeeper, Tatarusanu, who felt he could grab, punch, do something to get it safe.
What resulted was two players reaching the ball at the same time and, crucially, the Frenchman met it with his head and directed into the now empty net. 1-0 Les Bleus. But there were a few claims of a foul from the Romanians and so to the replay - it had all happened so fast. And yes, there it was, a clear knock from Giroud with his rising left arm to the right arm of the keeper. And that may well have been critical in letting the ball reach the scorer's head. Referee Viktor Kassai's decision was all that mattered. The goal stood.