Real Madrid Castilla thrashed by Lleida and fail in promotion bid
Lleida thrashed Real Madrid's B team at Valdebebas and put an end to their bid for promotion. Penalty award and sending off of Abad on 30' was decisive.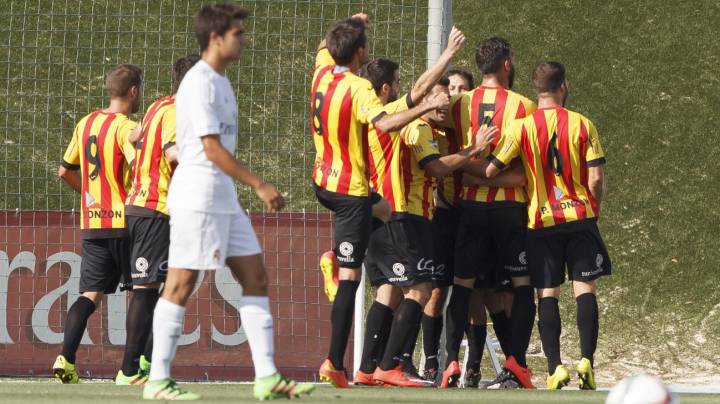 Real Madrid Castilla won't be playing in Spain's Segunda División in the 2016/17 season. They were soundly thrashed by Lleida in the second leg of their play-off at Valdebebas, losing 0-3, when they were trying to overturn a first leg 1-0 deficit.
Previously they'd missed their chance to go straight up when they were also well beaten by Murcia over two legs.
Mayoral's generation's missed chance
The generation of Borja Mayoral missed their chance to secure promotion for Real Madrid's B team, for which they'd been working solidly all year, having finished winners of Group II, but their opportunity slipped through their grasp in the saddest way possible.
No excuses for Castilla
And coach Ramis' side have no excuses but their own performances. They shipped eight goals in four play-off games against teams they would have been expected to be at least equal to. Today everything hinged on the sending off of Abad, the Castilla keeper, after 30 minutes for bringing down Colinas when he was through. Penalty, red card and 0-1. The end with an hour still to go.
What's worse for Castilla is that Mariano had a clear chance at the beginning, which would have set things up nicely. But it wasn't to be. And there was nothing more.
Ramis tried to open up Lleida, closed up like an oyster, leaving Odegaard on the bench (he was basically an extra in a film in the previous three games) and using Álvaro down the right. Not a bad plan but his opposing coach, Idiakez out-thought him. He deactivated Castilla by simply popping a little drone in the hole.
Idiakez played Julen Colinas (just 172 cm) as a false nine to take advantage of the open door between the Real Madrid Castilla central defenders, a chronic problem for the side. He got through after 10 minutes, but put the ball over. But in the 30th minute he got through again and Abad saw no other option but to bring him down. A red card that finished off Castilla.
Castilla fall to pieces
Mayoral and Mariano led a timid reaction, but Castilla had come undone. Lleida took control of the game and Colina once again showed up defender Salto to make it 0-2, before Urko Arroyo beat Tejero all ends up to make it 0-3.
Lesson for Real Madrid Castilla
Lleida head into the final round to attempt to win promotion, while Castilla learn their hardest lesson. Promotion to the Segunda can't be won through the abilities of your players alone. You need to be streetwise down here, or you're going nowhere.