TURKEY 0 - CROATIA 1
Modric: "I'm happy about my goal; I struck it really well"
Real Madrid midfielder Luka Modric scored a stunning goal to hand Croatia a 1-0 win over Turkey in Group D.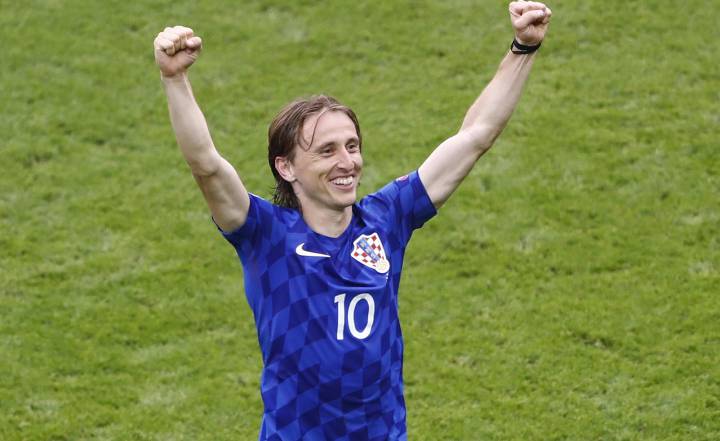 Luka Modric and Croatia had a fine start to Euro 2016. The Real Madrid midfielder scored a wonderful opener in this afternoon's game against Turkey to hand The Blazers a victory which puts them top of their group.

Great goal. "I'm happy about the goal. I got a clean connection and the ball entered. I'm happy to have scored but more than anything else that we won. I didn't know about the statistic that Croatia have never lost when I score. I'm happy about that".
Sliding celebration. "When you score a goal like that, you don't really know what to do or how to celebrate. The goal was at Turkey's end of the ground, but I those thoughts don't really enter your head when you score".
Future. "This is only the first step, a very important one, but this is still just the start. Now we have two very important games - the first against the Czech Republic. We can't afford to let ourselves get carried away by euphoria. We have to have confidence in ourselves. We played well today but we are still not guaranteed of making it through the first round".
Options of going through. "The atmosphere within the squad's really good. We have a lot of confidence, right from the first player to the last. Croatia played aggressively today, we were well positioned, we looked like a great side but we have more games to come and this was just the first one".
Rakitic: "We're not getting carried away"
Ivan Rakitic also spoke about today's win over Turkey, saying: "With all due respect to Turkey, the best side won today; we worked hard for the win and we have taken an important step in the tournament but we have no reason to feel euphoric. We have to continue on this path. The mentality in our country can be a bit complicated at times and we do have a tendency to relax - I hope that doesn't happen this time. We've got to keep working hard because we have more tough games coming up.
"Back home, you only need the smallest excuse to crack open a beer to celebrate; but we're taking it step by step. Today we can enjoy this result and the good game we put in, but tomorrow, we'll be thinking about the Czech Republic and preparing for that game. Euphoria? No way! because we have no reason to feel euphoric. Tonight we'll have a beer and tomorrow, it's back to work", he ended.