EURO 2016
"The English are girls" claims Russian football thug
Vladimir, a Moscow public relations manager, agreed to shed some light on organized Russian hooligan 'crews' who consider violence a sport.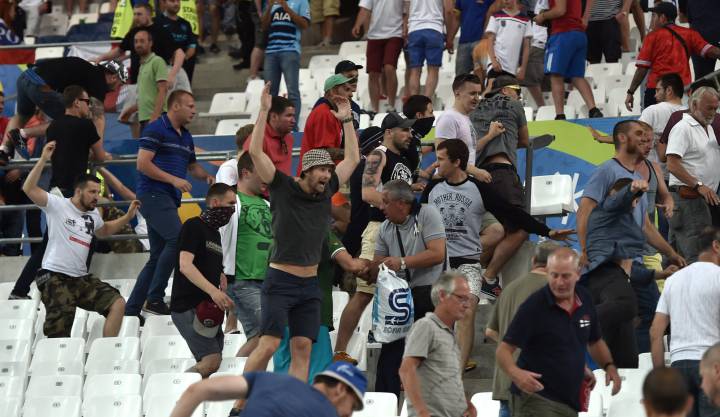 Russia are just 29th in the FIFA/Coca Cola world rankings but fighting for top spot in the hooligan stakes thanks to the efforts of characters like Vladimir, a Moscow public relations manager who considers violence a sport.
Vladimir, who is married with two children, returned home on Sunday from the latest battleground at the European Championship finals in France and declared "the English are girls".
He doesn't care a jot that European football's governing body UEFA threatened to throw Russia out of Euro 2016 if there is a repeat of the battles before and after the 1-1 draw between England and Russia in Marseille on Saturday. UEFA has opened an investigation into the Russian fans' behaviour and could announce sanctions on Tuesday.
Vladimir, who spoke to AFP on condition that his family name is not used, spent less than 48 hours in Marseille but said he "saw all the main events and took part to some extent". He estimated about 150 of Russia's 'strongest' hooligans flew to Marseille for the day for the England-Russia match. The Lokomotiv Moscow follower said 500-600 of the team's fans take part in hooliganism at "important events like the Euro".
Spartak Moscow, CSKA Moscow and Zenit St Petersburg also have hooligan group with hundreds of members each. Their grounds have been notorious for racist chants against black players. Up to 15,000 Russians were said to be in France for Euro 2016 and Vladimir said team loyalties are forgotten for such events.
"It doesn't matter which city fans come from or which team they support. It's important that we're all from Russia. We are going to fight the English".
Russian hardcore fans give their gangs English names such as 'mob' or 'crew' but consider themselves bitter rivals of English fans. "The English always say they are the main football hooligans. We went to show that the English are girls", Vladimir boasted.
Many hooligans have little interest in the games and will not care if UEFA disqualifies, he added. "I think it's a decision that won't influence in any way what hooligans do next. Nothing will stop these people".
He made contrasts between Russian hooligans and England fans who he describes as: "big older men who drink a lot of beer; Fans or hooligans from Russia are mainly younger, aged 20-30 and at home most of them are into sports. They do sports like boxing or all kinds of martial arts. The aim is to come and prove that English fans aren't hooligans, they don't know how to fight. A lot of Russian guys come specially with this aim".
Russian hooligans will try to provoke fight with a group of England fans at a bar by trying to grab their home team banner, he said. He stressed that while "the English use chairs and bottles (to fight), the Russian style is only fists. Using weapons causes a lot of unnecessary injuries - for us it's like sport. We don't have a desire to kill or injure. There is a desire to show our strength".
British media published accounts of Russians in Marseille preparing for battle by putting in gum shields and carrying telescopic battons. Pictures showed dozens of youths rushing down Marseille street with cafe chairs over their heads. Russian hooligans also try not to stand out in the crowd: "If you see a guy wearing a Russian flag or a Russian T-shirt, he'll never be a hooligan. A hooligan must dress to fit in with the crowd. I wore a shirt, trousers and leather shoes".
Vladimir said French police were passive during the battles. "I got the sense it was interesting for them to see the Russians to fight the English. They intervened at the last moment", and added that he would only go back to see Russia play in the final and predicted that the other matches will be "a lot calmer".
---
Alfredo Relaño on violence and humanity in European football.