Slovakia-England Result, Match Report and minute-by-minute
Wales left a charred ashen Russian skeleton at the bottom of Group B as Slovakia held an uninspired England to a 0-0 draw, find out how it happened here...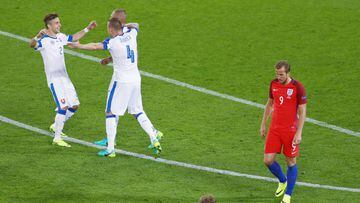 The Welsh dragon breathed fire on a woeful Russia to put them top of the group as England failed to overcome a resolute Slovakia.
Here's how the group looks after the final night's action.
Group B Final Standings
                           Points
1. Wales             6
2. England         5
3. Slovakia         4
4. Russia            1
How it happened
Min 90 + 5: Kozacik flies through the air to make a superman save, the whole of Slovakia roars as the ref blows his whistle for Full-Time.
Min 90+ 2: It's all over in Toulouse, the Welsh fans are in tears.. of joy.. Russia knocked out in humiliating fashion..
Min 90: Skyrtel is down, the England fans are booing, looks like his groin, or cramp, he's up and wants to carry on and says "What? Do I have to?" when the ref orders him off..  There'll be 5 minutes added on here..
Min 87: England pump it in time and again but Slovakia hold firm, first Kozacik punches the ball against Kane's head, goal-kick, then Henderson floats another nicely weighted cross for the Spurs man but he can't get over the ball. Goal-kick.
Min 85: England reduced to pot-shots from distance: Dier (earlier), Rooney and Alli all trying their luck. No dice.
Min 82: Bale gets a standing ovation from the Wales faithful as he comes off for Simon Church, wise move from Coleman considering his injury record this season. Wales are now the top scorers in this tournament with six goals.
Min 80: England's opposition learned from the first half, they've taken a number of steps back cutting out any space for Vardy to run into. England lack the guile to undo this Slovak interlocking wall.
Min 77: Less than convincing from England in this second half, they haven't really opened this obdurate Slovak unit at all. 
Min 75: Sturridge hauled off, Harry Kane shunted on.
Min 73: Brilliant ball over the top for Sturridge who tries a spectacular flying volley...   and misses.
Min 69: As it stands (*big asterix) Wales would play Albania and England would face Iceland, Slovakia would play Germany on Sunday, and Russia would be muttering their way home in miserable untones.
Min 67: Ramsey releases Gareth Bale, Akinfeev goes down and Bale flicks it in with the outside of his left. What a night for Wales!
Min 67: Baaaale! 3-0
Min 65: Another important intervention from Skyrtel as Dele Alli close to skating free through the midfield. England still can't find the way through. Hamsik plays some lovely stuff again, but he's on the edge of his own box, far from anywhere that might cause England consternation.
Min 62: Uyyyy...  England so close, brilliant run into the channel by Henderson, his cross finds Dele Alli all alone at the back post, Alli's effort is cleared off the line by Skrytel, England can't believe they're not 1 up.
Min 58: Wide. Looked good from this angle, good strike, but Bale's free-kick success-rate still stands at: Taken 4, scored 2. Not bad. Alli is on for Lallana.
Min 58: Bale free-kick klaxon!!
Min 55: Another chance for Slovakia, loads of space on England's right flank but a low shot is swallowed up by Hart. Hodgson decides he's seen enough, Rooney is on for Wilshere.
Min 52: Pekarik takes an excellent touch that takes him around Bertrand, the England right-back pulls him down. Purely tactical foul that leads to England's first yellow. From the free kick a subsequent cross is chested down by Smalling but falls into the yawning chasm between he and Joe Hart, and a Slovak player so very nearly nicks in and taps it home. Hart lets a furious volley of abuse at Smalling that would fell trees.
Min 48: England win possession and set the pieces into familiar positions: Slovakia dropping very deep when England have the ball and trying to hit back at pace. Clyne takes it on and menaces through the middle, but again the move lacks control.
Half-Time Musings
An utterly demoralised Russian side have been dismantled by a bristling, bustling Wales team led by Aaron Ramsey and Gareth Bale. It could easily be four.
England have been better than Slovakia, but haven't finished their chances, Vardy's pace has left the Slovak backline terrified and he had a chance to make English superiority count when he sprinted clear of Skyrtel but Kozacik anticipated well.
Slovakia look dangerous on the break, however, and with England's forwards prone to giving it away, Hamsik et al will fancy their chances of grabbing one on the break. 
First Half
Min 46: Sturridge does two pointless step-overs then runs it straight into a Slovak wall, that was gank. Lallana then gives it away too, Slovakia break away and sustain possession in the English half, and the half-time whistle goes...
Min 42: Vardy causes chaos again and the Slovak defender can only stop him by putting his head between his shins. Bizarre.
Min 40: Bale pumping those pins again and gets a clear sight of goal again, his low shot is smothered by Akinfeev. If Wales go another goal up, saving Gareth Bale might be a good idea.
Min 38: So far no rips in Slovakia's shirts, but if Puma made defences, they'd definitely be Russian.
Min 35: England dominating possession and creating more here, Wilshere charging about as Wilshere does, but it's still Slovakia 0-0 England, Russia 0-2 Wales, the Welsh on top of Group B as it stands.
Min 32: Wales could win this by a rugby score, Bale eviscerates the paltry Russian defence, they should be three up..  Lallana comes close for England in St. Etienne, another good save from Kozacik.
Min 29: England's best move so far involving some fine passing and a dangerous ball into the box then Henderson smacks one aimlessly out of play. 
Min 26: Wales proceed to tear Russia apart, Bale and Ramsey are everywhere..  But wait, what's this, Russia have a chance, a good one too, good save from Hennessy to preserve the two-goal lead.
Min 24: Slovakia can't live with the Vardy velocity, he's hacked down with yellow card to boot as he broke after Mak couldn't find Hamsik at the back post. Lightning break, England look so much more dangerous with Vardy in the team. 
Min 20: Bertrand flails a leading arm right into Pekarik's nose, he's bleeding profusely. Meanwhile in Toulouse Wales are two up! Taylor doubles their lead!!
Min 18: Vardy!! Streaks through.. The pace of the man..  Skyrtel left for dead, but Kozacik stands tall, great save.
Min 16: More danger for Slovakia as England sweep forward, Henderson has a half-volley charged down, thne corner is won by Smalling but smacked away by a Slovak. England looking more dangerous here..
Min 14: Slovakia's tactics look quite simple: GITH - Get It To Hamsik...  He receives wide left, backheels it to himself, shapes a cross-shot that floats harmlessly over Joe Hart.
Min 10: Ramsey!!  Wales one up against Russia, delicious finish from the Arsenal man after Joe Allen's ball, that goal puts Wales top of the group, England second Slovakia third, Russia out as it stands..
Min 9: England get some joy down that right wing again with Vardy flicking on and Sturridge poised to pounce but a good challenge yards from goal snuffs out that chance. Encouraging few minutes for England.
Min 7: Pecovsky cracks a sighter high and wide for Slovakia now, dangerman Hamsik involved in the build-up, no doubts about who Engerland will have to keep a close watch on. 
Min 3: Interesting to see how England will gel with all these changes, six in total, great chance for Clyne, Vardy, Henderson et al to make their point with Hodgson. Shapeless start so far, England in possession now, and Vardy has the first shot in anger, more off his thigh/knee after a whipped cross..
Min 2: And the first chance is for Wales! Offside..
Min 1: England get us underway in red, playing from right to left, Slovakia in a very English looking white and blue..
God Save the Queen vs The State Anthem of the Russian Federation just finished, who won? We don't know, this isn't the Eurovision, the football just about to get underway.
Welcome to our live and direct Euro 2016 coverage of England vs Slovakia, Group B's third and last fixture, kicking off tonight at 21.00 (CET) at the Geoffroy Guichard Stadium in Saint Ettiene.
England v Slovakia preview
Tonight's England v Slovakia encounter is the last in group B (Wales and Russia kick-off simultaneously) before the knock-out stages of Euro 2016 begin. England will be looking to hold on to top spot by grabbing a win, while Slovakia will also guarantee their place in the second round if they take all three points. A draw may also see both teams through, depending on the Wales v Russia result.
England
Roy Hodgson's men come off the back of a massive win against Wales, seeing off possibly their biggest group B rivals. The goals came from substitutes Daniel Sturridge and Jamie Vardy, who are both likely to start this time round after the ineffective performances of Harry Kane and Raheem Sterling in Lens.
Slovakia
Slovakia will need at least a draw from this game if they're to secure a top-two spot through to the last 16. Jan Kozak, the side's technical director, will be well aware of the difficult task at hand but can be confident of getting something out of the game after Slovakia's good showing and vital victory over Russia (who drew against England in the first round of games).
Wales v Russia
The fate of both teams also relies on the score in tonight's other Group B game in Toulouse, where Wales take on Russia. All the action and updates from this match will also be covered in this live feed….so hold tight, and stay tuned!
Live build up: England - Slovakia