SPAIN | JUANFRAN
"We're hoping to beat Italy without it going to penalties"
Juanfran and Bruno faced the press on Thursday and assessed Spain's defeat to Croatia as well as Monday's Last 16 tie against Italy in Nice.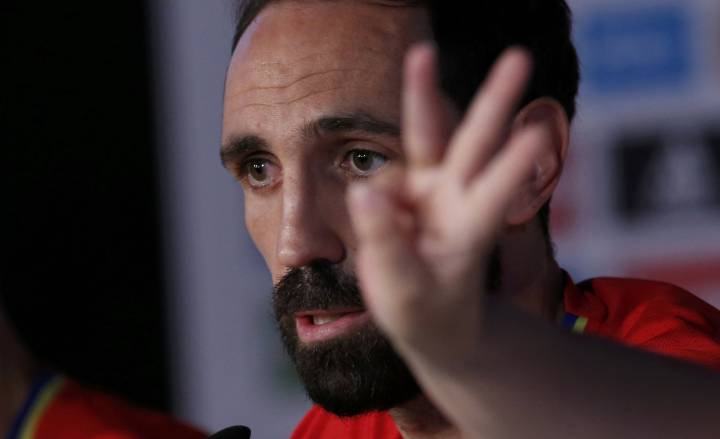 Juanfran joined Bruno in Thursday's press conference and analyzed what went wrong against Croatia in Spain's final group stage match and also looked ahead to Monday's Last 16 clash with Italy in Nice.
What conclusions can be drawn from the defeat to Croatia?
The conclusions I've drawn are positive and far outweigh the result. It's during the bad times when you can take positives from your situation. Nobody expected a defeat, first and foremost - us, but the game didn't work out the way we wanted. It'll serve us for the rest of the tournament, it will make us stronger and allow us to correct a few things.
Have you been going over why the team conceded a goal on the counter attack?
I'd be lying if I said no, we have gone over and thought it through. The slight excess of confidence which made us think it would all turn out well is what tipped the balance away from us and that's something which we will out right against Italy. It's a small amount of over-confidence which you get when you are controlling a game and having more chances on goal than your rivals. Maybe in another game - one in which we hadn't already qualified for the next round, we wouldn't have allowed ourselcves to be caught on the break like that. It's a collective mistake and we shouldn't be going over and over it.
Would it have been just as difficult for Spain if you were to meet Portugal in the next round?
We've played three games and in most of them, we have been the superior side. The team is strong and we have prepared to meet a great side like Italy. If we have met Portugal we'd have the same worries. The defeat has been overdramatized a little and too much has been made about who we could have met or avoided in the next round. Nobody's going to gift you anything at the Euros and every team will be playing for their lives and can give you complications. Italy will be worried too and it will be an evenly-fought, close game and a very difficult one, as it always is against them. I'm sure that we'll go through.
How is Morata looking?
To me, fantastic - like all of us. We are preparing hard so that we can show our best side. All we ask of the strikers is for them to score goals and that's what they're doing. Aduriz is also doing great and has brought a lot to the team when he's played. I'm happy about Morata and the rest of the squad.
If it decided by a shoot-out, who will take the penalties?
I don't know. That's for the coach to decided and we respect what he tells us. Normallly, when it goes to penalties, it's between the coach and the players who decide. I don't know what to tell you might or might not happen but I just hope we win so that it doesn't go to penalties.