Ronaldo still looking to break Platini's 1984 Euro-goals record
Ronaldo is still looking to break Platini's 9-goal record after drawing a blank against Poland in their quarter-final at Euro 2016. The French legend scored all his goals in just one tournament: 1984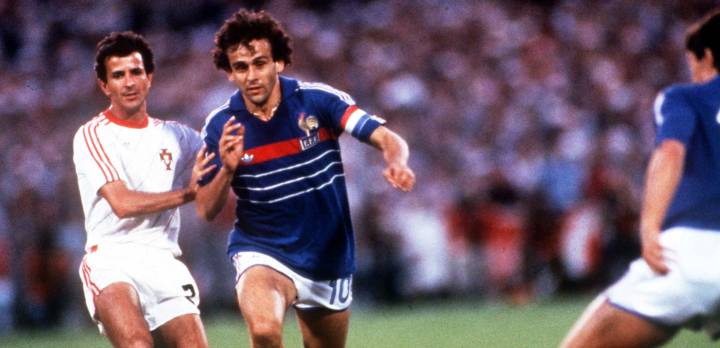 Ronaldo looking to equal Platini's nine-goal Euro record
Cristiano Ronaldo is still looking to break French legend Michel Platini's record of nine goals at European Championships after failing to score in Portugal's quarter-final match against Poland in Marseille. Portugal won 5-3 on penalties after the match finished 1-1 after full time and extra time.
Ronaldo stepped up to take the first penalty in the shoot-out and converted well, sending the keeper the wrong way and slotting home left.
However during the match he'd missed several gilt-edged chances to score, with possibly the best coming five minutes from the end of regulation time, when he kicked and missed at a ball dropping over his shoulder as he ran unmarked into the box.
Ronaldo currently on eight goals at Euro finals
Ronaldo then heads into the semi-finals on eight goals in the Euro finals, having come into the tournament on six. Ronaldo failed to score in his opening two matches, but bagged a double in Portugal's 3-3 draw against Hungary in their final group stage match.
His six previous goals came against: Greece and the Netherlands (Euro 2004); Czech Republic (Euro 2008); and the Netherlands (2) and the Czech Republic (Euro 2012).
Platini scored all his goals at Euro 1984
One remarkable thing about Platini's record is that the French genius scored all his Euro goals at ONE tournament, France 1984.
Platini scored:
The winner in France's opening match against Denmark,a perfect hat-trick against Belgium and then ANOTHER hat-trick against Yugoslavia in a 5-0 win to round off a perfect group stage for the hosts.
In the semi-final against Portugal, in Marseille, Platini scored the final goal to give France a 3-2 win in the last minute of extra-time. And in the final in Paris he got the opener (thanks to a terrible blunder by Spain keeper Luis Arconada). It was Bellone who got France's 90th minute goal to seal their trophy win.
Ronaldo might well equal or break Platini's Euro goal-record at Euro 2016, but if he wants to break Platini's record for goals in one tournament... well, that's going to be a lot harder.