BARCELONA
Barça confirm: Arda, Bravo, Ter Stegen and 'Masche' to continue
Barcelona president Josep Maria Bartomeu confirmed that Arda Turan, Claudio Bravo, Javier Mascherano and Marc-André ter Stegen will not be leaving the club this summerVillarreal-Barcelona live online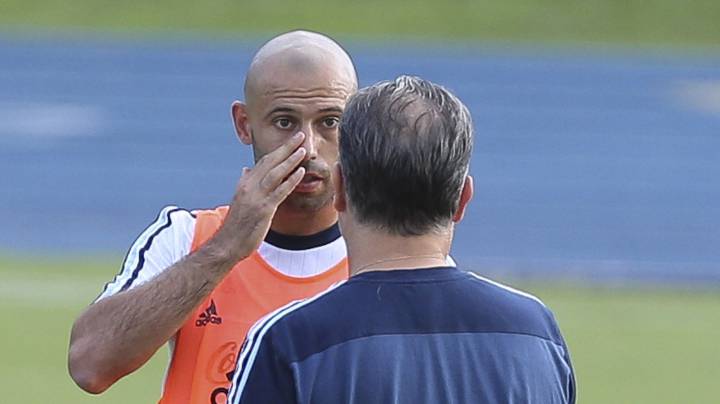 Barcelona president Josep Maria Bartomeu confirmed this afternoon the list of players who will not be sold or loaned and will remain part of the first team squad next season. Claudio Bravo, Marc-André ter Stegen, Javier Mascherano and Arda Turan will continue at Barça. Sergi Samper and Alen Halilovic however will be loaned out although the club is counting on both players for the future. He also revealed that next season new deals will be offered to Luis Enrique... and Messi.
Ter Stegen and Bravo: "Both of them are excellent goalkeepers. Neither will be leaving, they will continue next season when again they will do a perfect job in goal. The headache is for the coach to decide which one plays".
Mascherano: "Mascherano will continue.For a start, he's under contract. [Technical Secretary] Robert has been in the United States and Mascherano personally told him that he wants to stay on. The fact is that leaving Barça is very difficult - very difficult indeed. Players don't want to leave and Mascherano wants to continue with us.
Denis Suárez: "His arrival still has not been completely sorted out"
Arda Turan: "The coaching staff count on Arda Turan and we thank both him and Aleix [Vidal] for the patience they showed to go six months without being able to play. As for the sporting section, I'd give them a nine out of 10 because four trophies in one season isn't bad at all".
Samper: "He's a player who interests us a lot and the formation he has received is a positive sign for the future"
Halilovic: "Any potential negotiations for him would be limited by his high buy-out clause - but that's no the issue here. What were are looking for with Halilovic is that he continues his development. He's a very interesting players and the club has high hopes for him and Samper; what the club wants is to see both of them progress".
Dani Alves: "The club didn't want to nudge Dani out. He was under contract for the next two years and we accepted that the release clause was zero so that he could sign a longer contract. We wanted Dani to continue with us. He had an offer to renew his contract last year".
Leo Messi and Argentina: "That Messi's declarations is a good thing for Barça?: "First of all, We'd like to congratulate Claudio Bravo. Nobody likes losing. We all know about Leo's decision. He always wants to win and that defeat really hurt him. It's a personal matter and we cannot tell him what to do and what not to do. He will reach his own conclusions. I have seen that he has been receiving a lot of encouragement and support, which is normal - he's the best of the best. All I want is that he comes back to us, with a different outlook. We have a lot of objectives and while he still has two years to run on his contract at Barça, we want him to continue".
Luis Enrique, under contract until 2017: Would you like him to continue? "I haven't spoken to him. He has two years on his current contract and he is doing a very good job and we would like him to continue at the club. The expectations were very high but he delivered the goods. His case is like that of Leo Messi, who I am sure will sign a contract renewal with us".