ARGENTINA Crisis
Sergio Aguero's father: "If Messi leaves Argentina Agüero will too"
Kun Aguero's father deepens the crisis at the heart of the Argentina national side saying that "If Messi leaves Argentina, 'El Kun' Agüero will too".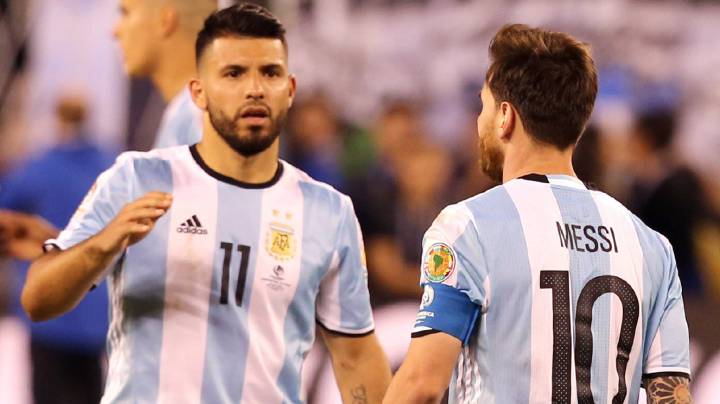 Kun Agüero's father, Leonel del Castillo, spoke about Leo Messi's shock retirement announcement: "If Leo goes, I think Sergio will too. He'll leave it to the next generation", he said on 'Paladar Rojo', an Argentine radio program.
Messi's announcement came after Argentina had lost the Copa America final to Chile on penalties for the second year in a row, with the no.10 missing his penalty.
The possibilty of Messi leaving the Albiceleste provoked an avalanche of messages on social media and even demonstrations on the streets of Buenos Aires to try and convince La Pulga to reverse his decision, the hastag #LioNoTeVayas (Please Don't Go Leo) and #LioQuedate (Please Stay Leo) becoming global Trending Topics on Twitter.
Even Cristiano Ronaldo showed some empathy for Lionel Messi.
Diego Maradona has claimed that he'll convince Messi to stay, despite heavily criticising him and the team, as the issue has taken on national importance, with Russia 2018 on the horizon.
Now Aguero's father has added to the fearful news for Argentina fans everywhere the possibility that Sergio Aguero might follow Messi into retirement.
"The newspapermen say that it's the end of an era, the end of a cycle, time to step aside", continued Leonel del Castillo; "the criticism hurts Sergio. The players come from Europe, they lose their holidays, they don't get paid becasue the AFA doesn't pay them".
The Argentine FA has come under fierce scrutiny for their lack of professionalism, operating while essentially bankrupt and making the players suffer with poor organisation and inadequate facilities, a theme touched upon by Castillo:
"The organisation is terrible, everything goes wrong on the trips... They have to fly at 2am and then wait hours in the airport", he explained.
Aguero's father also took aim at Tata Martino, who has today stepped down as first-team coach: "Sergio can play with Higuiín. Barcelona attack with Neymar, Suarez and Messi, you have to play like that, even more so in a final, where you have to come out to win".
"We gifted 70 minutes to Chile, playing with three injured players. Everyone knows that. We speculated too much in the final", sentenced Castillo.