Tour de France
Froome crash leaves yellow jersey holder running
A motorbike was forced to stop suddenly by fans causing a pile-up in which Froome lost his bike and had to run. Race judges intervened to ignore the crash in the standings.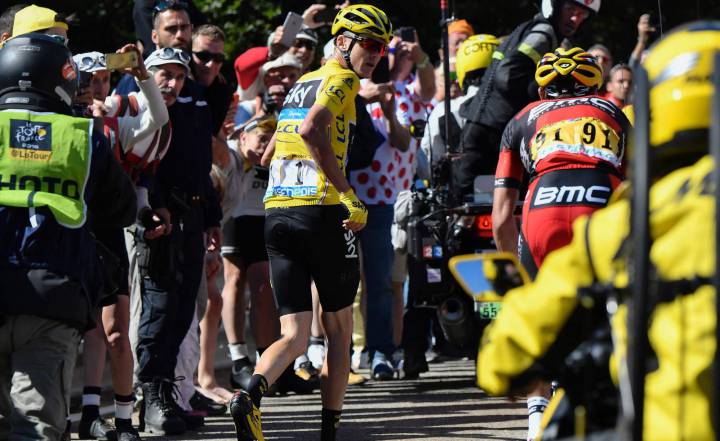 The end of today's 12 th stage of the Tour de France ended in utter chaos, with Britain's Chris Froome running up the Mont Ventoux after losing his bicycle.
In the final climb of the day, with an incredibly narrow route left between the fans on either side of the course, a TV motorbike came to a sudden stop, with Richie Porte going straight into the back of it. This caused a huge pile-up of cyclists, including yellow jersey holder Chris Froome.
Froome runs up the Mont Ventoux after crash
Froome managed to get up, but his bike was out of action as a consequence of the crash and he started to run up the course, shouting into his team microphone for them to bring him a new bike. He was warned at this point by race officials that running is permitted in the Tour, but only with a bike in hand.
When his team eventually got to him they gave him a 'neutral' (i.e. not set-up for him) bike, but he couldn't cycle it properly, and had to stop again for one of his own bikes to be brought to him.
He eventually crossed the finish line having lost more than a minute and had the result stood the leadership of the Tour. However the Tour judges reacted to the crash and suspended the classification at the point of the crash, meaning Froome maintains the yellow jersey.
The internet reacts to Froome's run
On websites across the planet, this song suddenly started being embedded:
And on Twitter people started posting:
Today was the last day of the running of the bulls in Pamplona:
Froome training for the Tour: