"I'm happy with the squad and it's difficult to improve on it"
Real Madrid coach Zinedine Zidane spoke to the press in Montreal and covered Jesé, Álvaro Morata, James Rodríguez and Paul Pogba.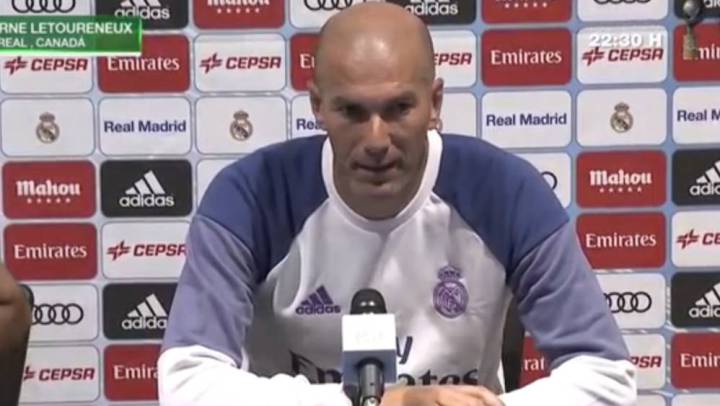 Zinedine Zidane cut a relaxed figure during his first press conference of the pre-season in Montreal. The Real Madrid coach wasn't subjected to too many searching questions on his plans and played a straight bat when he was quizzed on ins and outs ahead of the new season.
Pogba

The question everybody was waiting to hear answered of course concerned France and Juventus midfielder Paul Pogba, who has been heavily linked with a move to the Bernabéu this summer. Zidane's reply was suitably non-committal: "I'm happy with the squad I've got and it's difficult to improve on it," the Real coach said. "Do I like Pogba? Of course, he's a very good player and every club wants the best players. But right now he's at Juve and we have a large squad already... There are still lots of players yet to join up with the squad and with the Euros going on we couldn't do anything. We have three games coming up and that's the focus at the moment."
Real's "maybe" players

Also quizzed about Álvaro Morata, Zidane gave a stock response: "He is another member of this team. He's back and I'm happy to have him. He is an academy product, who knows what Real Madrid is and truthfully we are, and me above all, happy to have him with us. Later we'll see... We have a large squad and all the players will be important. Álvaro will be one more of the team."
James Rodríguez also cropped up during the press conference, with Zidane again preferring to speak in broad terms about a player who didn't see much action after the Frenchman assumed the reins last January. "James is another member of the squad, he'll be back on the 26th with Sergio Ramos and Luka Modric. I'll speak to him, as I will speak with everyone. I'm not going to say that James isn't a starter. He is an important player for us. He didn't play that much [under Zidane last season] but I don't see it like that. Whenever he was able to play I put him on. I have a large squad and have to play the most competitive side I can and I'll do the same thing this season, that's my responsibility."
Asked about Jesé's uncertain future, and whether he favours a smaller or larger squad than he had at his disposal last season, Zidane replied: "A large squad gives you a few more problems but that comes with the territory as Real Madrid coach. We have lots of youth players who aren't ready to play for the first team and go out to gain experience, like Morata, Carvajal, Vázquez... In terms of Jesé, he didn't play much last year. As the coach I like Jesé as a player and want him to stay but it's impossible to say what will happen."
Real Madrid July and August fixtures
Real Madrid will play:
Date Time Rival
27/07 01:30 PSG
30/07 21:00 Chelsea
03/08 01:30 Bayern Munich
09/08 20:45 Sevilla (UEFA Super Cup)
16/08 TBC Stade de Reims (Trofeo Bernabéu)
21/08 20:15 Real Sociedad (Liga)
28/08 TBC Celta (Liga)