Luis Suárez: "Messi's being persecuted a little"
The Uruguayan defended his Argentine team mate in his battles with the tax authorities and joked about signing a fourth striker: "Maybe Luis Enrique's not happy with me"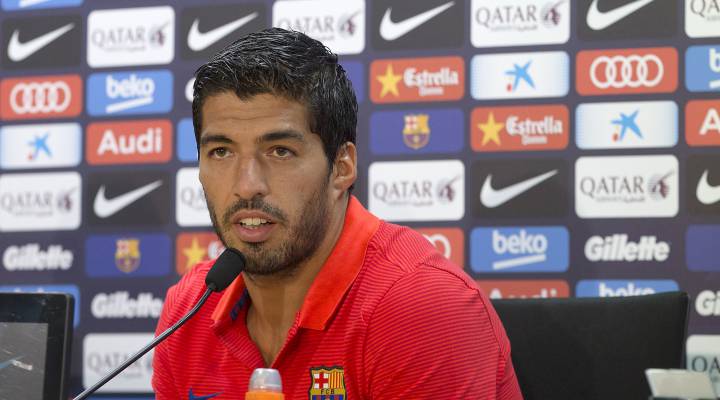 Luis Suárez, last season's top scorer in Spain and the ESM Golden Shoe winner, spoke to the media in this morning's press conference - the main talking points were his defence of Leo Messi ("maybe it's a case of persecution but he has a lot of personality") and a wink to Luciano Vietto ("he's a tricky player").
How are you confronting this new season? "I'm very happy for what we have achieved on a collective level so far, and this year. like every year, the objective is to win every competition we play in".
Relationship with Messi and his future: "Obviously, when Leo and I talk, it's as friends and what's said stays between us but he's fine. He's keen to get back to work and start the new campaign. Everyone knows how difficult it was for him and Argentina losing the Copa América and with the court case as well but he has a lot of personality and he always bounces back. What we have to do is support him".
The club is on the lookout for a fourth striker. That would suggest that you will get more rest this season... "Maybe the boss isn't happy with me... (laughs). During the two seasons I have spent here, there have been times when the coach hasn't rotated [the front line], but we agree with him when he doesn't rest players. Whoever the club signs they will be be welcomed because they'll be coming here to improve the team and none of us have our place in the side guaranteed".
Can you imagine Messi never playing for Argentina again? "To be honest, no I can't. I hope that is not the case and I cannot imagine it every happening. For how much he loves Argentina, I hope it doesn't happen. They wanted to nationalize him and give him Spanish citizenship when he first came here but he opted to stay Argentinean. There no question about his love for Argentina. I think he'll reconsider it and he has the conscience to go back with the national team" .
Improving on last season's figures: "I'm not going to place more pressure on myself. I've already surprised myself with the figures I recorded. I know it's difficult but I'm in the best team in the world so anything's possible".
Vietto: "He's a great player. I liked watching him when he played against us. He's a very tricky player for rival defenders and he would bring us a lot".
André Gomes: "I'm not just saying this because he's signed for us but he's one of the Valencia plaers who really caught the eye; for his physical capabilities his skill with both feet... He's a great talent and he's come to help us. We're very happy to have a plauer like him on board".