Vázquez: "I've been surprised by Sampaoli's ideas in attack"
The former Palermo fue presentado como sevillista y reconoció que los consejos de Maresca influyeron en su decisión.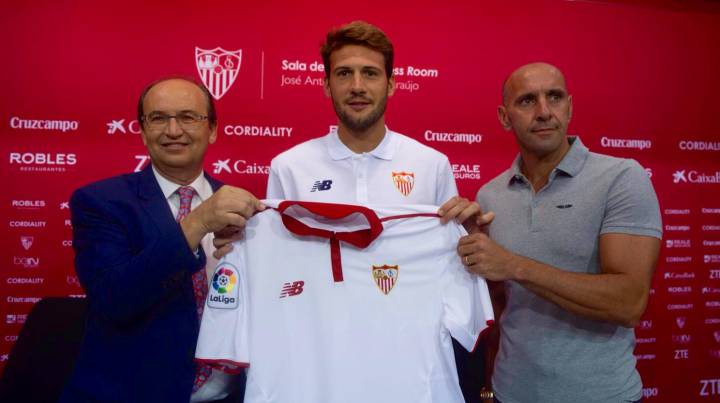 Franco Vázquez was unveiled by Sevilla at the Ramón Sánchez Pizjuán on Friday. Accompanied by club president José Castro and Sports Director Monchi, who said that the club had been tracking the player for some time, Vázquez was only too happy to answer questions from the media.
Warm welcome: I feel great after the welcome I've been given. I'm very happy to be here, at this club; there's a great group here and we can achieve success.
Maresca: We're close friends, we spent two and a half years together at Palermo and he's always told me so many good things about this club and the city. He's really happy that I'm here.
Nickname - "Mudo" (Mute): That nickname came from when I was in the youth team at Belgrano and I didn't really speak very much; so my team mates gave me that nickname.
Sampaoli: To be honest I've been quite surprised by what Sampaoli has got planned but if things turn out well I think Sevilla will be playing a very visual, attractive style of football which everyone will enjoy.
Position: I've spent three years playing just behind the centre-forward but I am fine about playing a little deeper, I like playing a bit further back.