RIO 2016
Bolt: "What people really want to see is world records"
The Jamaican sprinter, who has held Olympic gold in the 100m, 200m and 4x100 since 2008, wants to be the first man to run under 19 seconds in the 200m in Rio.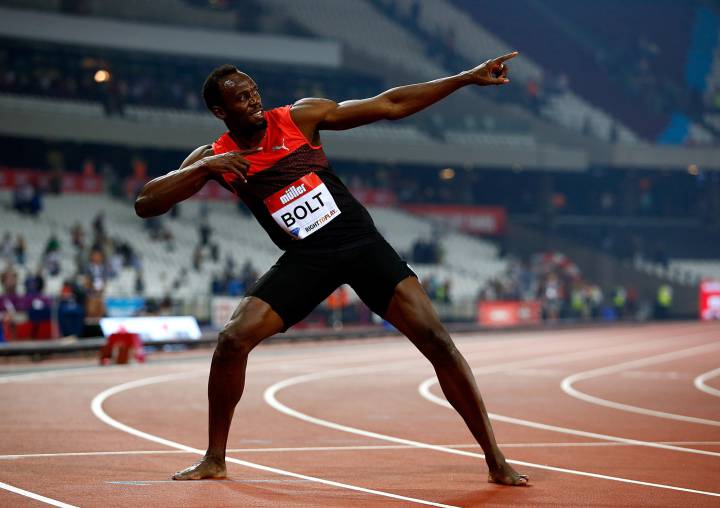 Arguably the greatest sprinter in history, Usain Bolt already owns the world records for the 100 meters and 200m. In London four years ago, he completed an unprecedented "Double Triple" by retaining the 100m, 200m and 4x100m crowns won four years earlier in Beijing.
"I am now a living legend," Bolt informed reporters imperiously. "Bask in my glory."
In Rio, Bolt is targeting all three titles once again -- a "Triple Triple" -- as well as a new 200m record of under 19 seconds which he insists is achievable. "My biggest dream at the Olympics is to win three gold medals again. That's my focus, that's what I want," Bolt said in an interview earlier this year.
"That's the main aim. Everyone wants me to win again, but what they really want to see is records. One of the big records I want is the 200. What I want is sub-19 -- the first man to ever have done it, it would be a game-changer."
It would take an almost superhuman performance from Bolt to become the first man to break the 19-second barrier and it remains the longest of long shots for a man whose fastest time this year is the 19.89 seconds he ran during the London Diamond League meeting on July 22.
Bolt's assured victory in that race prompted a collective sigh of relief across the athletics world as he demonstrated his fitness after limping out of Jamaica's Olympic trials weeks earlier with a hamstring injury.
For his many fans, Bolt is a beacon of integrity in a sport scarred by doping scandals. At the World Championships in Beijing last year, his 100m showdown with Justin Gatlin -- twice convicted of doping offences -- was framed as a battle of "good versus evil."
Bolt won that race but will face a renewed challenge in Rio from Gatlin, the fastest man in the world over 100m this year. His rivalry with Gatlin has been given an added edge following remarks by the American relating to Bolt's withdrawal from the Olympic trials.
"I laughed when I heard it, I was disappointed, especially in Justin Gatlin," Bolt said.
In the 200m another threat is likely to emanate from LaShawn Merritt, the season's fastest man with a time of 19.74sec.
Bolt however is never more dangerous than when he is challenged. He has been wearing the bullseye on his broad back for the last 14 years since he became the youngest IAAF champion at the world junior championships in Kingston in 2002.
It was his first world record, 9.72 seconds in the 100m in New York in June 2008 that was to change the life of the shy young man from rural Jamaica -- who had cried and begged not to go to Kingston for the junior worlds six years earlier.
Bolt was long seen as a 200m specialist who many thought would eventually run the 400m but that never panned out as his lightning speed has kept him at or near the top of the 100m & 200m lists for eight years.
His world records for the 100m and 200m -- 9.58sec and 19.19sec respectively -- have stood since 2009. His reign has encompassed six Olympic gold medals, 11 world titles and a long list of accolades.
He has shown signs of fallibility however, with his hamstring requiring several trips each year to renowned German sports medicine doctor Hans-Wilhelm Müller-Wohlfahrt.
More than anything else it could be the toll on his body that has Bolt vowing to leave the sport after the 2017 World Championships in London. Before drawing a line under his career in London however, there is next month's Olympic swansong -- and the prospect of a history-making finale in Rio.