BAYERN MUNICH 0 - REAL MADRID 1
Super Cup: Real Madrid boss Zidane all but rules trio out
Speaking after Real's 1-0 win over Bayern Munich in New Jersey, Los Blancos' boss said his side are "ready" for Tuesday's clash with Sevilla.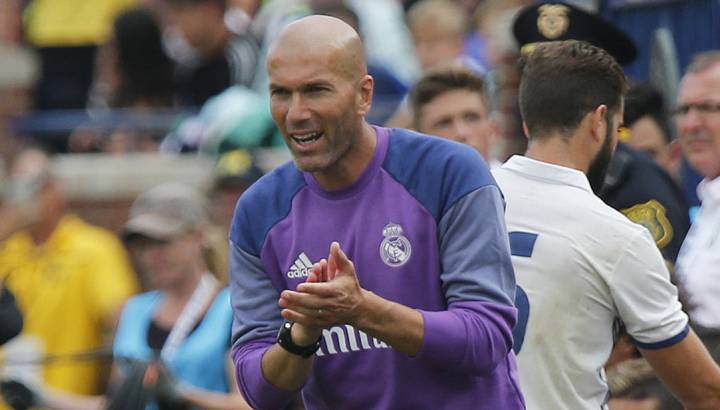 Real Madrid coach Zinedine Zidane declared that his side are all set for Tuesday's UEFA Super Cup after watching Los Blancos see off Bayern Munich at Metlife Stadium.
The Frenchman also discussed Karim Benzema's fitness as the striker battles back from a hip issue, and as good as ruled out Gareth Bale, Toni Kroos and Pepe's chances of facing Sevilla.
Real Madrid are "ready"
Ready for the Super Cup? "Yes, after three games and three weeks of work, the team are ready. Tuesday is our first big match."
Could Gareth Bale, Toni Kroos and Pepe be able to play? "No, I don't think so. They have to come back. We'll see them in Madrid."
Zidane on Benzema: "We'll see"
Karim Benzema: "He'll be with us and then we'll see. Now he's OK, he's doing better. But he hasn't trained with us at the same pace. When you can't train as normal it's tough. He'll be with the team on Saturday and on Tuesday we'll see."
James Rodríguez: "He played his first 45 minutes and he's getting up to speed."
Are you worried about Álvaro Morata's lack of goals? "No, I'm not concerned. He's still getting up to speed. He played 75 minutes, he offers us a lot and the goals will come."
Marco Asensio: "I would like Asensio to remain at the club, but we'll speak about that when we get back to Madrid".