Rio round-up: Bolt, Murray, Rose, Biles, Whitlock and van Niekerk
Usain Bolt stormed to an unprecedented third straight Olympic 100m title as Wayde van Niekerk smashed Michael Johnson's long-standing 400m record in Rio on Sunday.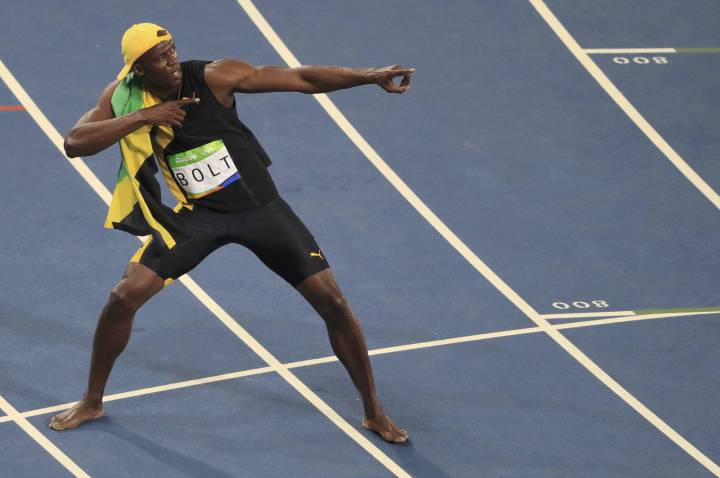 Lightning strikes thrice
On a night of high drama, Usain Bolt galloped past drug-tainted US rival Justin Gatlin to cross in 9.81sec and become the first athlete to win the 100m three times in a row. The emphatic victory set the Jamaican showman off on his quest to complete the 'triple triple' -- 100m, 200m and 4x100m gold medals at three consecutive Olympics.
"Somebody said I can become immortal. Two more medals to go and I can sign off. Immortal," said Bolt. Although well short of his world record, Bolt expressed satisfaction with his performance. "It was brilliant. I didn't go so fast but I'm so happy I won. I told you guys I was going to do it," he added.
Twenty-four hours after Michael Phelps brought the curtain down on his extraordinary career with a record 23rd gold medal, Bolt took centre-stage and he was quickly down to business and he reeled in the fast-starting Gatlin before easing up and thumping his chest as he crossed the line.
It was a crowd-pleasing victory over his US rival Gatlin, who has twice served drug bans in his career. Canada's Andre de Grasse took bronze.
17-year MJ 400m record gone
Minutes earlier, jaws dropped as Wayde van Niekerk timed a lightning 43.03sec in the 400m, breaking Johnson's 17-year-old record set in 1999.
"I have never seen anything like that," Johnson told the BBC. "It is amazing. That was a massacre by Van Niekerk. This young man has done something truly special."
Britain's gold rush
The fireworks on the track came after an emotional Andy Murray won his second straight men's singles tennis gold - the first man to do so - and fellow Brit Justin Rose became the first Olympic golf champion in 112 years.
Murray beat Juan Martin del Potro in an epic tennis final which finished 7-5, 4-6, 6-2, 7-5 and left both players overcome with emotion.
"Today was a very up and down match, very stressful. Both of us had a lot of chances and it was a long and tiring match. I'm just glad I managed to get through it," said Murray.
Rose became the first Olympic golf champion since 1904 when he edged a thrilling duel with Henrik Stenson on the final hole.
"Oh my God. That felt better than anything I've ever won. It was the best tournament I've ever done," Rose said.
Elsewhere, Max Whitlock won the floor exercise to become Britain's first Olympic gymnastics champion - and soon won a second in the pommel horse.
A five-gold Sunday for the Brits put them a surprise second on the medals table with 15 victories, behind the United States on 26.
Beaming Biles
America's Simone Biles stayed on track for a record five gymnastics gold medals at a single Olympics when she clocked up her third, on the balance beam. In gymnastics, 19-year-old Biles won the women's vault, adding to her all-around and team titles as she chases an unprecedented five gold medals.
Security issues continue
And fears over Rio de Janeiro's fragile security rose after Ryan Lochte and three fellow US swimmers were robbed at gunpoint by criminals posing as police. Security throughout the Rio Games has proved a major headache for organisers, with several competing teams complaining of thefts and street crime in the recession-hit metropolis.
The latest to fall victim was US swimmer Lochte and three team-mates, who were robbed at gunpoint by criminals who pulled over their taxi posing as police.
"The guy pulled out his gun, he cocked it, put it to my forehead and he said, 'Get down,' and I put my hands up, I was like, 'Whatever'," Lochte told NBC News. "He took our money, he took my wallet -- he left my cell phone, he left my credentials."
Other news
Colombia's world champion Caterine Ibarguen won the women's triple jump with a leap of 15.17m which easily outstripped her rivals.
Kenya's Jemima Sumgong won the first athletics gold of the day, making light of searing heat to triumph in the women's marathon.