Ibrahimovic draws comparisons with Cantona after debut
Zlatan Ibrahimovic is already evoking memories of Manchester United legend Eric Cantona with his "aura" at Old Trafford as well as his instant impact on the team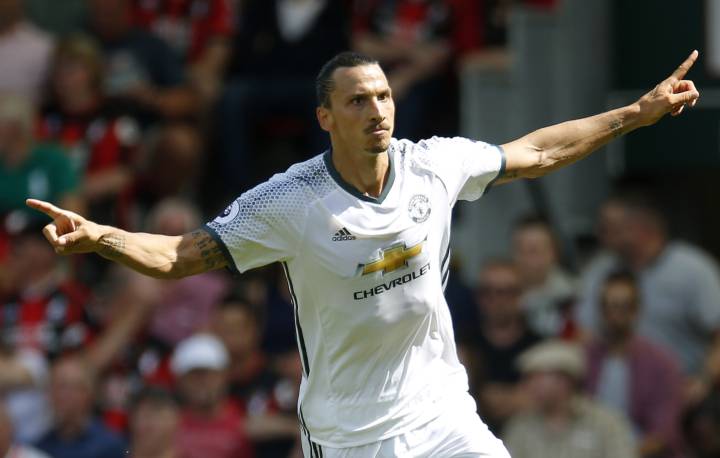 It is very early days in Zlatan Ibrahimovic's Manchester United career, but the Swedish striker's initial successes have already evoked memories of Old Trafford legend Eric Cantona.
Cantona made an extraordinary impact when he arrived from Leeds United in November 1992, inspiring Alex Ferguson's team to end the club's 26-year wait for the English title. United have not fallen anywhere near as low in the three years since Ferguson retired in 2013, but after the gloom of David Moyes and Louis van Gaal's managerial tenures, Ibrahimovic has given them a major lift.
"For the next two seasons I think he can be phenomenal for the team and the Premier League," said United manager Jose Mourinho after Ibrahimovic scored in Sunday's 3-1 win at Bournemouth. "Eric Cantona was here at the best moment in his career. This guy (Ibrahimovic) is more than a player."
Comparisons with Cantona
Ibrahimovic began the season by scoring in the Community Shield, heading home an 83rd-minute winner as FA Cup winners United overcame Leicester City. Cantona also decided a Community Shield, netting a hat-trick in a 4-3 win over Liverpool in August 1992, but he was playing for league champions Leeds.
He joined Manchester United in a shock move three months later. Winning the league in his first season gave Cantona a third straight national title, following previous successes with Marseille and Leeds. He would go on to win a further three with United, plus two FA Cups.
Ibrahimovic, 34, hopes to win a fifth consecutive title, after four with Paris Saint-Germain, and 12th in total (the two he won at Juventus having been revoked due to the Calciopoli referee-rigging scandal). As much as his title-winning know-how, Ibrahimovic was signed from PSG to inject some panache and self-belief into a United changing room that had lost the self-assurance of the Ferguson era.
Discussing Cantona's arrival, Ferguson said: "He swaggered in, stuck his chest out, raised his head and surveyed everything as though he were asking: 'I'm Cantona. How big are you? Are you big enough for me?'"
Ibrahimovic's "aura"
Ibrahimovic's arrival at United has been described in comparable terms, with captain Wayne Rooney and midfield team-mate Morgan Schneiderlin both speaking about his "aura". On the pitch, Ibrahimovic has made an assured start with two goals in two games.
At Bournemouth he showed a willingness to drop deep from his number nine role and allow Rooney to take his place at the tip of the attack. Both players were on target at the Vitality Stadium, Rooney putting United 2-0 up before Ibrahimovic opened his Premier League account with a low shot from 25 yards.
Ibrahimovic is also having an impact behind the scenes. Ferguson has often spoken about how Cantona's dedication on the training ground inspired a young generation of United players including David Beckham and Paul Scholes to raise their game.
Mourinho made a similar observation about Ibrahimovic. "The first thing I can tell you is at his table for breakfast and for meals he is surrounded by the kids, the younger ones like (Marcus) Rashford and (Luke) Shaw," said the Portuguese. "He knows what he can be for them as well as what he does with his performances."
Cantona: "There can only be one King"
The main difference between the players is that whereas Cantona was 25 and in the last-chance saloon when he came to England after disciplinary problems in France, the experienced Ibrahimovic is a proven medal magnet. If he wins the title with United, it will be the seventh time that he has ended his first season at a club with a league winner's medal around his neck.
Informed by Cantona, in a tongue-in-cheek video message, that there could only be one 'King' of Old Trafford, Ibrahimovic responded that he would be the 'God'.
It is unlikely that he will ever capture fans' hearts in quite the same way Cantona did, but with United already top of the league, he has made a good start.