Luis Enrique keeping schtum on Claudio Bravo-City switch
The Barça coach refused to admit that Claudio Bravo will be leaving to join Manchester City once Ter Stegen is back to full fitnessNapoli vs Manchester City live online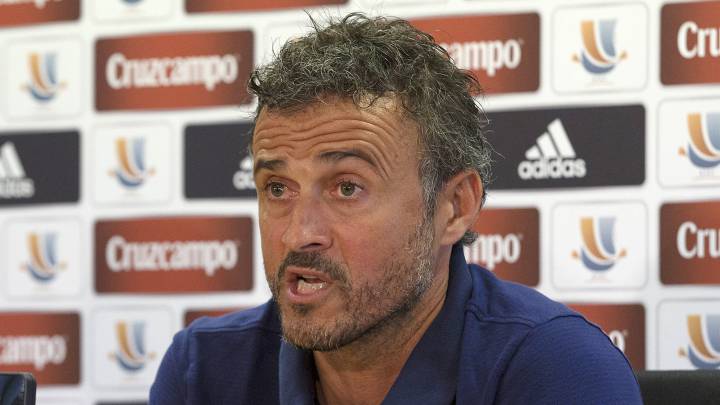 Barcelona coach Luis Enrique was in the hotseat this morning to preview tomorrow's league opener against Betis but there were other issues on the agenda - such as Claudio Bravo's proposed move to Manchester City...
Two seasons in charge and two league titles, how are you planning for this one?
We've set out to do the same as we have in every other campaign. Being the defending champions gives us a relative advantage and we'll se if we continue along the same lines we can win it again. It's certainly a motivation for us. We're opening the campaign against a Betis side who have changed a lot of personel and their idea of playing. They had a great pre-season and so I expect they will give us problems.
Messi seems to be drifting wider, how does that affect the team's game?
He's our best player and he had total freedom. He is free to change his position in relation to where the spaces are - but always looking for the best solution for the team. It's a tactic we have put into practice since we arrived at the club. The more he is involved in the game, the better for us.

What qualities do you value in Claudio Bravo?
In him and everyone else, the ambition they show in every training session and every match.
Have you been surprised at how quickly the new signings have adapted?
Everyone's been playing well, you can't really see how much a player has adapted in just one or two games. It's not easy changing club, finding yourself with team mates and in a new city; you can't see how settled players are after two games, but it's encouraging to see how they are progressing and integrating. The bedrock is how their team mates support them - you have to help a team mate like you would wanted to be helped.
Would you be annoyed if Bravo left?
I don't talk about what ifs.

Was the Supercup Claudio Bravo's last game with Barça?
I don't know, you tell me.

How does the team manage to constantly reinvent itself?
For ambition. The past brings happiness, but it doesn't serve you in anything else. We libe in the present and the immediate future. We've won the Supercup, but there are other trophies up for grabs. The category of the players I have is what gives me motivation.
Why have Barça had such a monopoly on LaLiga during the past few years?
For the players we have and our idea of football. People turn on their tellies to watch Barça, knowing what they are going to see. Possession-based, attacking football and that's the key.
Has something changed in Arda?
No. He seems the same to me. I'm happy that things are turning out better for him and for the team. The more part of a team you are, the better you can control everything around you.