Zidane: "If nobody leaves, nobody can come in"
The Real Madrid manager gave his first press conference of the season ahead of the match against Real Sociedad at Anoeta on Sunday.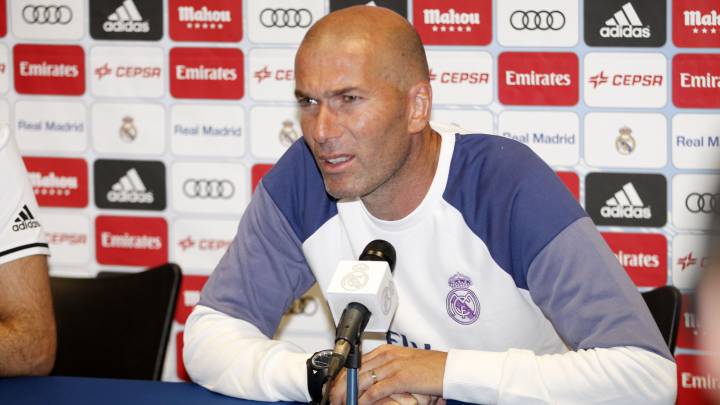 What shape is the team in?
We can say that we're well prepared, we're ready. All the players are impatient for the league to start. It will be a difficult season, it'll be a scrap and we're ready to give it a go.
Squad
If nobody leaves, no other players can come in. That's a fact. I'm happy with this squad.
Bale to lead
Yes, but as he always does. Bale is an important player for this team, he proved that last year and I think he'll continue on the same lines. He wants to carry on making history with this club. It's an important year for him and for the rest.
No new number 5
The squad is as it is. We're not going to go round in circles about it. We had Marcos Llorente who can play in that position but he left because he wanted to play. It's good for him. We're going to carry on with what we've got and we have other players who can play in Casemiro's position. And we can change the system.
Slow starts in other years
We know we have to start well and go out strong. We know that the start of competitions is very important. It's a difficult game. We're ready and we'll see what happens there. We have two home games afterwards and we want to start well.
Real Sociedad
La Real are very good at home and very dangerous. It will be a tough game. They are a side that play from the first minute to the last whatever happens.
Liga
We didn't win the league last year. It's a very important competition for us, it's our day-to-day. Then there is the Copa del Rey and Champions League. The truth is the Liga is very important.
Ronaldo and Benzema
I can't say for sure when they'll be back. Cristiano is training with the ball, which is a good sign. He wants to come back as quickly as possible. I'm happy to see him training. Karim is a different case. He has been running. I have spoken to him and I don't want him to be in and out of the side. We want to make sure he's genuinely one hundred percent. We will use the same thinking with all of the players.
If Cristiano returns against Celta will you ask Portugal not to call him up?
It's a good question, but to be honest I haven't thought about it. I'm concentrating on tomorrow's game. There'll be time later to talk about Cristiano. The important thing is how he feels. It may be too early for him to play against Celta. Next week will be important.
Asensio
He played the other day and against La Real we'll see who plays. He's an important player. I'm happy with him and how he's doing, for his goal [against Sevilla] and his game in general. We'll see. We have a lot of players and everyone will play.
Morata
I don't talk to him about goals. I talk to him about what he has to do on the pitch. Morata knows this club well and he knows the values of this club. He'll do the same as everybody else. Physically, he's getting better every day.
Mariano
He'll travel to San Sebastian. I hope he'll give 100 percent like everyone else. He's young and knows what lies ahead. He'll stay with us and fight to get playing time.
Goals
I know the demands of this club. I know what needs to be done and we have to be ready to give our all, we have to train well but then football is not an exact science. I'm happy with the players I've got, we have a good team and we have to show that in every game. It's will be a demanding season. La Liga is our main objective because it is the competition where we have to most consistent, day-to-day, and that's our objective.