Simeone: "There may still be comings and goings"
The Argentinean spoke to the press ahead of Atlético's opener against Alavés and laid out the side's goals: "To improve on last season."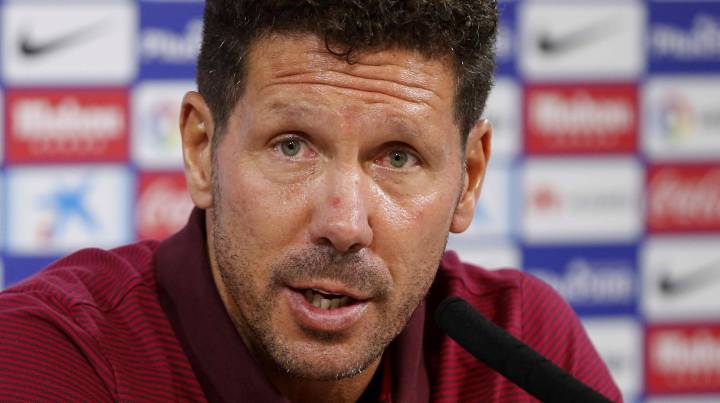 Liga start
We've been working pretty well. We divided the groups depending on when they arrived from their national teams but now we're working with the most important group to start this new championship. We're looking forward to it, we're all excited and this will be a game at the Calderón, one of the last we're going to experience so there are a lot of emotions, joy, enthusiasm and that's how we'll go into the game.
Alavés
We've watched several of their games and they have a good squad, which is fairly new, but the coach's ideas were pretty plain to see with attacks down the wings and players in the area, pressing when they lose the ball and a set-up moving to a 4-4-2 when they have to drop back. That's what we've gathered from their games in pre-season.
Transfer market
There are a few days left to finalize the squad or not. Up until the final day we're open to any possibility of a player coming in or leaving.
Gaitán
Nico has great talent, we need him, he's a player who will give us an extra bit of quality in any role we ask him to play. He's a good player, he links up well with his teammates, he has vision, he scores goals and he'll get plenty of playing time.
Vrsajko
He arrived from Italy in good shape and with the intention of improving. He's looking forward to competing with Juanfran.
Gameiro
He is a great striker, he can play from deep, he's strong, he's fast and we have to take advantage of that. This season it will be more difficult to decide on substitutions because we have a balanced squad but at the same time it's competitive because of the quality of our players.
Style of play
We have a few new players but I don't think we'll change the way we play much. We'll base it on a 4-4-2 but I don't think we kept the same system last season in the league, Champions League and Copa. We'll change things around depending on who we're playing, looking for favourable situations where we think we can and to defend against things we aren't doing well. We have players capable of playing in different systems but the style will always be the same and that is to go at other teams.