Real Sociedad 0-3 Real Madrid: match report, live text
Gareth Bale scored two and Marco Asensio hit a fabulous goal as Los Blancos claimed a convincing win over Real Sociedad.
Real Sociedad 0-3 Real Madrid (Bale 2', 93', Asensio 39')
Gareth Bale struck twice for Real Madrid as Zinedine Zidane's side began their LaLiga campaign with a comfortable 3-0 victory away to Real Sociedad on Sunday evening.
Early Bale header sets Madrid on their way
The result rarely looked in doubt from the moment Bale rose to head Dani Carvajal's right-wing cross past keeper Gerónimo Rulli with just 72 seconds on the clock.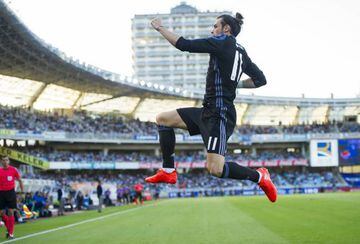 Los Blancos had travelled to San Sebastián without five key regulars in Cristiano Ronaldo, Karim Benzema, Pepe, Luka Modric and Keylor Navas, but they were scarcely missed.
Asensio nets sumptuous strike
And Marco Asensio, making his league debut for Madrid, followed on from his stunning goal in the UEFA Super Cup with another marvellous effort shortly before half time.
Centre-back Raphael Varane fired a long pass over a static home defence, and the 20-year-old brought the ball down expertly before dinking a deft finish over the on-rushing Rulli.
Bale at the double
Bale completed the scoring in second-half stoppage time - in the process grabbing his fifth goal in four appearances for Real at Anoeta - when he rounded Rulli and tapped in.
The clash also saw moving applause in minute nine in memory of English former Real Sociedad striker Dalian Atkinson, who died earlier this week.
Here's how it happened:
Peeep! And that's the last action of the game! Real Madrid win 3-0 at Anoeta in a clash bookended by goals from Gareth Bale, who just cannot get enough of this stadium! Marco Asensio marked his league bow for Real with a fabulous second for the visitors as Zinedine Zidane's men got their LaLiga campaign off to a winning start with something of a comfortable evening at San Sebastián.
Min 93 | Vázquez cuts it back for James to slap a low drive towards Rulli's near post from the edge of the box, but Real Sociedad keeper holds on. And moments later, Bale makes it three to Real Madrid! James sets the Wales international scampering clear, and he rounds Rulli before composing himself and tapping into the unguarded net. 
Min 92 | La Real have shouted for a penalty a couple of times in recent minutes, and now they're asking the question again as Oyarzabal runs at the visitors' defence and tumbles to the floor in the box - but once more the man in black (well, red and black) says nope.
Min 90 | Four minutes of time is to be added on, as Kovacic skies an effort into orbit.
Min 86 | Handbags alert! Bale is down clutching his right ankle after a challenge with Zaldúa, and Sergio Ramos goes to politely enquire what the devil his opponents are playing at. The brief moment of low-level argy-bargy ends with bookings for Ramos and Yuri Berchiche.
Min 83 | Good defending from Marcelo as Oyarzabal is released behind him on the right and sets off towards Casilla's goal, but the Brazilian is there to cut out the La Real attacker's near-post shot. Casilla seems to hurt himself as the three came together, but after a bit of treatment he appears to be fine.
Min 80 | Varane was on the ball there to nick away a threatening through pass looking to get Vela clear, before Oyarzabal has it in shooting territory on the edge of the box but, with Ramos getting in there quickly to nick the ball away from the teenager, he only succeeds in booting the Real Madrid captain.
Min 79 | Third substitution for Real Sociedad too, as Carlos Vela enters the fray in place of Mikel González.
Min 78 | Too elaborate from Isco! Vázquez breaks to the byline and crosses to the back post, where the midfielder chests it down and dallies too long, fails to get a shot away and La Real clear.
Min 77 | Xabi Prieto swings it in towards the leap of Willian Jose, but he only succeeds in glancing the ball into the vicinity of the corner flag. James Rodríguez then comes on for Morata - who has been excellent on his second league debut for the club - as 'Zizou' makes his third and final sub.
Min 71 | Isco is on for Kroos, while Real Sociedad also make a change, Eusebio Sacristán introducing Xabi Prieto for debutant Juanmi.
Min 70 | Isco is also preparing himself to come on now.
Min 67 | Vázquez is quickly into the action, looking to release Bale running in towards goal between two La Real defenders, with Zaldúa bringing him down in dangerous free-kick territory and picking up a yellow card for his troubles. Ramos' curled effort comes back off the wall, but it falls to Kovacic - and the Croat fizzes a half-volley back towards Rulli's corner, which the goalkeeper does well to turn wide!
Min 64 | Asensio makes way for Vázquez. The ex-Real Mallorca player has scored twice in two competitive games for Real Madrid, with stats men Opta noting that that's from just three attempts. 
Min 60 | Asensio feeds Bale running in behind the backline on the right, and the former Spurs man gets there before the on-rushing Rulli but is driven wide and sees his attempt to cut it back into the danger area blocked. Lucas Vázquez is getting ready to come on for the away team.
Min 57 | Illarramendi swings in the free-kick, and Iñigo heads well over.
Min 56 | First substitution of the night as Willian José - once of Real Madrid (well, their 'B' team, unless you count one first-team appearance) - is brought on for his competitive debut in place of Concha.
Min 55 | Off the bar from Kroos! The German feeds Morata, who advances into the area and sees his shot on the angle blocked by Rulli. The rebound loops right into the path of Kroos, who sets himself and crashes his volley off the woodwork!
Min 53 | Oooh, there's a big call for the man in the middle - and he looks to get it spot on. Morata drives into the box and appears to be brought down by Mikel González... but he's booked for simulation! 
Min 50 | Casemiro is into the book after a foul on David Concha.
Min 49 | There were no changes at half time, I neglected to say.
Min 48 | Kovacic gets to the byline before cutting it back towards Morata where, with the goal gaping, La Real centre-back Iñigo Martínez is, thankfully for the home side, there to clear.
Min 47 | The hosts are shouting for a penalty as David Zurutuza crosses toward Bergara, who goes tumbling to the turf under the attentions of Carvajal, but Mr Martínez Munuera is unmoved. 
Min 46 | Madrid go straight on the attack, Asensio crossing low on the left for Bale, who can't connect and La Real clear
And the second half gets going!
Peeep! Half time at Anoeta, where the odd whistle can be heard from the home fans. That lllarramendi moment aside, it's been extremely comfy for Real Madrid ever since Bale's second-minute header flew past Rulli and into the corner. And as for that second from Asensio...there are certainly worse ways to mark your league debut. It's fair to say that Ronaldo, Modric, Benzema, Pepe and Navas have not particularly been missed.
Min 43 | Could, and probably should, be three! Marcelo controls and swings it into the box to meet the run of Casemiro, but he heads over from six yards. TV replays then show Zidane wheeling away in disgust at that missed chance. 
Min 39 | What. A. Goal. Raphael Varane plays a long ball to Asensio running in behind the Real Sociedad defence, and the 20-year-old brings it down as easy as you like before cheekily dinking it over Rulli. Class. As a certain Scottish pundit would say, take a bow son. 2-0 to Real Madrid.
Min 38 | Kroos almost picks out Morata at the back post, but it's nicked off the striker's head.
Min 37 | Morata certainly looks in the mood tonight! The Real Madrid academy graduate picks it up in the left channel before driving at goal, shaking off one, two, three La Real defenders and forcing a fine stop from Rulli! Marcelo then almost has him in moments later, but Rulli is quickly out to deal with the danger.
Min 36 | Yellow for Oyarzabal after a foul on Kroos.
Min 33 | Markel Bergara's header backwards is poor and falls straight to Marco Asensio, who scuttles forward and plays it to Bale. On the corner of the box, the Welshman looks to find Morata arriving in the centre, but Rulli comes out to claim - and looks to do himself a bit of harm in the process.
Min 31 | Up the other end, Ramos heads over a Kroos free-kick at the back post.
Min 30 | Well well well, the commentator's curse almost strikes. A great pass splits the Real Madrid defence and finds Illarramendi in behind the backline. He could shoot, but opts to try and square it for Juanmi, who might've had a tap-in had the pass been good. It wasn't.
Min 29 | Real Madrid have won five of their last seven visits to Anoeta, and the way things are going that stat is going to be becoming six from eight at about ten o'clock tonight. 
Min 23 | Midway point of the first half, and Real Madrid look very comfortable so far.
Min 20 | Ufff! Madrid aren't far away from doubling their lead there. Marcelo breaks forward and feeds Morata peeling off to the left, with the ex-Juventus man cutting it back to the arriving Toni Kroos to guide a side-footed effort towards Rulli's right-hand corner, but the Argentine keeper just gets a hand to it and pushes it out for corner.
Min 16 | First proper sight on goal for the hosts, with Oyarzabal again involved - his shot canons off a black shirt and loops up to be gathered by Casilla, though.
Min 14 | Real keeper Kiko Casilla has to be alive to clear in the face of the on-rushing Mikel Oyarzabal after a moment of sloppiness from Sergio Ramos, before Álvaro Morata produces a lovely piece of play on the right to escape the attentions of two men and drive towards goal almost on the byline, his near post shot then sufficiently blocked by Iñigo Martínez to take the sting out of it.
Min 9 | As planned, there's applause for former Real Sociedad striker Dalian Atkinson, who died earlier this week.
Min 6 | Real Sociedad win a corner on the left, but former Madrid man Asier Illarramendi's delivery is cleared. Zinedine Zidane couldn't have hoped for a better start.
Min 4 | So, four goals in four for Bale at Anoeta. Cristiano who? That goal was the quickest Real Sociedad have ever conceded at the stadium in LaLiga, by the way.
Min 2 | Goooaaal! What a start for Real Madrid! Dani Carvajal crosses from the right and Gareth Bale - oh, he just loves playing at this ground - powers a header past Gerónimo Rulli!
Peeep! We're underway...
1 min to kick-off |  A tribute to Spanish Olympians Maialen Chourrout and Richard Oribe.
3 mins to kick-off | Real Sociedad have fared pretty well at home against the big three of Barcelona, Real Madrid and Atlético Madrid in recent times, beating them all in 2014/15 and defeating Barça again last term, only narrowly losing to Madrid courtesy of a late Gareth Bale header.
5 mins to kick-off | Real Madrid have some act to follow after Barcelona, who beat them to the title by one point last term, began with an impressive 6-2 walloping of Real Betis...
The teams:
Real Sociedad XI: Rulli; Zaldua, Íñigo Martínez, Mikel, Yuri; Illarramendi, Bergara, Concha, Zurutuza, Oyarzabal; Juanmi
Real Madrid XI: Casilla, Carvajal, Ramos, Varane, Marcelo, Casemiro, Kroos, Kovacic, Bale, Morata, Asensio
Preview: Real Sociedad vs Real Madrid: LaLiga Santander Week 1
Both managers could have hoped for an easier start to the league season and it's therefore a tricky one to predict. With several of those names usually first on the team sheet for Zidane missing, it will be a chance to see some of the rising stars in the much talked about squad. For La Real, a chance to make an early statement of intent after narrowly losing this fixture last year.
Real Sociedad
Facing the recently crowned European Champions in your first game back is maybe not the preferred choice of most managers but Eusebio will feel that his team has a chance to pick up at least a point against a much weakened Madrid side, especially at home.
There are a numer of ex-Madridistas in their ranks, Canales (who's still recovering from an injury picked up against Madrid last season), Granero and Illarra. But the key to getting on the scoresheet is likely to fall to new signing Juanmi who, in the absence of Agirretxe (knee) is expected to lead the line. Willian José will be hoping to convince the locals of his number 9 credentials but may have to do it today from the bench.
Eyes of many around the league and beyond will be on Oyarzabal, Elustondo, Xabi Prieto, Vela and company as they target an early scalp.
Real Madrid
As we've already made clear, Zidane comes into his first round of the championship with an injury-plagued Madrid. Cristiano Ronaldo, Benzema, Coentrao, Pepe, Modric and number one, Keylor Navas are all missing through injury or suspension and will not travel. This situation puts the onus on Bale, Kroos, Ramos, James, Asensio and Morata to step up.
If indeed Marco Asensio gets his league debut for Los Blancos the controlled hype will get its first test. But there can be no excuses for a team that has barely strengthened during the summer, instead repeating the call that the squad is ready for the challenges ahead. A poor result or performance from the supporting act may raise questions over action required ahead of August 31.
Real Sociedad: Rulli, Zaldua, Aritz, Iñigo Martínez, Yuri Berbiche, Illarramendi, Pardo, Zurutuza, Oyarzabal, Carlos Vela, Juanmi.
Real Madrid: Casilla, Carvajal, Ramos, Varane, Marcelo, Casemiro, Kroos, Isco, Bale, Asensio OR Lucas Vázquez,  Morata.