CHAMPIONS LEAGUE
As it happened: Champions League group stage draw
Real Madrid, Barça, Atleti and Sevilla discovered their rivals for the 2016/17 Champions League group stage this evening in Monaco.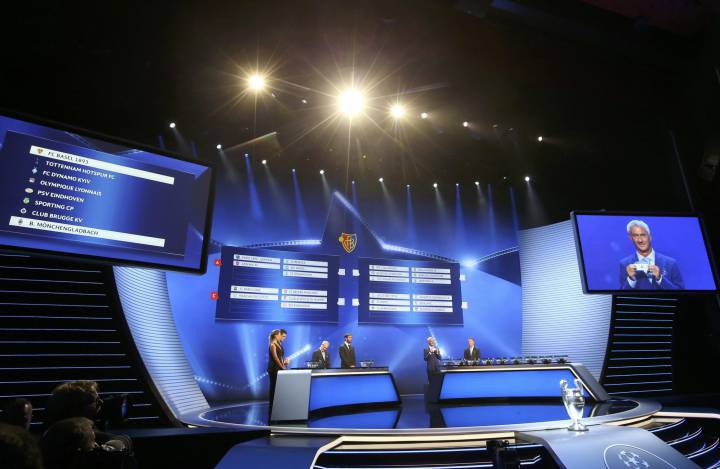 Champions League group stage draw: as it happened:
as soon as the fixture list is confirmed we'll bring you the key dates:
Final Groups for 2016/17 UEFA Champions League:
Group A
PSG, Arsenal, Basel, Ludogorets
Group B
Benfica, Napoli, D. Kiev, Besiktas
Group C
Barcelona, Man. City, Monchengladbach, Celtic
Group D
Bayerm Munich, Atletico Madrid, PSV , Rostov
Group E
CSKA, Bayer Leverkusen, Spurs, Monaco
Group F
Real Madrid, Dortmund, Sporting, Legia Warsaw
Group G
Leicester, Porto, Brugge, Copenhagen
Group H
Juventus, Sevilla, Lyon, Dynamo Zagreb
that concludes the draw:
Celtic head for Group C joining Barça, City & Monchengladbach
Besiktas out and head for Group B (with Benfica, Napoli & Kiev)
Rostov next up and head for Group D (along with Bayern, Atleti & PSV)
Dynamo Zagreb will play in Group H (along with (Juve, Sevilla & Lyon)
Monaco out next .... they head for Group E (with CSKA, Leverkusen & Spurs)
Legia Warsaw up next and head for Group F (with Madrid, Dortmund, Sporting)
FC Copenhagen next out and head for Group G (with Leicester, Porto & Brugge)
...they play in Group A (with PSG, Arsenal and FC Basel)
Off we go with the draw, first side out from pot 4 are Ludogorets
Roberto Carlos is Pot 4 man in charge.
Pot 3
Monchengladbach head for Group C (with Barça and Man City)
Basel out second last and are set to play in Group A (PSG & Arsenal)
Brugge next out and the Belgian side play in Group G
PSV play in Group D (with Bayern & Atleti)
Dynamo Kiev next out and will play in Group B (with Napoli & Benfica)
Spurs next up and Group E
Sporting Portugal next up and head for Group F (with Madrid & Dortmund)
First side out is Lyon who head for Group H (with Juve & Sevilla)
Ruud Van Nistelrooy
is the player faced with the task of electing pot 3 sides...
Off to pot 3 which includes: Spurs, PSV and Sporting Lisbon as ones to watch
Pot 2
Man City to play in Group C (Guardiola return to Camp Nou !)
Atletico Madrid will play in Group D
Bayer Leverkusen next out and head for Group E
Napoli out next and head for Group B joining Benfica
Arsenal next and will play in Group A with PSG
a repeat of last season's group rivals for the Andalusian side, Dortmund next and will play in Group F (joining Real Madrid)
Sevilla next out and they head for Group H with Juventus
FC Porto with Casillas is the first team out and they head for Group G (joining Leicester)
Henry talks us through his experience in the champions League with the Gunners and indeed FC Barcelona
Atletico Madrid and Sevilla are the Spanish teams in this pot
teams from pot 2 will be drawn by Arsenal legend "Titi" Henry
Pot 2 next !
... which leads Juve as top seed in Group H
Pot 1
PSG will be top seed in Group A
Russian side CSKA are next up and will participate in Group E
Champions of Portugal Benfica are out next out and will play in Group B
Rushie struggling with his plastic balls !
FC Bayern Munich are next out of the fruit bowl and Ancelotti's side are in Group D
Next up it's Real Madrid and they will be top seed in Group F
Leicester City second team out and Ranieri's side will play in Group G
Clarence Seedorf is on at hand to draw the balls and FC Barcelona are the first team out and they will play in Group C (as drawn by Ian Rush)
Your menu for this evening, first course the 2016/17 Uefa Champions League draw followed by the Best player award
5 minutes before we head to the principality of Monaco for the draw. There is also the small matter of Uefa Best Player in Europe award between Cristiano Ronaldo, Gareth Bale & Antoine Griezmann.
Good Evening and welcome to our live coverage of the 2016/17 Uefa Champions League draw from Monaco.
Preview
With the UEFA Champions League play-off stage complete, we now know the names of the 32 teams who will take their place in Thursday evening's draw for the group stage of Europe's premier club competition (18:00 CEST).
Sides from the same national association cannot be paired together in the same section, while Russian and Ukrainian teams will also be kept apart.
Pot One
The first pot contains the European champions, Real Madrid, and the winners of the continent's highest-ranked domestic leagues, which include Spanish title holders Barcelona. Of the rest, the toughest potential opposition awaiting Atlético Madrid and Sevilla are Carlo Ancelotti's Bayern Munich, Gonzalo Higuaín's Juventus and Paris Saint-Germain, now managed by Spaniard Unai Emery - who left the Andalusian outfit for the Parc des Princes this summer. The more beatable top seeds are CSKA Moscow, Benfica and Leicester City, despite the Foxes' status as defending Premier League champions. For Atleti and Sevilla, landing one of these three over one of the former trio is likely to make a big difference. It's something that will all but define the difficulty of their group.
Pot Two
Featuring Atlético and Sevilla, this second pot will on paper provide Real and Barça's most demanding group-stage rival. There's one team they'll hope to avoid above all others: Manchester City, where Pep Guardiola has set about overhauling last term's side. A City pairing with either would be significant in seeing former Blaugrana player and boss Guardiola return to the Camp Nou or visit his old club's arch enemies at the Bernabéu. Meanwhile, the prospect of Madrid legend Iker Casillas facing his ex-employers with Porto is also a major sub-plot. Another tricky opponent is Borussia Dortmund, who have strengthened effectively and boast an outstanding coach in Thomas Tüchel. Arsenal are more of the same, Napoli have lost much with the sale of Higuaín, and there could be a Real reunion for Javier 'Chicharito' Hernández if Bayer Leverkusen meet Los Blancos.
Pot Three
Under Mauricio Pochettino, Tottenham Hotspur had a fantastic Premier League campaign last season and, with stand-out individuals such as Dele Alli and Harry Kane, would be a difficult team to be drawn against - particularly given their position down in Pot Three. PSV Eindhoven took Atlético right to the wire in the 2015/16 last-16 and are continuing to progress under Phillip Cocu, while resurgent sides such as Borussia Mönchengladbach, Olympique Lyonnais and and Sporting CP currently enjoy less of a reputation than their performances in their respective leagues merit. Otherwise, Belgian champions Club Brugge appear at first glance to be the easiest outfit in the pot alongside the always inconsistent Dynamo Kiev.
Pot Four
The pot with the simplest opponents, it still throws up the possibility of being pitted against the far-from-straightforward Monaco and Besiktas. The Principality side come into the group stage having knocked out none other than Villarreal in the play-off round, and are a tough proposition under Leonardo Jardim. Should Barça or Sevilla be placed in the same group as the Turks, they'll come up against a familiar face in Adriano Correia, a recent recruit by the Süper Lig club. The remaining sides are the least testing of the lot and ought not to cause any of LaLiga's representatives any problems. However, it's always desirable to avoid long-distance away trips, such as Russia's Rostov, Croatia's Dinamo Zagreb and Bulgaria's Ludogorets.