Sergio Ramos talks about Iker Casillas, Lopetegui and Spain
The Spain and Real Madrid central defender spoke to the media ahead of the world cup qualifiers and gave his thoughts on the decision not to include Casillas.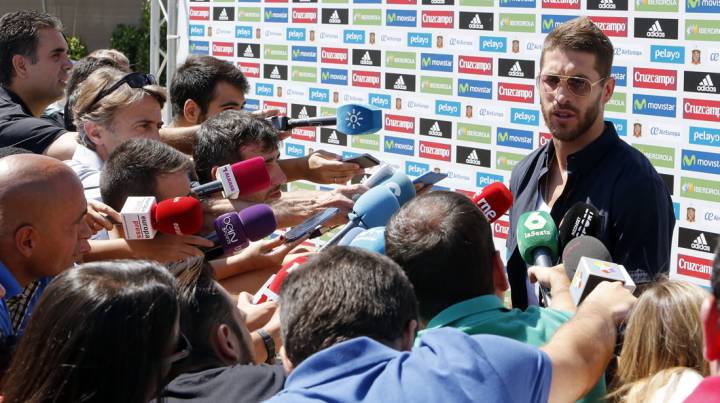 Sergio Ramos is aleady with the Spanish set-up and is preparing for the friendly game against Belgium in Brussels this coming Thursday, 1 September ahead of the world cup qualifier against Lichtenstein on the following Monday. One change to the squad that the defender has been a part of for several years is the ommision of goalkeeper Iker Casillas by new coach Julen Lopetegui. That was one aspect that Ramos spoke about with the press.
Casillas' absence: "It surprised us all that Casillas was not included because he is a renowned player, not only in Spanish football but on a world scale. It's strange for me to come here and not see Casillas, but it is a decision made by the new coach. I can't speak for him but simple we have to respect the decision".
Lopetegui: "We had a meeting a few days ago, but I had heard very good reports about him from colleagues that had worked with him. I didn't know him but he has given a good first impression and we are going to work together to achieve the goals we have ahead of us".
More Madrid than Barça in the squad: "To have more Madridistas is a sign that Madrid are doing things well".
New era: "In spite of the absence of Iker, which draws a lot of attention, it's clear that this group has not changed much and what we as captains and manager want is to rediscover that winning spirit. We have to be calm and patient with Lopetegui and let him do his work. We have to all pull in the same direction. I can imagine it was a difficult and complicated decision to leave out Casillas because we're talking about a legendary player in Madrid and the national team, but everyone is entitled to their decision".