Scout report: How are Madrid's six loanees doing so far?
Marcos Llorente was 'Man of the Match' against Alavés, but how are Diego Llorente, Borja Mayoral, Vallejo, Burgui and De Tomás doing?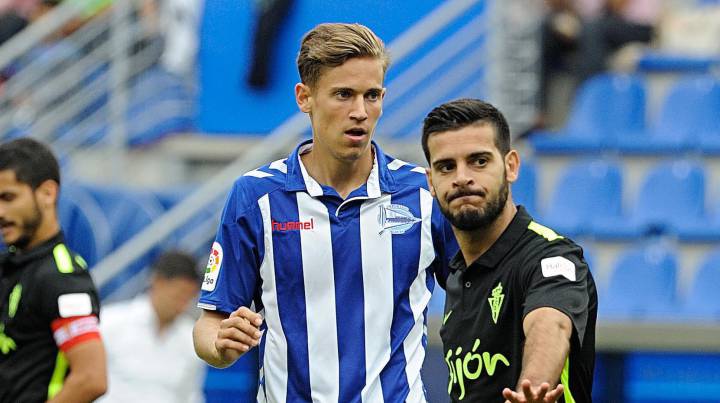 Real Madrid have six players on loan this season at six different clubs: Marcos and Diego Llorente, Borja Mayoral, Vallejo, Burgui and De Tomás.
The idea the club have is that the players go out to gain vital first-team experience with a view to them becoming Real Madrid stars in future seasons, or, indeed, benefit financially through selling them on, like they did with Cheryshev (Villarreal, €7m) and Madrán (Valencia €1.5m).
Four of the Castilla graduates are at Spanish sides and two have gone to Germany. Marcos Llorente is the player who arguably has the most potential, and he's started well at Alavés. In his first game at the club he was chosen by LaLiga as 'Man of the Match'.
Mayoral and Vallejo are the two in Germany, continuing the model that Real Madrid deployed by sending Dani Carvajal to Bayer Leverkusen a couple of seasons back.

Real Madrid's six loanees
MARCOS LLORENTE (ALAVÉS)
Man of the Match against Sporting. In 90 minutes, he touched the ball 92 times and had a 98% pass completion rate.
MAYORAL (WOLFSBURG)
One of the biggest promises from Castilla, but still to make his debut in the Bundesliga.
BURGUI (SPORTING)
Started the games against Athletic (where he put in a good performance) and Alavés, although was substituted on both occasions.
VALLEJO (EINTRACHT)
Played the last ten minutes, coming on for Hrgota, in Eintracht's win against Schalke (1-0).
D. LLORENTE (MÁLAGA)
Scored against Espanyol, which began Malaga's comeback, although could have done better in helping stop Espanyol's goal.
DE TOMÁS (VALLADOLID)
The striker has just arrived at Valladolid after securing a move at the end of the transfer window. Scored six goals in 26 games last season at Cordoba